Player evaluations will be based on each individual's performance with a focus on January 1 and forward, due to the Pittsburgh Penguins' coaching change and shift in philosophy. Individual stats and their impact on teammates will be a large focus, with other factors playing a role as well. 
It's safe to say that Brian Dumoulin gets an A+ for last season. Do I even have to justify that grade?
Dumoulin, or 'Dumo' as he's often addressed, approached 2015-16 as a 24-year old rookie with limited experience at the NHL level. He was launched into full-time duty during the 2014-15 postseason and played admirably but that was a very small sample size. His compass was pointing up, which I wrote about last summer for a different outlet, but I'm not sure anyone – including his biggest believers – truly saw the sort of potential he'd display throughout the season.
By year's end, he essentially became the Penguins' new Paul Martin.
Jesse Marshall of ThePensBlog.Com wrote a piece in March and made that exact comparison. At that point in the season, Martin was 89.71-percent comparable to Dumoulin, according to data pulled from Corsica.Hockey. Many, including myself, expected Olli Maatta to become the next Penguins' defenseman to assume that role. Dumoulin proved all of us wrong. He was arguably the most reliable, consistent defenseman in Pittsburgh at both ends of the ice all season, playing a simple, mistake-free game and contributed in every aspect. He's the perfect fit alongside offensively minded defensemen like Kris Letang and Trevor Daley but also meshed well with Ben Lovejoy.
In fact, it isn't far-fetched to give him some credit for Lovejoy's recent payday with the New Jersey Devils. That's a topic for another time, of course.
Unlikely Heroes
As a group, Pittsburgh's once criticized defensive corps became a major strength and a huge reason for their eventual Stanley Cup Championship. Dumoulin's ability to fit with multiple partners, especially throughout the postseason, was an imperative piece of their success.
Below is how he impacted those he shared the ice with most commonly.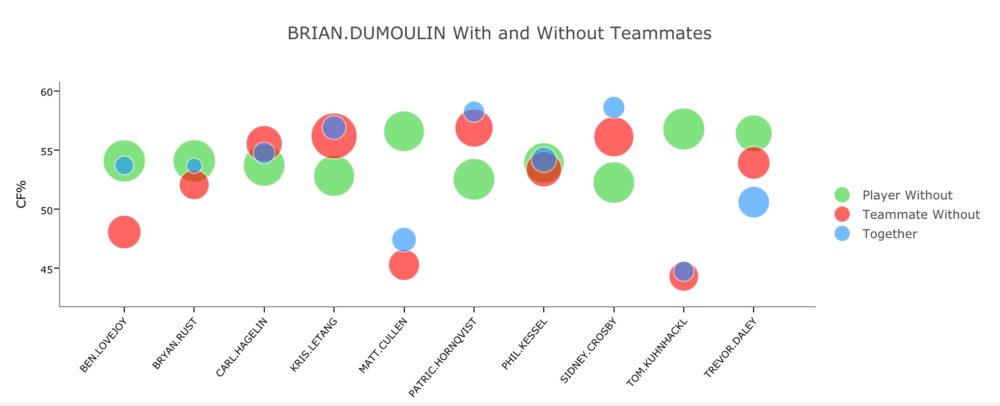 (Courtesy of Corsica.Hockey)
Nearly everyone, with the exception of Daley and Carl Hagelin, saw a boost when playing alongside Dumoulin. Lovejoy, who was Dumoulin's most common partner with a hair over 683 even-strength minutes together, benefited the most. Remember what I mentioned earlier about his role in Lovejoy's newest contract?
Dumoulin was supposed to experience growing pains in his first full NHL season. He was supposed to be one of the defensemen on this roster that needed time to develop and settle in. Instead, he was consistent from start to finish, playing his role perfectly and allowing those around him to play to their own strengths.
Last summer, Dumoulin was also expected to be no more than a third-pairing blue-liner. However, according to Stats.HockeyAnalysis.Com, his most frequent match-ups consisted of names like Alexander Ovechkin, Nicklas Backstrom, Jonathan Huberdeau and Claude Giroux. In other words, he gained the respect of his coaching staff and they rewarded him with top match-ups. He wasn't sheltered in any sense of the imagination.
Looking Ahead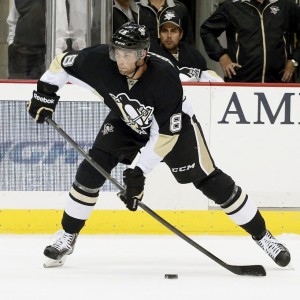 Penguins' GM Jim Rutherford was set on keeping his roster in tact this offseason. No major additions, trades, or buyouts. When you consider Pittsburgh's defensive group, that likely means an expanded role for Dumoulin.
Lovejoy has departed for New Jersey, while Justin Schultz is returning on a one-year contract. Pouliot will make his bid for NHL ice time but as of right now, the top-six looks as follows…
Olli Maatta – Kris Letang
Brian Dumoulin – Trevor Daley
Ian Cole – Justin Schultz
Letang completed a full 82-game schedule once throughout his career and in fact, he has only played 70 or more games in one season four times in eight years (excluding the lockout year). Maatta has also struggled with injuries throughout his short career and last season, while it's unclear if any specific ailment was the cause, he didn't necessarily look like himself. All of this adds up to Dumoulin being even more important to this team.
He may even take over top pairing duties alongside Letang, as the two played well together last postseason. He's certainly deserving of consideration.
Pittsburgh Penguins writer for TheHockeyWriters.Com and PittsburghHockeyNow.Com. Youth hockey coach, and student of the game.