The St. Louis Blues and Brian Elliott had a lot to play for on Tuesday night at the Scottrade Center in downtown St. Louis. They were able to dispose of the struggling Buffalo Sabres in a 6-1 victory on a night where all of North America's veterans who serve to protect the freedom we have in this country, and who have for so long were honored.
Jori Lehtera was the big story , scoring his first NHL hat trick (a natural one: scoring 3 goals in a row without the opposition scoring any), but Brian Elliott was able to turn aside 28 of the 29 shots he faced (and looked really dialed in doing so) even through long stoppages in play, and a heart-felt video about him and his wife that showed what Veteran's Day truly means in their family. After the game he spoke about this special win, and what he plans to do with his amazing goalie mask from it.
 Brian Elliott's Mask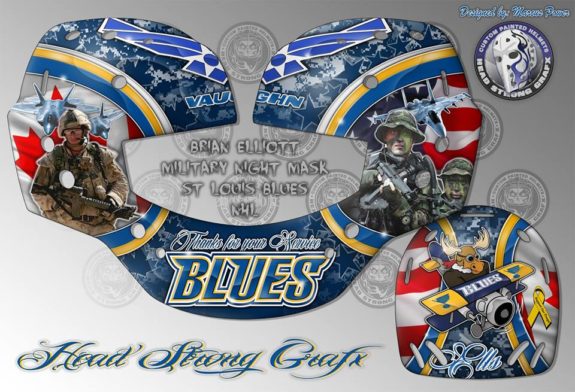 The Idea Behind the Elliott Mask
When Brian Elliott came to the crew at HeadStrong Grafx (Jason Livery and Marcus Power) with the idea, they had limited time to pull everything together. He wanted to pay homage to the Air Force specifically, as his wife Amanda served for many years, but also wanted to show his support to all North American veterans on their day. Here both Jason (JL) and Marcus (MP) weigh in on what Elliott gave them to work with on his design, and how they brought it together for such a great cause, so quickly.
The mask @KidElls1 is wearing tonight is one-of-a-kind! #NHLonNBC pic.twitter.com/n2AbykQfzn

— NHL on NBC (@NHLonNBCSports) November 12, 2014
What did Ells say to you guys about the design, was it specific or did he give you 'free reign' over it?
MP: Ells told us he wanted to honor the Canadian and American service members. He specifically stated Air Force, but wanted to include the Canadian Armed Services as well.
JL: Initially we wanted to incorporate some jets on there too, but time was limited and we had to kind of change a few things that would allow us to complete it in time. He did want a nod to both Canada and US military though, and obviously to the Air Force because his wife used to be in that particular military service.
What else led to this incredible design we got to see on Tuesday night?
JL: Well like I said, I got the mask with only a couple of days to complete it. I had to modify some of our original ideas into something that I felt I could get done in time. I also wanted to have a ton of detail and make an impact on anyone that saw it. The mask is to be auctioned off so I wanted the buyer to love the quality and craftsmanship as well.
MP: Jason and I both have direct ties to Air Force families so that played into the design as well. I only had a day to complete it, but as Jason said, we wanted to make this one detailed, and extra special for whoever ends up winning the auction on it.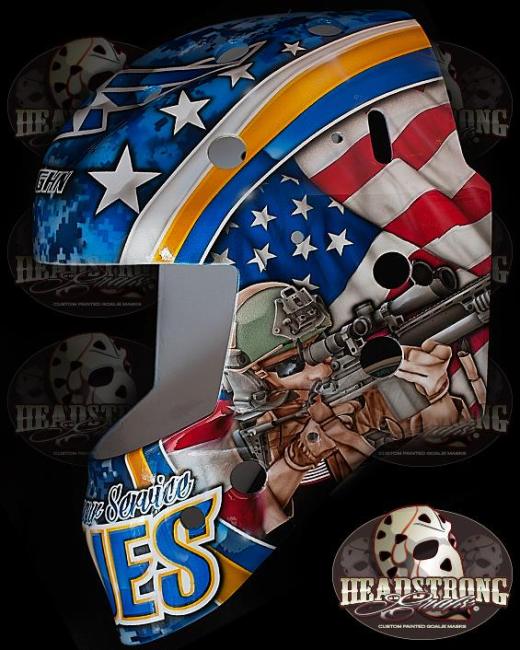 How much fun was it to work on a mask with meaning so close to you, and did it make for a better design experience?
MP: Living next to an Air Force base growing up, and coming from an Air Force family it was an honor to design this. Jason's wife is also active duty in the Air Force, so that made it even more special. Anything we do for the military we take very serious. Also, my father is a retired Colonel in the Air Force so it is very special to me to do something military wise.
JL: It was actually really fun to do, with military being so dear to my heart. With my wife being a Major in the Air Force I know what the meaning of this mask is, and what Veteran's Day means to many. Again, I really did love working on this mask. Being a part of this honored day felt great! I may not be in the military or a veteran myself, but knowing what my wife goes through with deployments and such; this was my way of doing something that gives back. Sure hope this mask raises a lot of money and helps the various military charities that Blues and Brian Elliott will donate it to.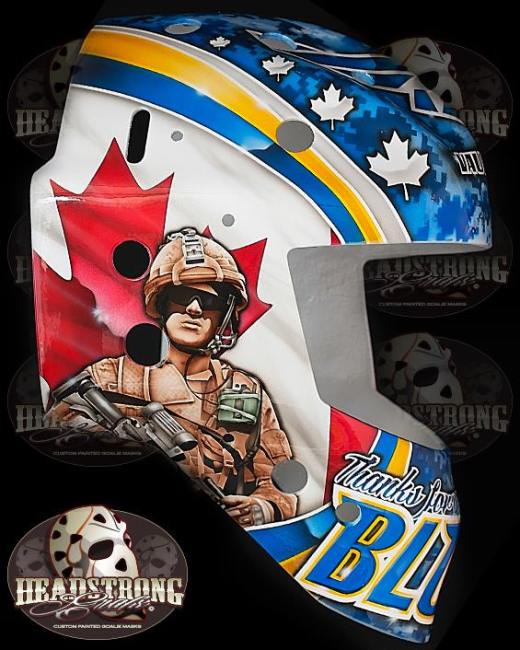 Brian Elliott's Post-Game Reflection on the Game and the Mask
Elliott (@KidElls1 on Twitter) is a very well-mannered man who takes his work in the net very seriously. On Tuesday night, while honoring all armed service members past and present, he stayed focused and dialed in through many long stoppages to sort out "old time hockey" scrums (as he put it) showing his personal connection to the night. When asked if this was a special win for him, here's what he had to say:
"I wanted that win for sure. Just with everything going on for Veteran's Day and trying to get a win in the helmet that I got made up especially for it made me definitely want that one. The guys I think sensed it and came through for me. We're going to put (the helmet) up for auction and try to raise some money for a couple of different veterans and military finds…I did get two (pucks) in the head so there's a couple of marks on it, but we're not taking them off, we'll leave those ones on."
His supreme focus was the calming balance for the team throughout the game, which remained close until the 3rd period where a spearing major on Vladimir Tarasenko sent the Sabres' Nicolas Deslauriers off with a Match penalty and put the Blues up a man; the Notes made the Sabres pay for that questionable shot on their budding superstar. David Backes and Joakim Lindstrom both netted power play tallies (Lindstrom scored 2 in 58 seconds, and the power play went 3 for 8 on the night) to extend the team's lead to 6-1 on three straight shots. This was the perfect icing on the cake for an awesome night honoring those who lay their lives on the line for us each and everyday, throughout history.
The Blues and Brian Elliott will face the surging Nashville Predators on Thursday night, and look to build off of their win against Buffalo and to get some pay back on the Preds, who broke the Blues' 7 game win-streak last Saturday (a 2-1 loss for the Blues' club).
Like what you've just read? Follow me on Twitter: @pep30