As the Canucks have entered the mandated five-day break, it is time to look at just how impressive rookie phenom Brock Boeser has been.
A week ago, the right winger was announced as the Vancouver Canucks' selection for the 63rd NHL All-Star game in Tampa Bay, Florida. He is the first Canuck rookie to make the All-Star game since Dale Tallon, 47 years ago.
Just How Good Has Brock Boeser Been?
Truthfully, it is not much of a surprise that Boeser was the team's pick. He is one of two rookies to crack the 40-point barrier and is tied for seventh in the NHL in goals, with 22. He was the NHL's Rookie of the Month for November and December; only the second Canuck to ever receive that recognition. All this, even with a recent three-game pointless streak; the longest "slump" so far this season.
It is frightening to imagine where this team would be without the rookie sensation. With the team plagued with injuries, Boeser has scored nearly one-fifth of the Canucks' goals. Regardless of who he has played with, his line has consistently established pressure in the offensive zone and put up numbers. He is third in the NHL in goals per 60 minutes (1.85) and 18th in the league for points per 60 (3.54). Boeser is the best prospect the team has seen in decades, and the most exciting since Pavel Bure.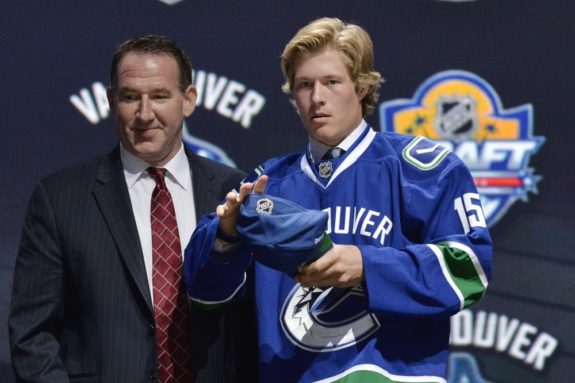 Boeser is Jim Benning's first prospect to come through the gates and show signs of superstardom. The GM's first two picks, Jake Virtanen and Jared McCann (who isn't even with the organization anymore), have showcased positive attributes to be potentially effective at this level, but have yet to have it translate into any long-term success. The clock is ticking on Virtanen, while McCann was shipped out of town after his rookie season in the deal for Erik Gudbranson.
The Canucks are an organization at a crossroads. The team will be in the lottery for the third consecutive season and is continuing to transition towards a youth movement. The Sedins' contracts are expiring, opening up boatloads of salary cap room, yet the team is still a year or two away from being in contention. Another pickle is the fact that Benning's contract will expire this upcoming offseason.
That Leaves the Question: Has Boeser Saved Benning's Job?
Has Benning earned the right to follow this rebuild through? For every Loui Eriksson signing, there is a Thomas Vanek deal. For the Gustav Forsling and Erik Gudbranson trades, he has picked up Derrick Pouliot and Sven Baertschi for pennies on the dollar. For each sub-par transaction, he has followed it up with a few quality deals.
It is hard to find an analyst who will tell you his trade-deadline deals last year (Alex Burrows for Jonathan Dahlen, and Hansen for Goldobin and a fourth-round pick) were not great trades. Benning then followed that up with a strong showing at the draft, snagging elite prospects such as Elias Pettersson and Kole Lind. On July 1, he was busy, picking up a few low-risk free agents to help stabilize the roster. Just before the season started, he snagged Vanek and acquired Pouliot. Quite frankly, it has been awhile since people shook their heads at the Canucks' GM.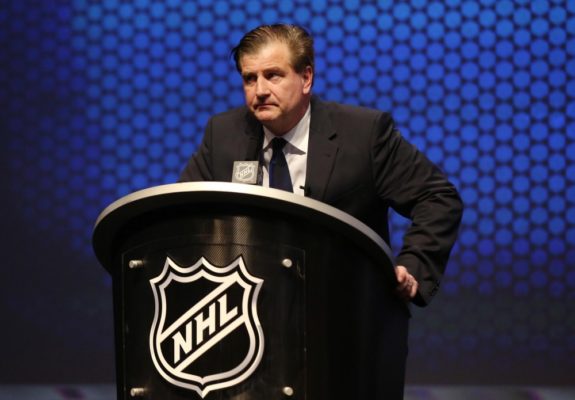 As much as Benning has excelled in the past calendar year, team president Trevor Linden and Canuck ownership have yet to sign him to a contract extension. The Canucks have sat in the basement of the NHL the last two years and are trending towards it again this season. It may also have to do with some external factors. Perhaps the team is still wary of some moves Benning made years ago, or perhaps the potential availability of Detroit Red Wings GM Ken Holland is a factor. It is not a secret that the BC-born Holland would be a logistical fit if his services were to become obtainable.
Why Benning Should Be Re-Signed
The Canucks have the deepest prospect pool they have ever had, with plenty of high-end talent in Pettersson and Olli Juolevi. If not for a couple massive injuries to the top end of their roster this season, they perhaps would be battling for a playoff spot. Instead, they have a couple unrestricted free agents – most notably Vanek, Alex Biega and Erik Gudbranson – who could also be shipped at the trade deadline for future assets. They also have one of the brightest young stars in the game in Boeser.
To me, Benning has bought himself some time thanks to Boeser's ferocious start. Boeser has leapfrogged all expectations to date, and there is no end in site. He has given the Canucks a legitimate franchise-calibre player to build around. He was hand-picked by Benning, snagged with the 23rd pick of the 2015 draft. Benning found a diamond in the rough, and reinforcements should be coming soon. If that doesn't warrant a contract extension for the fourth-year general manager, then I am not sure what does. And if Benning gets it, the first person he has to thank will be Mr. Boeser.