Thomas Vanek was an off-season acquisition for the 2017-18 Vancouver Canucks, and the decision to bring him in brought on mixed reviews, but, he has silenced his critics with some recent stellar play and point production.
He has shown a side to his game that has been noticeably absent over the past handful of seasons. Vanek's inability to mesh with NHL teams has turned him into a bit of a suitcase — the Canucks are his seventh team in just four seasons, earning him the nickname of 'Thomas Vanish'.
I must admit, I was one of the skeptics when it came to bringing a player like Vanek into a rebuild and surely thought that he'd be moved at the trade deadline. Now, though, I'm not too sure what to do with the Austrian Sniper.
Thomas Vanek is the fourth @Canucks player in the past 20 seasons to record at least five points in a game. #NHLStats #CHIvsVAN pic.twitter.com/TO83CVqWgT

— NHL Public Relations (@PR_NHL) December 29, 2017
Lighting It Up
Vanek has seemingly found a certain level of comfort and chemistry with the Canucks and it is showing on the scoresheet — in five games, Vanek has tallied five goals and 10 points, including a hat-trick performance against the Montreal Canadiens (Dec. 19) and a five-point showing in a contest with the Chicago Blackhawks (Dec. 28).
He has recently been inserted into a line with rookie phenom Brock Boeser and fellow veteran Sam Gagner. The trio gelled almost instantly and put their chemistry on display against the Blackhawks in that aforementioned, late December game — as a line, they combined for 12 points and showcased some gorgeous passing.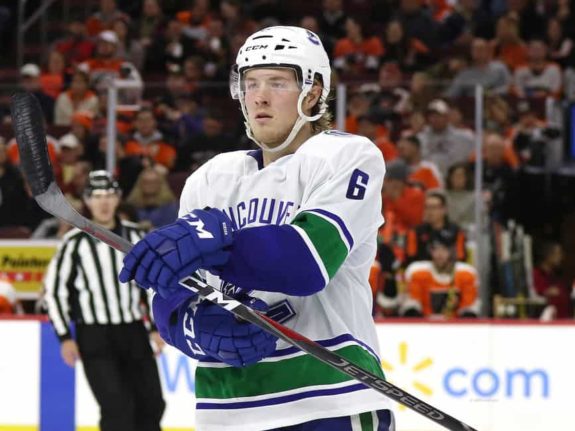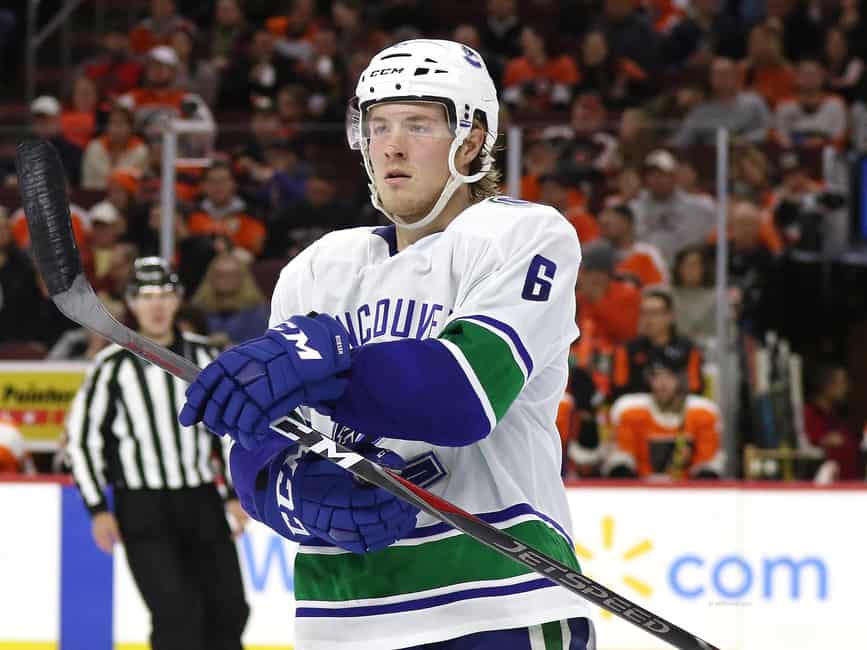 Playing alongside a player like Boeser gives Vanek more time in the offensive zone, and in turn, more statistics under his belt. So far this season, Vanek has racked up 12 goals and 16 helpers in 39 games, putting him on pace for 50-plus points, assuming he stays healthy and doesn't get shipped out of town.
The strongest facet of Vanek's game is his shot. It's hard, it's accurate, and, primarily, it's frequent. On average, he registers 212 shots per year with 352 attempts.
What Now?
Heading into this season, I, among others, had Vanek pegged as trade-bait at the deadline — I figured that moving him to a cup-contender looking to make a push could result in a prospect or draft pick coming back across the table for the rebuilding Canucks. However, the team surprised everyone and showed that they're actually a half-decent hockey club (when healthy) and not full-blown invested in a complete overhaul.
The deadline isn't far off and tough decisions are looming. The elevated play of Vanek and both Daniel and Henrik Sedin have made their future in Vancouver an interesting debate — all three players' contracts are up following this season so the question becomes – who do you re-sign, if anyone?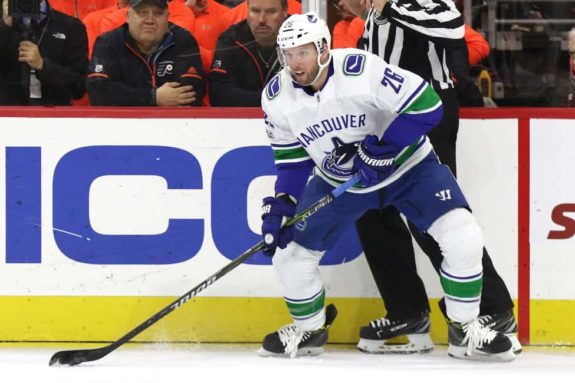 My opinion is to hang onto Vanek through the deadline and then re-sign him to a two or three-year deal for a reasonable amount of money. As for the Sedins, see how they're feeling and if they're up for it, give them one more season with a pay cut. These three are a very solid veteran core for the up-and-coming talent to build off of.
Riffing off of that previous point, Boeser and Vanek are extremely dangerous together at this point in time, but upon Bo Horvat's and Sven Baertschi's return, Boeser might return to his former line. So, if Vanek's point production nose-dives before the deadline, then talks of him being moved should re-open.
Long story short, Vanek is a mercenary and will go where he's needed and well-paid. I don't blame the guy — he, and everyone else, knows that he's a dangerous weapon if utilized properly. If the relationship between Vanek and the Canucks is copacetic and both parties are satisfied, then I say to keep the points coming in and the paycheques rolling out.
Matt is a longtime fan, player and student of the game of hockey. Broadcast and Online Journalism student at the British Columbia Institute of Technology.