Over the last two years, Islanders fans have watched Brock Nelson mature right in front of their eyes. Having paid his dues at the AHL level, as well as at the collegiate and high school levels, Nelson's arrival in the NHL has given Isles fans a front row view of the forward's developmental process.
Last year, fans were able to see some of the elements that made Nelson such an enticing pick at the 2010 NHL Draft as the center showed his versatility by playing almost everywhere in New York's lineup. Proving his worth in a number of situations last season, Nelson was probably expected by many to take the next step in his growth with the Islanders, but did anyone realistically expect to see the pivot producing at almost a point-per-game pace during this current campaign?
Of course, Nelson's talent level and offensive prowess in the AHL left many Islanders fans wondering where the big center would fit into New York's lineup. Given the team's depth at center – and Nelson's formidable performance on John Tavares' line last season – there were quite a few places in New York's lineup that fans might have imagined the forward playing this season. While Nelson has been utilized in a variety of different situations again this season, the forward has emerged as a table-setter for his team – one that most certainly has a penchant for scoring in crucial situations.
Proper Progression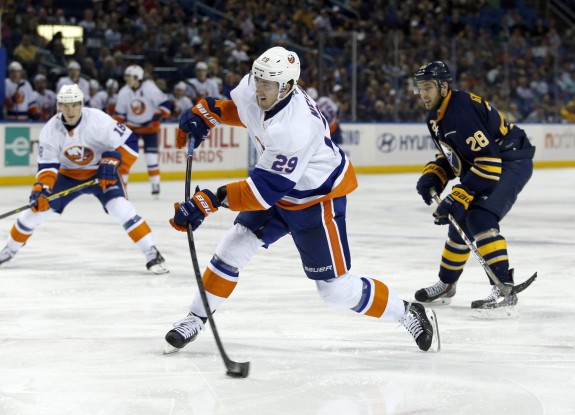 When Garth Snow chose Brock Nelson with the 30th overall pick in the 2010 NHL Entry Draft, Nelson was a lanky center with an undeniable amount of skill. Progressing through the USHS with Warroad High and Great Plains, Nelson played 111 games from 2007-2010 in the USHS and managed to score 192 points (103 Goals, 89 Assists) in a span of three high school hockey seasons – an impressive feat no matter which way one tries to break it down.
Being selected straight out of high school, Islanders fans knew that Nelson needed some seasoning – and frame-filling – before coming to the NHL as a complete product, and the centerman would receive just that while playing for the University of North Dakota.
Playing in 84 games for the University of North Dakota, Nelson showed tremendous improvement in his second season in the NCAA. While Nelson put up a respectable 21 points (8G, 13A) during the '10-'11 NCAA season – and received a chance to show off his skill-set at the WJC for Team USA – his output skyrocketed in his second collegiate campaign as he registered 47 points (28G, 19A) in 42 games played.
Having also seen four games of action in the AHL during the '11-'12 hockey season, Nelson found himself a fixture in the Bridgeport Sound Tigers' lineup for the '12-'13 AHL season. To say that Nelson was a standout in his only lengthy campaign in Bridgeport simply wouldn't be doing the center any justice as he racked up 52 points (25G, 27A) in 66 games played for Bridgeport – not bad considering the fact that Nelson took a giant step up from the NCAA to a professional league such as the AHL.
Demonstrating a knack for balanced scoring and an ability to excel at any level of hockey play, Nelson was finally promoted to the big club for the '13-'14 NHL season as Jack Capuano had seen enough positive things from his young centerman to warrant slotting him into the Isles' lineup. Shifting Nelson around various parts of the Islanders' lineup – top and bottom six – Capuano was able to see what his 6'3″ pivot could do at the NHL level as Nelson played in 72 games for New York and recorded 26 points (14G, 12A).
Perhaps Nelson's scoring totals weren't impressive to some as expectations from the centerman could have been higher, but Nelson's versatility was probably his biggest asset during his first campaign on Long Island as he proved that he could adapt to playing most anywhere in the Islanders' lineup – a trait that is hard to find in modern-day NHL forwards.
Emergence As Table-Setter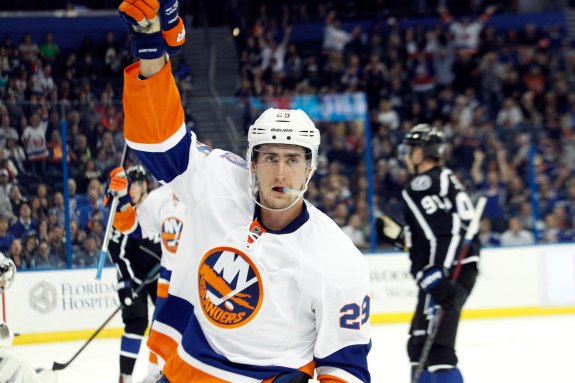 When the '14-'15 NHL season began, Islanders fans were probably wondering about many issues regarding their team.
Would the defense be able to better execute on both sides of the puck with the additions of Nick Leddy and Johnny Boychuk? Would John Tavares be healthy enough to return to his former self after his injury last season? Would secondary scoring alleviate some of the pressures placed on the first line? Would Jaroslav Halak and Chad Johnson finally give the Islanders a reliable starting and backup goalie tandem that could steal some games for New York?
These were just some of the many questions that were probably coursing through the minds of Isles fans as the '14-'15 season was approaching. While most of the concerns that Isles fans had coming into the season have been addressed in one form or another, Brock Nelson has directly factored into solving New York's secondary scoring woes – a problem that has plagued the team in years past.
Registering 12 goals and 11 assists so far this season, Nelson has once again shown that balanced scoring that made him such a promising prospect in the Islanders' pipeline. Tied with John Tavares as New York's top point-getter, Nelson has vaulted himself into territory that many fans probably weren't expecting him to be in at this point of his hockey career.
However, what is even more impressive about Nelson's scoring feats is the way that he is accomplishing them. Of his twelve goals, seven have come with the man-advantage – with the other five being scored at even strength.
If one cares to look even further, then they would see that Nelson's goals aren't of the cheap variety either. No empty-netters. No gimmicks. No freebies.
As a matter of fact, Nelson's goals have had an immense amount of meaning to the Islanders as they've come at very crucial times. Setting the tone for the Isles, Nelson has opened the scoring for New York three times this season (vs. Winnipeg, Tampa Bay, and Ottawa), tied two games (vs. Ottawa on 12/02 & vs. Los Angeles), and decided one game (vs. New York Rangers). Add to that the fact that Nelson has either padded the Islanders' lead or scored the go-ahead goal against a team (vs. Carolina on 10/10 & 10/11, New York, Dallas, Tampa Bay, Pittsburgh, & Ottawa on 12/04) on several occasions this season and it's hard not to be in awe of the young forward right now.
The last several years have seen the Islanders show flashes of secondary scoring to help our John Tavares and Co., but consistency has always been lacking in regard to the team's ability to produce points from the second line down. Not only has Nelson provided offensive help this season, he has helped swing the momentum of games by scoring timely goals or threading the perfect pass to an open teammate.
Receiving ample time – Nelson is averaging 16:43 of ice-time per night – on even-strength, as well as the powerplay, Nelson has only reinforced the faith that head coach Jack Capuano has put into him this season – and it doesn't seem as though the forward has any intention of taking his foot off of the pedal.
Familiarity Breeds Success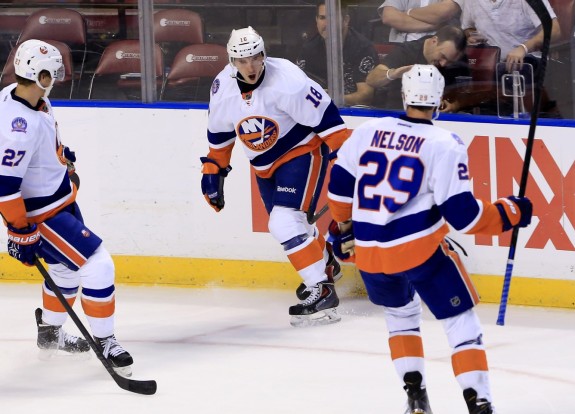 Oftentimes, familiarity with a team, a coach, or a group of skaters can greatly help a hockey player better adapt to their surroundings. In Brock Nelson's case, having individuals such as Ryan Strome and Anders Lee by his side isn't a bad deal – especially since he played with the two forwards during his time in the AHL.
Finding chemistry with his old Bridgeport teammates, one could tell that Strome, Lee, and Nelson are absolutely comfortable with each other. With a perfect combination of size, skill, athleticism, and hockey IQ, the "kid line" has been firing on all cylinders for New York as of late, and one can see how confident each of the aforementioned youngsters are when they hit the ice.
Whether they're playing on the same line or whether they're finding themselves receiving playing time with another teammate, Lee, Nelson, and Strome have been generating consistent offense this season which has directly translated into wins for the Islanders. Sure, it might be hard to gauge how Lee, Nelson, and Strome will hold up offensively over the course of a full NHL season, but their contributions stretch beyond that. Even if one of the three (or more) aren't performing up to par offensively, all three forwards do not mind playing the gritty grind-it-out style that the Islanders have shown flashes of over the last few years.
Serving as the glue for his line, Nelson has shown why Jack Capuano has had so much faith in him over the last two years. Doing whatever has been asked of him by his coach, Nelson's consistent play has only been rewarded with more responsibility – which is clearly evidenced through the center's time on New York's man-advantage.
Despite the fact that Capuano did not coach Nelson at the AHL level, he has seen the forward develop from a draft day prospect into an everyday contributor for the Islanders. Even if he's not scoring, Nelson always seems to be doing the right things as he is adept at utilizing the body in order to be a physical presence, going to the dirty areas in order to fight for a puck, or finding an open teammate in order to set up or continue a potential scoring chance.
Leading a new wave of Islanders prospects, Nelson has served as the perfect example of the Islanders way for any prospects that hope to make the team in the near future. While it might only be Nelson's second tour of duty with the Islanders in his young hockey career, there isn't much to nitpick at when evaluating the worth of Brock Nelson to the New York Islanders at this point in time.
Continuing The Pace
At this point of the '14-'15 NHL season, Islanders fans are undoubtedly ecstatic about their team's performance – as well as the performances of the team's youngsters – but sustaining such a pace of play will be the next test for the Isles.
No longer are the Islanders playing a portion of a game or a period. Giving 60-minute efforts across the board every night, the Islanders certainly do not look like the team that has been plagued by inconsistent play over the last few years.
Thanks to the effort of individuals such as Brock Nelson, the Islanders are receiving contributions from all four of their lines. With their scoring depth on display, New York definitely looks like a force to be reckoned with, but it will be up to these same players to continue their level of play for the remainder of the NHL season.
While fans have dreaded thinking about the Islanders enduring another tailspin, the feeling surrounding this team this season seems to be completely different from the one of years past. Individuals such as Nelson are not only stepping up, they are building confidence with their fellow teammates, and using that confidence to sustain a consistent pace of play.
Of course, creating offense for your team is a huge priority, but building and maintaining confidence – especially for a group of younger players – can be vital for a young team that is starting to play like one of the NHL's elite squadrons. There is no questioning the value of Nelson to this franchise at this moment as the pivot has been right in the thick of things this season when it has come to solidifying his team's identity – something that ultimately beckons the question, what more can Brock Nelson possibly do for the New York Islanders?
In his third year with The Hockey Writers, Toli covers all things related to the New York Islanders. Focusing on the Islanders, the NHL Draft & draft-eligible prospect goalies, and hockey history, Toli can be contacted on Facebook by searching/messaging Toli Metter and on twitter by searching @ToliMetterTHW.