Watching live AHL hockey for going on 20 years in Albany, I've seen my fair share of solid goaltenders.  Most notably Corey Schwab, Mike Dunham, Peter Sidorkiewicz and Michael Leighton, to name a handful.  One netminder I missed by a year, Martin Brodeur.  That is until recently, at my first ever New Jersey Devils game.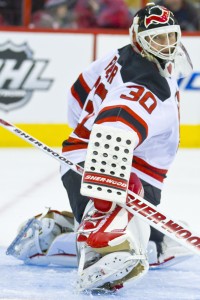 If being a hockey immortal wasn't enough, if Martin Brodeur played on the other side of the river in New York or the other side of the border in Montreal, he'd be a hockey God.  Except the reason the New Jersey Devils have had more success (and more Cups) than those two Original Six teams combined over the last 18 years is because of number 30′s presence between the pipes.
No goalie in history has won more games than Marty Brodeur's 643.  Almost halfway to 700 and that's with two lockouts and one injury plagued season, wiping out likely another 100.  Plus if it hadn't been for Stephane Matteau's overtime heroics in 1994 and the man he topped on the all-time wins list Patrick Roy in Game Seven of the 2001 Stanley Cup Finals, Brodeur may well have five Cups to his name.
There has been no more consistent, dominant or durable netminder than Brodeur.  From 1995-2008, Brodeur averaged 73 games played per season over that 12 year stretch, topping 70 games played in eleven of those season's.  Brodeur has never had a Goals Against Average higher than 2.57, his lowest being an average of 1.88, set during the 1996-97 campaign.  Marty has also cracked the 30 win plateau 13 times and 40 wins in eight season's, including a record 48 in 2006-07.  As far as shutouts go, four times Brodeur has eclipsed double digits in a season, with his career high 12 coming in the same year as his 48 wins.  Marty has the shutout record as well, with 117 and counting.
Keep in mind that in his first season Brodeur was sharing the load with Chris Terreri and the following season was shortened by a lockout and he had one full season completely wiped out by another one.  By the way that highest goals against of 2.57 happened the year after the last lockout.  You know the season where everything was changed in the rules to up scoring, reduce goalie mobility for handling the puck "the Brodeur rule" as it were and his first season without either Scott Stevens, Scott Niedermayer or Ken Daneyko on the blueline.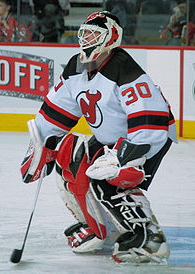 So what has Brodeur done in the subsequent season's since?  In 2006-07 Marty upped his win total and shutouts to 48 and 12 respectively, lowering his goals against average to a staggering 2.18, while stopping the most rubber in his career with 2,011 saves.  In 2007-08 (without Brian Rafalski mind you), Marty won another 44 games with his goals against a tick lower at 2.17, making the second  most amount of saves for his career with 1,921.  Brodeur in 2006-07 and 2007-08 also played 155 games out of a possible 164, including a career high 78.  Additionally, during that post-lockout stretch, Brodeur captured his third and fourth Vezina's and his fifth William M. Jennings Trophy in 2009-10.
Speaking of the Vezina Trophy, what is even more amazing than Brodeur winning four of them, is the fact that he didn't start winning them until the 2002-03 campaign.  Apparently the 1996-97 year of 37 wins, ten shutouts and a 1.88 GAA wasn't good enough, nor the 1997-98 year of 43 wins, ten shutouts and a 1.89 GAA or two other 40 plus win season's.
Also astonishing during the post-lockout time frame, the fact that Brodeur had more shutouts (five) in his injury plagued 19-game season of 2008-09, than the year before in which he posted four over 77 contests.
If those awards weren't enough, Brodeur also has a Calder Memorial Trophy to boot.
Brodeur's playoff theatrics have been well chronicled as well with 99 wins in total with a career 2.01 GAA and 23 shutouts.  From a classic duel with Dominik Hasek in 1994, to nearly derailing the Rangers date with destiny, to up-ending the mighty Detroit Red Wings in a 4-0 sweep in 1995 posting three shutouts during that Cup run, to scoring a goal against the Canadiens in 1997.
Of course then there were duels with the Philadelphia Flyers and Toronto Maple Leafs in the East, along with Patrick Roy, Eddie Belfour and J.S. Giguere in the West.
If there's one award Marty has yet to attain it is the 2003 Conn Smythe Trophy he was robbed of.  All Brodeur did that year was set an NHL Stanley Cup playoff record with seven shutouts, most shutouts in a Stanley Cup Final with three, against Giguere's Anahiem Mighty Ducks no less.  Additionally, Brodeur became just the third goalie to win the Stanley Cup with a Game Seven shutout.
Brodeur has also recorded over 30 Devils franchise records to his credit.   Marty also holds or will eventually earn himself over 17 records, regular and post-season combined.  If that wasn't enough, Brodeur is a nine time NHL All-Star, brought Canada an Olympic Gold Medal in 2002 and a World Cup of Hockey Championship in 2004.  Brodeur was also a part of the 2010 Canadian Olympic Gold Medal team in Vancouver.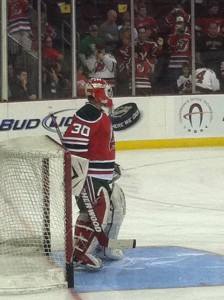 Sure there will be some who will scoff and say Brodeur was a "system goalie," who played behind Hall of Fame or All-Star defensemen.  True in a sense, but remember those trapping Devils didn't score a whole lot, meaning Marty had to steal a lot of nail biters.  Fast forward to more recent times and one will realize that without those aforementioned defensemen, Marty achieved his single season high for wins (48) and shutouts (12) in the same season.
Save for the 2009-10 season, Marty has been inevitably slowed a bit by age and injuries since 2008.  Yet when the Devils still need a big save, a sharp Brodeur can still go toe to to with the best of them.  Should Brodeur split the load with Johan Hedberg the rest of the way, he could garner another 30 win campaign.  Plus at age 39, Brodeur's 2.65 GAA, isn't too shabby either.
In what is the Devils' 30th anniversary season, whether or not it's number 30′s last year, remains to be seen.  However it's still worth celebrating, for a netminder who began his professional career in upstate New York, just 90 miles away from Albany, as a member of the Utica Devils.  Brodeur, the best.
Michael Gwizdala covers the New York Islanders for The Hockey Writers. Michael is also an Associate Producer at WNYT NewsChannel 13. Additionally, Michael was once a Media Relations intern for the AHL Albany River Rats. Michael is a graduate of The College of Saint Rose in Albany, NY.