We have survived many calamities this early fantasy hockey season but now comes the Valentine's Week edition of "Chutes And Ladders". Riding the fortunes of a fantasy hockey team can be a lot like the original Milton Bradley game. There are enough twists and turns to drive any normal person crazy. So imagine what it is like for the average hockey fan who takes on a fantasy hockey league.
Week 18 is a very strange week and this is where Looking Ahead comes in handy. The NHL schedule is a bit inverted and the reality is one needs to be on this and now. Monday is the lightest night of the week but there is a steady balance of at least five games per night culminating in a ten game Sunday which is Hockey Day In America. The celebration starts on February 17th and the end of the special weekend will be pivotal in many fantasy leagues.
As the fantasy playoffs get closer, it is time to first reveal our Fantasy Player Of The Week.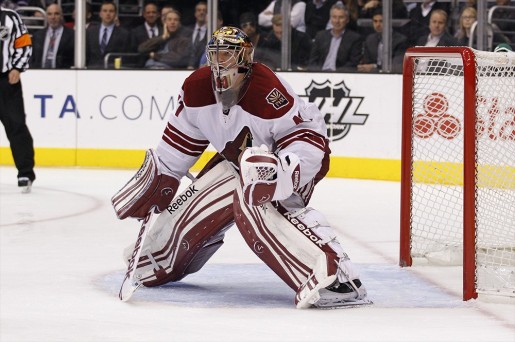 Player Of The Week……
Congratulations to Mike Smith of the Phoenix Coyotes on winning this week's Fantasy POTW for Week 17 in your fantasy leagues. He stopped 119 of 122 shots, racked up four wins, and had a stellar .975 save percentage, along with a 38 save shutout against the Chicago Blackhawks. The goalie he replaced only had better win and shutout numbers (Ilya Bryzgalov) because offensive this edition of the Coyotes is a little less proficient than last year's version.
The overall numbers do not lie as Mike Smith now has a 2.38 GAA and .925 save percentage on the season and has this Phoenix team currently 8th in the Western Conference. It is rare that we show some goalie love but this performance was one that has been indicative of a player who has been a very pleasant surprise for fantasy owners all year. It was about time people knew about Mr. Smith.

Now it is time to take a look at a few new injuries that seem to be popping up in fantasy circles……
Beware the injuries……..
There are only two weeks until the trade deadline and this is where injuries can play a role in deciding if teams are going to make a move or not. When that unexpected one hits, we will do our best to inform you of it. It is time for the injuries to take their rightful place in the column as they always do.
Sidney Crosby (Pittsburgh Penguins) — Mr. Crosby is still out with the soft tissue/concussion injury that has been plaguing him since early December. Though there is still no timetable on the return, please note that he is starting to increase the level of activity in practice. He will not be back before the deadline but do not be surprised to see a March return.
Mike Green (Washington Capitals) — Green is still out as he went right back on the injury list with the same groin injury once again. If you are in a one year league, Green should be dropped immediately. If you are in a keeper league, stash him away until further notice or maybe just until next season. It is for the best fantasy fans. The weirdest thing is that Green seems to equal wins in Washington. The Caps have not been right since the injuries but as Green's return draws closer, our apprehension rises. He will be skating soon.

Andrei Markov (Montreal Canadiens) — The coldest way to describe the Markov injury is just look somewhere else. Even if Andrei Markov returns, do you even know what your getting in him? Can he even stay healthy? Presumably he is practicing but it becomes anyone's guess as to the next time he plays. In keeper leagues, Markov is a question mark at best right now. You have been warned!
Simon Gagne (Los Angeles Kings) — Gagne is currently on the IR with concussion like symptoms and with his previous concussion history, it may be awhile before he comes back. The problem lies in the fact that Gagne has not even been able to progress to basic baseline tests to see if he can start skating individually. Just be prudent here and not expect Gagne to return anytime soon.
Matt Duchene (Colorado Avalanche) — Thanks to Adrian Dater as there was a pleasant development in the Duchene injury update. The Avalanche Forward was not only skating heavily in drills but he was kneeling with little or no pain at all. This is great news since there had been some speculation the knee was worse than first thought. His return could be as soon as this weekend so adjust your lineups accordingly and see how he performs. 24 points in 39 games will not cut it going forward.
James Wisniewski (Columbus Blue Jackets) — Wisniewski is injured again with a broken ankle that will keep him out at least a minimum of 6 weeks. His 17 points in 29 games is nice but that -18 is an eyesore that cannot be ignored. The defenseman will still be out at least a couple more weeks as his recovery is progressing well. There is no sense in dropping him just yet. His return is likely to be very soon.
Jason Garrison (Florida Panthers) — When doing a little scouting, sometimes one sees an event that is just stunning. How rare is it to see a player's skate pretty much disintegrate at the NHL level? It was seen Saturday and as a result, Garrison is now nursing a lower body injury. While he listed as day to day, please keep an eye on this just in case it is actually worse.
Nathan Horton (Boston Bruins) — This is just another sad story in what has become unfairly in some ways "the year of the concussion". Horton has had another fairly substantial setback which means honestly you may not see the power forward until sometime in March at the very earliest. The potential exists that he will not even be ready for the rest of your fantasy season which proves the adage that there is no such thing as a mild concussion.
Curtis Sanford (Columbus Blue Jackets) — When it is bad, it just gets worse for Columbus as really the only fantasy surprise out of there is now sidelined with a back injury. Backs and goalies can be very wonky to say the least so day to day is about the best this injury to Sanford can be diagnosed as of the moment. For the week it seems, Steve Mason will get most of the starts so stay away from the CBJ needless to say.
Jimmy Howard (Detroit Red Wings) — Now for some good news in the fantasy ranks. Howard appears poised to return as soon as Friday against Nashville which is great news for Howard owners. The goalie was on pace for 49 wins before the broken index finger sidelined him and looks to be in good form in practice. Game conditions are different but by the weekend, the injury should be an afterthought.
There are other injuries but these are ones that impact fantasy rosters the most at the moment. Players are coming and going so it is important to check out Twitter for the absolute latest.
Here are the ladders…….and show some Valentine's Day love.

These are for the players who have seen their values shoot up for Week 18.  Some are waiver wire pickups but most are not. February gets into the dog days just before the NHL Trade Deadline (two weeks away) so here are a few ups before we get to the downs.
Evgeni Malkin (Pittsburgh Penguins) — Evidently the weekend was kind to Malkin as he did most of his damage with eight points in two games against Winnipeg and Tampa Bay. Just when it seems like he will go into a bit of a lull, the Center seems to just "go off" on some poor team or teams. The reality is its not fair and why Malkin remains a favorite for the Art Ross Trophy and is our fantasy offensive MVP so far. Week 18 looks to be another solid week for this stalwart and potential #1 draft pick next fantasy season.

Marian Gaborik (New York Rangers) — It seems like a weird coincidence but the "GAS Line" gets reunited in Gotham and Gaborik has one of his best overall fantasy weeks in the new year. In all, the RW had seven points and nearly could have had a few more. This was the kind of week it was for #10 as the Rangers continued to pile up the points. What maybe unusual is the fact that he had a season high week for assists with five. Will that be the trend going forward? It is tough to call but Gaborik is a strong Week 18 start with a favorable schedule (aside from Boston Tuesday).

David Perron (St. Louis Blues) — We warned to watch this guy when he comes back. It may take him a few weeks but in Week 17, he erupted! Perron had a seven point week including six goals (that is not a misprint). The Forward is a classic goal scorer but also has some grit in getting into those areas that few often dare. That was part of the reason for the concussion problems but also partly why he had such potential before injury and now once again. With 24 points in 30 games, the upside may be even greater.  Point a game production come next year would not shock anyone at all. Week 18 may feature a couple more power play points as well.


Honorable Mention:  Ray Whitney (PHX), Brad Richards (NYR)

==============================================
Let's slide down a few chutes……and give out some black roses.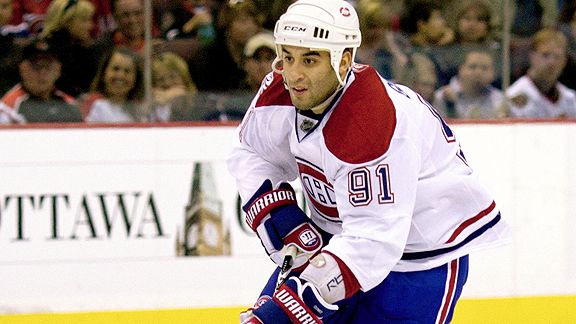 Scott Gomez (Montreal Canadiens) — This does not sound like the respectful way in calling out a guy with one goal on the season but when is it (especially at that $7+ million price)? He is only playing on the top six because of salary and those eight points in 26 games are just inexcusable. If it was anyone else, they would be headed down to their AHL squad faster than you can say pancakes. Montreal cannot get out of this one and neither can dynasty owners who have been stuck with him. It is a bad situation all around. Please make sure he never sees your roster ever again no matter the circumstance.

Chicago No Hope? — The goaltending has gone to pot and the team defense has too. No wonder why Chicago has struggled so mightily for the last month or so in reality. The lack of scoring is understandable but when your goalies give up three and four goals a night and they just are not doing the job, what else can you do? Pray for the trade deadline? Perhaps. However, it appears that Ray Emery and Corey Crawford are going to have to figure this out along with the thinning defense who lost Steve Montador and Niklas Hjalmarsson to injury. Montador's is more serious but the rest of the defense has been abysmal. When there are coach rumors, one knows its serious. Chicago must turn it around and soon but they will have to outscore their opponents from here on out.

Los Angeles Kings lack of scoring depth — This is rare that we go with a team dishonor of sorts but the Kings could not score for Jonathan Quick if their life depended on it. The shots seem to be there but the finish vanishes like a bad B-rated film. Even top liners like Anze Kopitar and Dustin Brown have had their moments along with Mike Richards. If only they had a few more goals, just imagine how many more wins there would be in La-La land. Also, when you need the help of a clock malfunction just to score a third goal then follow it up with two abysmal performances, there is pain and then there is the Kings offense. Approach fantasy players on this team with extreme caution. This will be literally rinse, wash, and repeat until the Kings acquire someone with actual grit to score near the net like Mike Knuble. Now that would be a good fantasy idea.

Dishonorable Mentions: Steve Mason (Columbus), Philadelphia Goaltending

Well that wraps it up for this week.  Good luck and hopefully it is a solid Week 18 for everyone out there. There is always the unexpected in fantasy hockey and we hope to always spotlight the expected also. Do not forget to follow us @TheProgramBTR for all your fantasy hockey questions and more.  Thanks again for reading.