There are many ways to describe Charles Inglis.  You could say he flies around the ice like a hawk, he has a temper like a wolverine, or he fights like a bear.  However you describe him one thing remains true, Charles Inglis is an animal.  I describe him as a skilled energy guy who you can't miss when he's on the ice, and lately he's on the ice a lot.  Inglis is currently riding a six game points streak including five goals and four assists.
On the year he's putting up nearly a point a game following last seasons 32 goal 60 point effort.  To put that in perspective it was one less goal than Carter Ashton and one more than a guy named Ryan Nugent-hopkins.  That's in a season where he had 141 penalty minutes.  That's a pretty rare mix of grit and scoring ability that is still being improved upon.
Then there are the knocks on Inglis. Charles has only played 35 games this season due to a 10 game suspension for an elbow.  He was traded to Red Deer mid-season this year after "disobeying team rules" in Prince George.  But, since being in Red Deer Charles hasn't looked back, scoring nine goals and 16 points in as many games for the Rebs.  He has spent a lot of time on the power-play and, with  the Rebels injury woes, has provided some much-needed offence.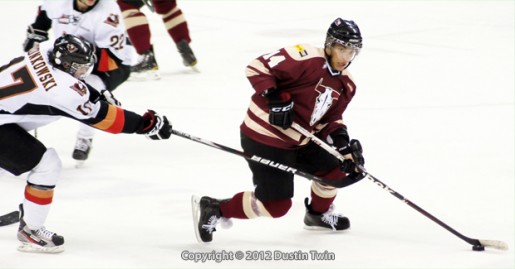 With this being "The Plus Side" I tend to not focus on the negatives.  In this case I think a player who plays the style of game that Charles does is often going to be flirting with the edge.  I think of a guy like Ben Eager whose discipline was called into question in the playoffs last year but who brings an undeniable element of physical play and energy to his team. Charles could play that role as a professional while adding secondary scoring to any lineup.  There is something to be said for the intangible element of 'playing on the edge'.
Jordin Tootoo, of the Nashville Predators, put up 30+ goal seasons while racking up the penalty minutes during his time in 'the dub'.  I could see Inglis' game progressing along the same trajectory as a guy like Tootoo who is now enjoying a decent amount of ice-time and chipping in offensively in the NHL.  Tootoo came up in the WHL with the same edge and scoring as Inglis is now providing for the rebels.  But the comparisons only go so far. Inglis is not as big as Eager and not quite as physical as Tootoo but he might be more likely to add scoring to a team than those two players. Inglis is a shooter, he goes to the dirty areas, and he finds the back of the net with regularity.
Hopefully Charles can be one of those guys who is able to clearly define the edge and stay on the right side of it.  His potential to overcome past difficulties and energize the lineup of any team he plays for is really high if he does.