While the Montreal Canadiens have won 24 Stanley cups, the most in NHL history, they haven't won Lord Stanley's trophy since 1993. This long successful history has led to a long storied list of players to be considered as the greatest Montreal Canadiens of all time, but the current streak of 18 years without a Stanley Cup has also led to some of the worst players to even don the Bleu Blanc Rouge .
The list below is my attempt to rank the top 10 worst players to play a minimum of 25 games for the Habs since their 1993 Stanley Cup. Please note that the list is in chronological order.
Matt Higgins (1997-2001)
Selected 18th overall in the 1996 NHL Entry Draft by the Canadiens, Higgins turned out to be one of the worst 1st round selection in franchise history to play in the NHL. In more than 57 games with Montreal, Higgins recorded only 1 goal and 2 assists for a mere 3 points. Higgins had recorded three 30-goal seasons when he played for the Moose Jaw Warriors of the WHL. That is what we call a bust as Higgins is currently playing for a lower-level team in Slovenia!
Christian Laflamme (2000-01)
Traded by the Edmonton Oilers to Montreal along with Matthieu Descoteaux in exchange for Igor Ulanov and Alain Nasreddine, Laflamme had an unremarkable career with the Habs. In 54 games over two campaigns, Laflamme recorded only 5 points, all assists, and posted a -16 plus/minus rating. As  you can see, the lanky defenseman, who finished his NHL career with the St. Louis Blues, did not burn the league (Laflamme means The Flame in English). He finished his not-so-illustrious career playing for the Pont-Rouge Lois Jeans of the Ligue Nord Americaine de Hockey (LNAH).
Juha Lind (2000-01)
Acquired by the Canadiens for Scott Thornton in January 2000, Lind is one of the worst players to ever play with Montreal. The Finnish winger recorded a paltry 4 goals and 6 assists for 10 points in 60 games with the Habs  over two seasons. Soft and slow, Lind only played in Montreal because of the lack of better options at the time. If you are looking for his vintage Habs jersey, you could probably find it at the nearest Salvation Army counter.
Patrick Traverse (2001-03)
In more than 109 games with Montreal, the lanky defenseman scored 4 goals and added 19 assists for 23 points and a mediocre -24 rating. The Canadiens acquired Traverse in exchange for Eric Weinrich in February 2001. According to Traverse himself, he only played in the NHL because there is now 30 teams. Experts around the NHL totally agree with Patrick.
Mariusz Czerkawski (2002-03)
When the Montreal Canadiens acquired him for Arron Asham and a 5th round draft pick in 2002, they were hoping the Polish forward would provide a much-needed offensive boost. Instead, Czerkawski became a huge disappointment, notching only 5 goals and 9 assists for 14 points in 43 games with Montreal. His contract was later bought out and he signed a one year deal with the Islanders in 2003, netting another 25-goal season (he had five 20-goal seasons prior to his acquisition)! Czerkawski, whose name amounts to 254 points at Scrabble, still owes a 20-goal season to Habs fans. They are still waiting…
Jason Ward (1999-2004)
Drafted 11th overall in the first round of the 1997 NHL Entry Draft, Ward played 105 games with Montreal, recording only 10 goals and 10 assists for 20 points. Another 1st rounder that did not pan out in the 1990s, Ward managed to hang around and play more than 366 games in the NHL a fourth line grinder and defensive specialist, not what the organization was expecting when they drafted him ahead of superstars like Marian Hossa and Brenden Morrow.
Sergei Samsonov (2006-07)
The Canadiens signed the speedy Russian a two-year contract worth $7.05MM in the summer of 2006 in hope of getting consistent offensive threat. Instead, they received a boatload of uselessness and put him on waivers in February 2007. Samsonov managed to score only 9 goals and add 17 helpers for 26 points in 63 games after recording six seasons of at least 45 points with the Boston Bruins. The Canadiens ended up trading him to the Chicago Blackhawks for Jassen Cullimore and Tony Salmelainen in June 2007. In La Belle Province, Sergei will be remembered for his play without the puck on NHL 2007.
Janne Niinimaa (2006-07)
The Habs acquired Niinimaa and a fifth round pick in exchange for Mike Ribeiro in 2007 in one of the worst trades in the history of the franchise. Niinimaa went on to record only 3 assists in 43 games for the Bleu Blanc Rouge, finishing with a -13 rating on the season. Niinimaa also managed to ice the puck 432 times during his tenure with the Habs, a record that will be hard to break. Since that dismal trade, Ribeiro has recorded 116 goals and 265 assists for 381 points in 453 games with the Dallas Stars.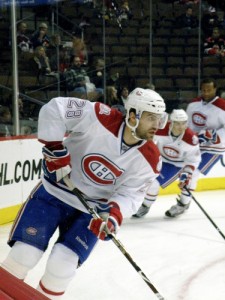 Kyle Chipchura (2007-09)
Drafted 18th overall in the first round of the 2004 NHL Entry Draft, Chipchura turned out to be a major disappointment for the Habs. In 68 games with Montreal, the slowest 1st round pick ever managed only 4 goals and 10 assists for 14 points. He also posted a mediocre -17 differential during his tenure. The Canadiens finally gave up on him, trading Chipchura to the Anaheim Ducks for a 4th round pick in December 2009. Chip, a natural born leader like Craig Rivet, is currently playing for the Phoenix Coyotes. Marquee names such as Travis Zajac, Andrej Meszaros, Mike Green and Dave Bolland were all drafted after Chipchura.
George Laraque (2008-10)
Signed to a three-year contract worth $4.5MM, Laraque was mainly signed to become the Habs tough guy. However, things didn't go as planned for the vegan enforcer as he battled back injuries for over two years before the organization decided to buy him out. In only 51 games, Laraque scored 1 goal and added 4 helpers for 5 points and 87 penalty minutes. He also managed to finish with a -12 rating despite limited ice time. At the end, Laraque was not even dropping the gloves any more. The Green Party politician is now working as a hockey analyst for TVA Sports, often dropping the gloves against ex-Habs enforcer Dave Morissette when reminiscing about their hockey career.
Honorable mentions
David Aebischer, Murray Baron, Andrei Bashkirov, Sergei Berezin, Sebastien Bordeleau, Valeri Bure, Pierre Dagenais, Aaron Downey, Rory Fitzpatrick, Scott Gomez, Miloslav Guren, Jonas Hoglund, Marcel Hossa, Eric Houde, Pat Jablonski, Darren Langdon, Chris Murray, Garth Murray, Alexander Perezhogin, Peter Popovic, Barry Richter, Pierre Sevigny, Todd Simpson, David Wilkie, Johan Witehall
Please note that players like Eric Chouinard, David Fischer, Dave Morissette and P.J. Stock did not play enough games with the Canadiens to be included in the above list.
Hat tip to my friend Mike Legault for the research.
Feel free to add players  that I might have omitted.
Follow me on Twitter for more updates on the Canadiens and hockey in general.
A long-time Joe Sakic fan, Fred, 35, is a freelance sports writer and translator. Fred earned a Bachelor of Translation in 2002 at Laval University in Quebec City. He also writes on the Montreal Canadiens for HabsAddict.com and he is an associate editor and a baseball columnist on Dobberbaseball.com. He is also fluent in English, French and Spanish.