Both Dustin Brown and Anze Kopitar reached milestones early this season with the Kings organization, as Brown has now played 816 games in his NHL career, moving him up on the list for most games played by a Kings player, and Kopitar moved up on the list of most goals scored by a Kings' player with 223 goals.
Brown Surpasses Rob Blake in Most Games Played by a King
Brown reached his milestone earlier this season on Friday, Oct. 16, in a game against the Minnesota Wild, surpassing long-time Kings' defenseman and now assistant general manager Rob Blake.
Before being hired in his current position under Dean Lombardi on July 18, 2013, Blake played 805 games in a Kings' uniform. Blake played on the Kings for 14 years and captained the Kings for six of those seasons. Blake also played for the Colorado Avalanche and ended his career playing for the San Jose Sharks.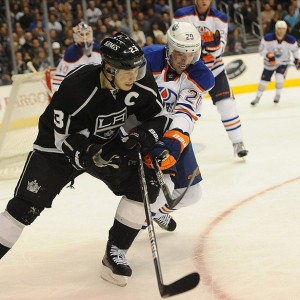 Brown was drafted by the Kings in the first round of 2003, helping the Kings win the first two Stanley Cups in franchise history and has been the captain since 2007-08. Brown is now fourth overall in most games played and has 105 fewer games played than No. 3 on that list (Marcel Dionne). Former Kings' general manager Dave Taylor currently holds the record with 1,111 games played with the Kings and is followed by the Kings' current president of business operations, Luc Robitaille, who played 1,077 with Los Angeles. Kopitar currently sits in ninth place with most games played as a member of the Kings, with 697 games, and reached a new milestone this last weekend.
Kopitar Ranked Seventh in Kings' Goal-Scoring Leaders
On Saturday, Nov. 9, Kopitar scored his fifth goal of the season against the Florida Panthers and became seventh in all-time goals scored by a Kings' player. Kopitar moved pass Charlie Simmer, who played with the Kings from 1977-78 to 1984-85, amassing 222 goals and 466 games in the eight years he spent in Los Angeles.
Drafted in 2005 by the Kings, Kopitar began playing in the NHL at the age of 19 in the 2006-07 season, scoring 20 goals and 61 points in his rookie campaign. Kopitar currently sits behind Wayne Gretzky, who scored 246 goals during his time with the Kings. Robitaille currently holds the record for not only the most goals scored by a Kings player with 557 goals, but also holds the record as the highest goal-scoring left winger with 668 career goals. Kopitar has led the Kings in goals in three of the nine previous seasons played with the Kings.
Brown currently sits ninth in most goals scored by a Kings' player, with 207, and currently has zero goals and five points in 14 games played this season. Kopitar has five goals and one assist in the same amount of games played. The Kings currently sit in first place in the Pacific Division with 18 points with their next game coming tonight against the Arizona Coyotes.
Cole R. Querry resides in Southern California. Having played hockey through college and a background in science and math, he promises to bring an objective analysis to the team and sport he loves.