A chain is only as strong as its weakest link. Heading into the 2016-17 season, it was pretty clear that Boston's weak link was its defense – or at least that's how it appeared on paper. And yet, here we are 23 games into the season, and Boston's defense hasn't really been an issue.
Defense By the Stats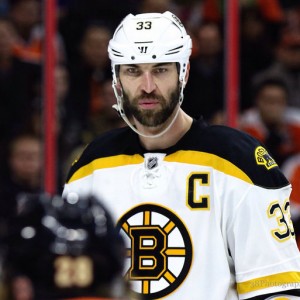 Barring a few early-season slip-ups by some inexperienced young defensemen, the Bruins' defense hasn't disappointed. In fact, the young guys have settled in quite nicely, and the veterans are pulling their weight, with an exception or two.
The Bruins currently sit at sixth in the league in goals against, meaning only five teams have given up fewer goals than they have. Yes, a good portion of this can be attributed to Tuukka Rask, whose return to dominance has been a huge factor for the Bruins this season, but that's also telling of what the defense has done in their own zone so far.
However, when you look deeper than goals against, it becomes evident that the Bruins defense is doing a pretty decent job at keeping opposing teams away from the net. As a team, the B's have given up the third-lowest number of shots per game (27.2), which shows that while Rask has certainly been effective, they haven't relied on him to bail out the team quite as much as we had expected.
On top of that, the Bruins have had an effective penalty kill. The B's have the league's fourth-ranked penalty kill, which is currently operating at 86.3%.
Carlo and Chara
Ultimately, Boston's success on defense points towards a couple of key characters. Brandon Carlo's work has certainly stood out the most thus far. Carlo's numbers don't jump out at you with any "wow" factor per se, but if you've watched the Bruins all season, then you've seen what the 20-year-old has done for the team.
Carlo stepped into a difficult role alongside Zdeno Chara, which meant that the rookie defenseman was going to take on a heavy workload right from the get-go. Carlo has been a consistently strong defender for the Bruins, which is all the team can ask for considering they threw a rookie out on a top-line pairing that's averaging 22:19 of ice per game.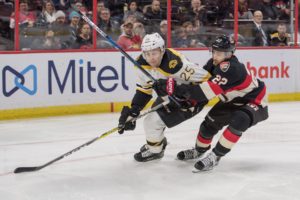 While Carlo is by no means an offensive defenseman, he hasn't been bad in the offensive zone either, as he ranks third among Bruins defensemen with five points. And, if you're a fan of fancy stats, Carlo's 52.4% Corsi-for% isn't stellar, but it means the B's have had the puck more often than not when the rookie D-man is on the ice.
Carlo's linemate and mentor, Chara, has also had a good start for the B's. While logging big-time minutes for the B's (as has become custom for Big Z), the aging defenseman hasn't shown too many signs of worsening play. While Chara may not age as well as fellow Boston superstar David Ortiz, the 39-year-old defenseman is still pulling his weight for the Bruins.
At the end of the day, the B's would love to get a little more from their lower-pairing defensemen (I still think Colin Miller is playing well below his potential, for example), but in the meantime, their top-pairing will continue to eat up valuable minutes for a defensive corps that, well, maybe we didn't give enough credit to heading into the season.