#JackIsBack
Pause. Reset. Twenty-one games into the season, the Buffalo Sabres' 2016-17 campaign is finally starting. Yes, the season officially began on Oct. 13, but excitement is back in Buffalo with the return of super sophomore Jack Eichel who made a triumphant return to the Sabres lineup on Tuesday against the Ottawa Senators.
With a goal and an assist (both on the power-play) a little less than 10 minutes into his first game of the season, Eichel has rejuvenated a Buffalo fan base desperately seeking a winner. Since suffering the dreaded high-ankle sprain in the final tune-up of the preseason, the Sabres, predictably, took it slow and did the right thing letting Eichel work his way back on his own time.
Entering Tuesday's tilt, Buffalo sat six points behind the New Jersey Devils and seven points back of the Columbus Blue Jackets for the final two Wild Card spots in the Eastern Conference. Yes, the team faces an uphill climb but Sabres head coach Dan Bylsma kept the ship afloat and managed to squeeze 19 points and a respectable 7-9-5 record out of a lineup that has also been without Ryan O'Reilly, Evander Kane, Tyler Ennis, Nicolas Deslauriers, Zach Bogosian, Dmitry Kulikov through the first quarter of the season.
The team is one game under .500 without 40% of its offense (81 out of 199 goals scored) from last season? Even though the Sabres sit 15th out of 16 teams in the Eastern Conference standings, there is a reason for optimism if they have settled their injury debt with the Hockey Gods.
Eichel Towers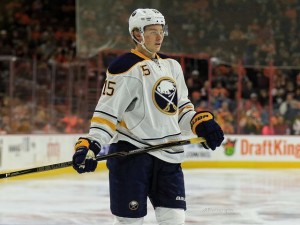 It took all of six minutes and 16 seconds for Eichel to make a splash in his season debut. The 2015 Hobey Baker Award Winner, honoring the top college player in the nation, Eichel saw 20 shifts and 17:08 of ice time against Ottawa, much of which was deployed on the five power plays awarded.
On a beautiful tic-tac-toe play with the man-advantage, Rasmus Ristolainen quarterbacked the power play from the top of the key, working the puck to Eichel who made a deft cross-ice pass to Kyle Okposo camped out at the back door. Okposo tried to feed a crashing Sam Reinhart at the opposite post but the puck took a fortunate bounce off Senators defenseman Cody Ceci for Eichel's first point of the season.
How about that pass from Jack to Kyle on our 1st goal?

Took 6:16 for Eichel to get an assist. #AppleJack ? pic.twitter.com/AJvALwXqPo

— Buffalo Sabres (@BuffaloSabres) November 30, 2016
Buffalo went back to work on the power play just 2:05 later and Eichel showed exactly why the Sabres made him their first choice, 2nd overall, at the 2015 NHL Draft.
Jack is back!

Eichel has a goal and an assist in the first ten minutes of his season. #BUFvsOTT pic.twitter.com/QQF5fK2hrm

— NHL (@NHL) November 30, 2016
#EichSnipe! What a rip. Eichel's shot has a vapor trail. Positioned at the top of the left face-off circle, Eichel one-timed a Ryan O'Reilly pass past Ottawa goaltender Craig Anderson just inside the left post. Dan Dunleavy had the call:
"The #EichelTower is back!" –@Dan_Dunleavy pic.twitter.com/JBV1AR1AcD

— Buffalo Sabres (@BuffaloSabres) November 30, 2016
"This is what you live for: playing hockey. I was just so excited to come back and rejoin the team and just get playing again," Eichel said in his MSG network post-game interview. "What a great feeling to come in, get a win here and be able to contribute.
"I was just so excited to come back," Eichel continued. "I felt pretty good. In the second (period) I was a little bit winded but I was able to regroup I think as a team, and myself between periods, and just go out and win a hockey game — that's what matters. I felt good. Just want to keep getting better each game."
Jack's all smiles as he joins the Lexus Postgame Show. ?

"This is what you live for, playing hockey." pic.twitter.com/kEiXvAanmH

— Buffalo Sabres (@BuffaloSabres) November 30, 2016
"The strength coaches did a great job," Eichel said of his conditioning since coming back from injury. "I was doing a lot on bikes. I worked out in the pool for a while, a lot of different things where you take the load off my ankle but still keep your conditioning. I felt good. Just want to keep getting better each game."
Ripple Effect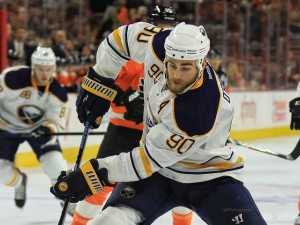 After failing to record more than two goals in all but one of their last 10 games, the Sabres exploded for five goals in its 5-4 triumph over the Senators. Boosted by three power play goals, the outburst was just one off their season-high of six, scored in their 6-2 victory over the Edmonton Oilers back on Sept. 16.
Eichel's return allowed Bylsma to employ his lineup how he always intended, centering his franchise piece between Kane and Reinhart. His re-insertion into the lineup allowed O'Reilly to center his own line flanked by big free-agent signeeOkposo and flashy newcomer William Carrier.
The ripple effect paid immediate dividends as O'Reilly struck for three points — two goals and an assist — his best output since his four-point night in the team's second game of the season against the Oilers.
Eichel's return opened up the ice for the rest of his teammates as well. Teams are forced to account for him when he's on the ice. It also bumps Johan Larsson, who centered the team's third line with Marcus Foligno and Brian Gionta, to where he should be — outside the team's top-six forwards. Derek Grant, Matt Moulson and Zemgus Girgensons comprised the fourth unit.
"I think we moved the puck well, used our speed and tried to create," Eichel said of reuniting with Kane and Reinhart on the team's top line. "We generated a good amount of chances. I think there's a few places that Evander, myself and Sam probably want to clean up a bit but for the most part we were able to contribute on a big team win on the road so that's what matters."
Goaltending Dilemma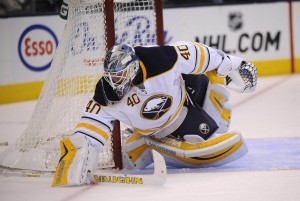 With two minutes and 12 seconds left in the first period, Sabres starting goaltender Robin Lehner appeared to be injured and was replaced by backup Anders Nilsson against Ottawa.
Lehner halted five-of-six shots faced in 17:48 of action before skating off the ice and to the locker room in a bizarre twist that even left the play-by-play tandem baffled.
Nilsson replaced him and preserved the team's 3-1 lead, standing tall with 26 saves on 29 subsequent shots.
Bylsma indicated that Lehner had a hip injury after the team's morning skate on Wednesday and referred to the timeline as day-to-day. It is unclear if the Sabres will recall another goalie before its next game at home against the New York Rangers on Thursday.
By the numbers, Nilsson has posted vastly superior ones to Lehner this season, yet there isn't a goaltending controversy — yet. Nilsson picked up the win against Ottawa to stand 3-2 with a team-best 2.20 goals-against average and sparkling .939 save percentage in seven games played. Lehner, meanwhile, is just 5-7 in 16 games this season with a 2.40 goals-against and .921 save percentage.