The Buffalo Sabres are five weeks into Jack Eichel's initial prognosis of a six to eight week timetable as the 2015 Hobey Baker winner continues to recover from a high-ankle sprain.
Eichel has shed his walking boot and scooter and has resumed skating, but the team is taking extra precautions to ensure they doesn't rush their super sophomore back too soon.
"Jack is skating, upping his skating regime and showing signs of progress but still has a ways to go," Sabres head coach Dan Bylsma told The Buffalo News at the team's morning skate as they prepared to take on the Tampa Bay Lightning on Thursday. "He hasn't reached all levels of his skating yet in terms of stopping and starting and some of those things, but is progressing pretty well."
Without Eichel & O'Reilly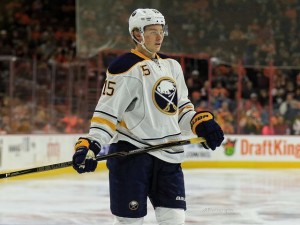 Predictably, the Sabres have struggled without Eichel. They are just 5-7-4 in 16 games this season, good enough for last place in the Eastern Conference Atlantic Division. A recent 2-6 slide in November, including losses in each of their last five games, has further scrutinized a team sinking deeper into the abyss.
With Eichel expected to be sidelined another three weeks, the team's upcoming four-game homestand against the Lightning, Pittsburgh Penguins, Calgary Flames and Detroit Red Wings weighs heavily on the hopes of bringing their five-year playoff drought to an end. Still, it's clear the team isn't mortgaging the future for the sake of the present, even under these dire circumstances.
Ryan O'Reilly was removed from the team's first game against the New Jersey Devils on Nov. 11 due to a suspected abdominal injury, but made the trip to New Jersey for the second set of its home-and-home on Nov. 12, although he didn't dress.
O'Reilly told me, "I could have played, but why chance it?," after the Sabres fell to the Devils for the second time in two nights, but then curiously didn't even make the trip to St. Louis on Tuesday.
With O'Reilly expected to miss his third straight game with a midsection injury tonight against Tampa Bay, it's clear the Sabres are being cautious, though their big center was one of the few Sabres to skate Wednesday morning.
"He's progressing," Bylsma said when pressed on O'Reilly's status. "He's feeling better."
It Puts the Biscuit in the Basket
Putting the puck in the net continues to be an issue for a team that has also been without Tyler Ennis, Dmitry Kulikov and Zach Bogosian, among others this season.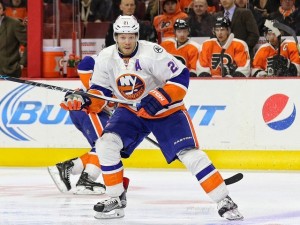 The Sabres have not potted more than three goals in a game since back-to-back 3-0 and 3-1 wins the final two games of October versus the Florida Panthers and Winnipeg Jets, respectively. It's something the team's big free agent signee Kyle Okposo took issue with after being swept by the New Jersey Devils in a home-and-home last weekend. With just 30 goals in 16 games, the Sabres rank dead last (30th/30) in offense at 1.875 goals per game, though their power play has a respectable 20.4 % conversion rate (11th/30).
In the wake of injuries, it has been baptism by fire for American Hockey League call-ups Nicholas Baptiste, Justin Bailey, Evan Rodrigues, Cole Schnieder and William Carrier, who will continue to be counted on until the blue and gold return to full strength.
At Sabres practice Thursday morning, the lines looked like this:
Kane-Reinhart-Okposo
Foligno-Larsson-Gionta
Rodrigues-Girgensons-Moulson
Carrier-Grant-Baptiste
Eichel Timeline
If the Sabres continue to be patient with Jack Eichel and do not rush him back before the back end of his estimated eight-week timetable, he will miss another 10 games through Dec. 8, eight of which are against teams the Sabres are chasing in the Eastern Conference standings.
At that point, it may already be too late for the Sabres, but it's important to focus on the future of this franchise.
Sabres Call up Taylor Fedun
The Sabres recalled defenseman Taylor Fedun from their AHL affiliate, the Rochester Americans, and sent down fellow defenseman Casey Nelson in a corresponding move prior to its game against the Lightning on Thursday. Fedun has two goals and 10 assists for 12 points in 13 games for the Amerks this season.
"Taylor Fedun was called up and will play with Justin Falk tonight on the back end and Robin Lehner will start in net," Bylsma said at the team's pregame press conference. "Taylor came to camp behind with his foot injury, wasn't able to skate until he got here, still a little bit behind going down to Rochester but got his game underneath him the last three weeks. He's got very good form, a smart defender and a good puck-mover on the power play.
"Two or three games ago he got a goal and three assists and a fight," Bylsma said. "He was due for a call-up after that. He doesn't have a hammer of a shot, (he's got) a smart shot but his puck-moving and ability to pass the puck and find the open guy shows what he can do."