Brad Marchand spoke out on Wednesday about the officiating of the Boston Bruins and Tampa Bay Lightning second-round series of the 2018 Stanley Cup Playoffs.
'It's just funny how inconsistent they are.' – Brad Marchand
The Bruins' star winger was clearly upset about the inconsistency in penalties called by referees throughout the team's past three games — and he has every right to be. But we must remember that referees are susceptible to making mistakes and, in many cases, it is difficult to fault them for a missed call.
Realistic Referee Expectations
Referees are human. There are botched calls in every sport in the world. While it is easy to get up in arms and jeer the men in stripes, some understanding is required to accurately judge the situation.
Consider the high-sticking call against David Pastrnak during the third period of Game 2. Twitter exploded over the call, pointing towards a slow-motion replay which revealed the truth of what had actually happened: the Bruin picked up the stick of Tampa Bay's Victor Hedman causing the defenseman's stick to continue upwards and into his own face.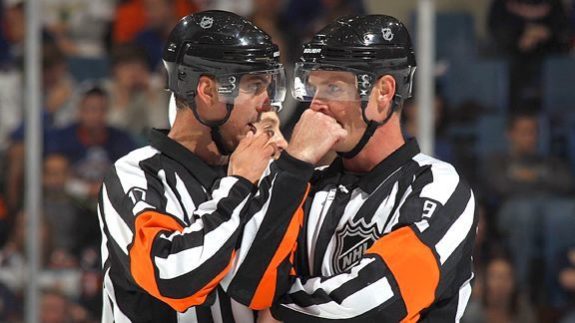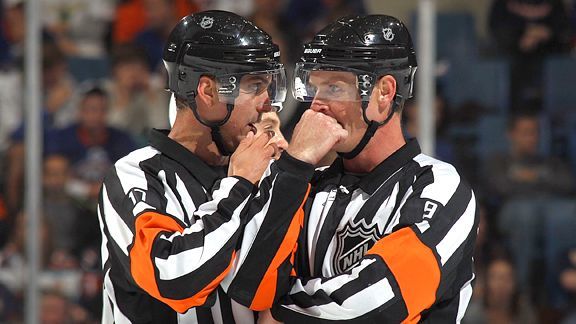 This call was even more painful for the Bruins given the fact that Hedman was bloodied on the play resulting in a double-minor for Pastrnak. While the fan in you was likely angry, it is important to judge these instances with some fairness. For starters, consider how fast that play unfolded. No one watching the game from their couch was alarmed until the slow-motion replay was provided.
Secondly, from the referee's perspective, he saw Pastrnak's stick reach head height and then Hedman falling to the ice, holding his face, revealing a gash in his cheek. Watching the play in real time, it is easy to understand why the official made the call.
Sometimes calls fall in your team's favor and other times they do not. Sometimes calls are accurate and sometimes they are botched. But that's hockey – that's sports in general. That is the human element that is slowly being photoshopped by technology.
If you want your game perfect, call for a robot revolution in the NHL. If you want your game to be judged by humans, who are capable of adapting to a situation and making mistakes, deal with the hand you were given. Feel free to criticize it, but do so fairly.
Marchand Criticizes Officials
It is one thing for a call to be missed or an official to deem an infraction not worthy of two minutes in the box, but there have been blatant inconsistencies from the drop of the puck in Game 1.
For starters, there is the slashing call that provoked Marchand to speak out. On a breakaway late in Game 2, Tampa Bay's Anton Stralman attempted to get his stick on No. 63's in order to thwart the scoring opportunity. While successfully doing so, he had caught Marchand in the glove which should be a slashing call.
This sort of play would likely be overlooked in past seasons, but the NHL has been tight on stick infractions this year. If a slashing call would have been made, it would fall in line with countless other penalties dished out throughout the 2017-18 campaign to all 31 teams.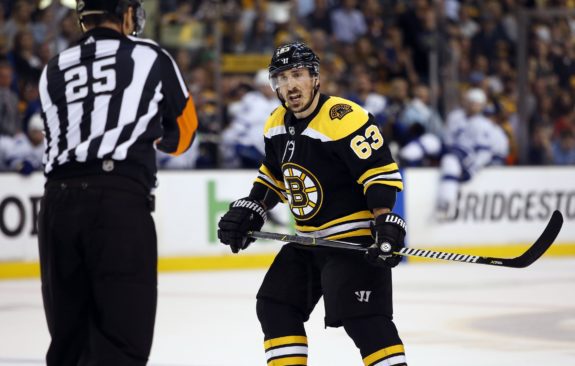 Even nine-time NHL All-Star Jeremy Roenick criticized the officiating after Game 2 was all said and done.
Then, in Game 3, Marchand was called for a slash on Stralman. While Stralman was not on a breakaway, Marchand's stick caught the opposing defenseman in the glove. The Bruin was penalized — and rightfully so — but the inconsistency here is what has Marchand and Bostonians so riled up.
'A slashing penalty is the same thing that I had on a breakaway last game, was 3-2. A little consitency would be nice.' – Brad Marchand
It should be recognized, however, that an official's eyes are often more closely trained on a notoriously dirty player such as Marchand and the recently suspended Tom Wilson.
Another inconsistent call revolves around cross-checking. In Game 1, David Pastrnak was called for a cross-check in the second period which nullified a Bruins goal. The call was correct, and Pastrnak was left to rot in the sin bin while watching his team kill off his penalty instead of gaining a 3-1 lead.
But in Game 3, in the last minute of play, while the Bruins were down by just one goal, Pastrnak was cross-checked by Dan Girardi behind the net. The hit could have also been deemed a hit from behind or boarding, but no call was made. It could have given the Bruins a power play that, if capitalized upon, could have sent the game to overtime. Instead, Brayden Point potted an empty-netter and took the game by a score of 4-2.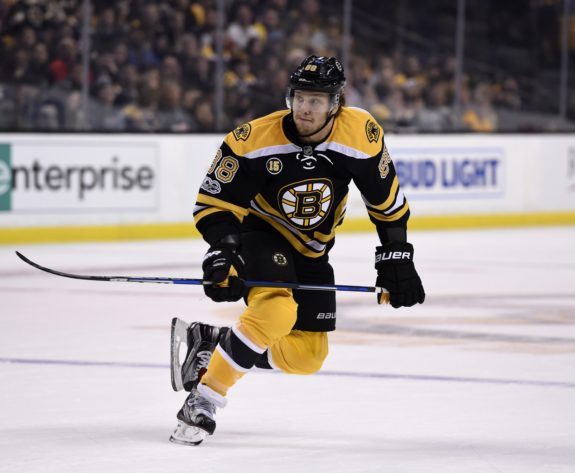 The "let the boys play" argument will always be there and many fans, analysts, and players alike often times enjoy when the officials step aside and, well, let the boys play. But the positivity behind that notion loses meaning when consistency falls by the wayside. It's one thing if this theory is implemented for an entire game or period, but jumping to it during a crucial point in a game will certainly have its sway.
Bruins fans must take note, however: the referees were not to blame for Boston's two losses this series. While these missed calls made the team's comeback more difficult, the Bruins' 18 skaters are the only ones to blame. In Game 3, for instance, they only showed up for the last ten minutes of the game. In the postseason, that's not going to cut it.
Marchand handled the situation perfectly. He called out the inconsistencies that have strung out across multiple games, then turned his attention to the only item on the menu within his control: Game 4.