In our continued look at potentially available players this offseason, we realize there will be a lot of buzz when it comes to both free agents and players already under contract with another NHL franchise. So as to ensure we cover a wide variety of options, we'll also be looking at possible trade options for the Edmonton Oilers, this time looking at Justin Faulk of the Carolina Hurricanes.
Is Faulk someone the Oilers should have interest in? Would the Hurricanes be interested in moving the once highly-touted defenceman? If so, what might the Hurricanes be asking if the Oilers were potential trade partners?
Why Is Faulk Available?
There's no certainty that the Hurricanes are looking to deal Faulk but within days of being hired, new Senior Vice President of Hockey Operations, Rick Dudley started making moves. The organization almost won the NHL Draft Lottery and there are rumors that despite not having a strong leadership group in place yet, the team is ripe for the picking (not that they'll make stupid trades) and eager to negotiate. Changes are afoot in Carolina.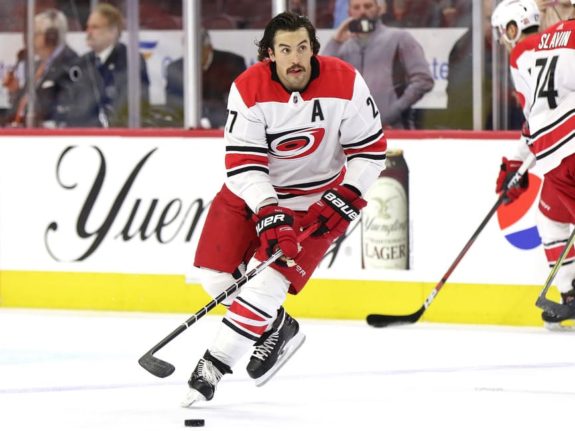 As Scott Cullen of TSN wrote, "From the sounds of it, Sebastian Aho may be the only untouchable on the roster, so that does leave open the possibility that the Hurricanes could make some big deals this summer." That means if Faulk is available — and the Hurricanes do have a fairly strong defensive group with the flexibility to move someone — he could be a nice addition for a team looking for a blueliner of his skill set.
Related: Oilers & Hurricanes Could Be Perfect Trade Partners
How Faulk Would Help the Oilers
Justin Faulk is a co-captain for the Hurricanes which is a nice quality to have in a player you're looking to acquire but could also be a tick against when you consider Carolina hasn't reached the playoffs in nearly a decade. He's a strong puck-mover and former Norris-Trophy candidate, but he struggled in 2017-2018 when you compare what he did to previous seasons. His ice time dropped to 22:16 per game and his 31 points during the regular season were the lowest he's seen in both areas over his many years as a top-four blueliner.
All of these stats could mean the Hurricanes are selling at a low-point. If so, it could be a nice change for the Oilers who tend to be the team that gives up a player when their value isn't at its peak.
Still, despite Faulk's lower-than-average numbers, he's no joke. He's a right-shot d-man that has value, he's got over 500 games on his NHL resume and he's a lock for 30-35 points almost every season. He's got two years left on a fairly friendly contract that pays him $4.83 million per year and, better yet, he can run a power play, which is something the Oilers could surely use.
His possession numbers are strong, he can eats minutes like PacMan eats ghosts and he pushes the puck in the right direction. If you added him to a core of Oscar Klefbom, Adam Larsson, Darnell Nurse, Andrej Sekera, Matt Benning and Kris Russell, you'd have a very strong but non-flashy group of defenders who could do some damage and handle their business.
Related: Should Oilers Go for James van Riemsdyk?
What Would a Deal Look Like?
Recently, our own THW contributor, Larry Fisher took a look at how the Oilers and Hurricanes might be good trading partners, focusing on Jeff Skinner and Justin Faulk as possible targets. When he spoke of Faulk, he suggested a one-for-one for Jesse Puljujarvi might make the most sense.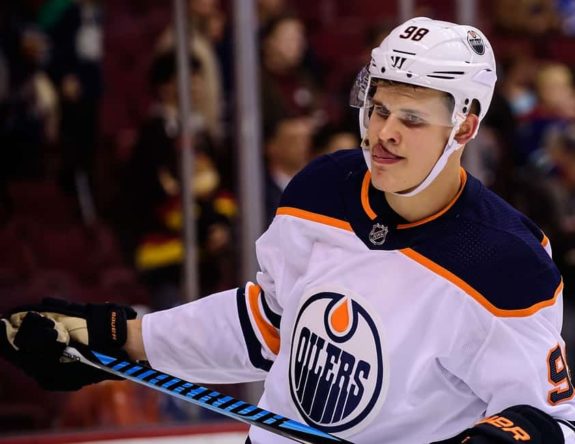 Fisher wrote, "Edmonton could make it work financially, with Faulk signed for two more seasons at a team-friendly $4.83 million. He'd be a nice partner for Darnell Nurse, with the Swedish pairing of Oscar Klefbom and Adam Larsson rounding out the Oilers' top four. That's a solid group."
There are a number of hockey insiders on social media right now asking if the Oilers should consider moving the 10th overall pick or Puljujarvi, many in favor of such a move. Giving up on Puljujarvi has risks but perhaps the management team in Edmonton is looking at his lack of major production in the past two seasons and suggesting that trading a maybe for a quality player is good asset management.
Where things might get interesting is how a trade of this kind would affect the NHL Expansion Draft and what and who the Oilers can protect on their blueline. That said, Faulk's deal would expire in two years and there would be time for Edmonton to work on moving out someone like Sekera or Russell if Faulk became much more valuable.
Would you like Faulk as an Oiler? Would you be willing to move the 10th overall pick of Puljujarvi to make the deal happen?