With the New Jersey Devils 2017-18 season in the books, their focus now shifts to the offseason. They don't have a marquee name hitting unrestricted free agency but they do have a few key role players that general manager Ray Shero will have to decide whether to re-sign or not. Here's a look at who the Devils could bring back, and who could hit the open market when free agency begins on July 1.
Breaking Down Devils' Unrestricted Free Agents
Brian Gibbons:
The 30-year-old had a breakout season. With just five career goals prior to this season, he finished with 12 goals and 14 assists in 59 games and was one of the team's top penalty killers. A significant reason for Gibbons' success was his hot start. In his first 31 games, he scored 12 goals on 43 shots, good for a 27.9% shooting percentage.
The second half of the season was a bit different. Gibbons missed some time with a broken thumb and also dealt with the inevitable regression that came with shooting 27.9%. He scored zero goals in his final 29 games. His five-on-five numbers weren't particularly eye-popping either, finishing the season with a 44% Corsi (CF%), which was second worst on the team among forwards.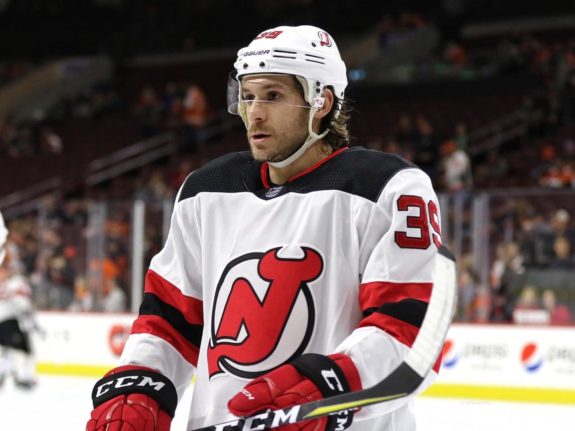 I could see the Devils going either way with Gibbons. As well as he played in 2017-18, it's unlikely he's going to repeat the season he had. The emergence of forwards like Blake Coleman and Stefan Noesen could make Gibbons expendable. On the other hand, he likely isn't going to cost much to re-sign – both in dollar and term – and will give them forward depth in their bottom-six. I would not be against seeing Gibbons return on a short-term deal.
Michael Grabner:
His stint with the Devils did not go as planned. After being acquired at the trade deadline, he had just two goals in 21 games and was a healthy scratch for most of the Devils' playoff series against the Tampa Bay Lightning. It's doubtful he returns next season as he wasn't able to produce in the short time he was with the team. Expect him to hit the open market when free agency opens, where he should find a new home after scoring 27 goals in each of the last two seasons.
Patrick Maroon:
In addition to Grabner, the Devils also acquired Patrick Maroon in an eleventh-hour deadline deal. Unlike Grabner, Maroon was highly productive with the Devils, finishing with 13 points in 17 games. He also was a valuable asset on the power play, where he used his size to help create havoc in and around the net.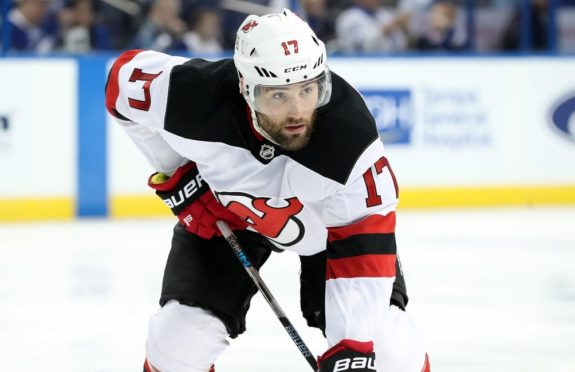 Between the Edmonton Oilers and Devils, Maroon finished with 43 points in 74 games this season. Over the last three seasons, he's averaged 47 points per 82 games, so he can be counted on to provide some offense when needed. However, Maroon is not the fastest skater in the world, which doesn't quite fit with the Devils' speedy style of play. That said, he gives them size and the secondary scoring they lacked prior to acquiring him. For the right price and term, he should be back in red and black next season.
John Moore:
Moore has been with the Devils through their highs and lows over the last three seasons. He was one of Shero's first free agent signings as general manager in 2015. He also set a career-high in goals (11) in 2016-17 and has scored some crucial game-winning overtime goals in his time in New Jersey. Now set to hit free agency, the Devils will have a decision to make on the 27-year-old defenseman.
Upgrading on defense will be key for the team this summer, especially on the left side. Moore is a left-handed shot; can they afford to lose him in free agency? The free agent defense class is incredibly weak, especially for left-handed defensemen. That could be one reason to keep him but there's a couple of other factors that could outweigh that decision.
For one, Moore will be looking for a raise from the $1.950 million salary he had in 2017-18. In addition to a pay raise, he'll most likely be looking for a long-term deal though his on-ice play leaves much to be desired. He has a 46.3% expected goals (xGF%) with a minus-3.49 relative xGF% (via Corsica Hockey) over the last three seasons. Those aren't numbers you'd want from a top-four defenseman.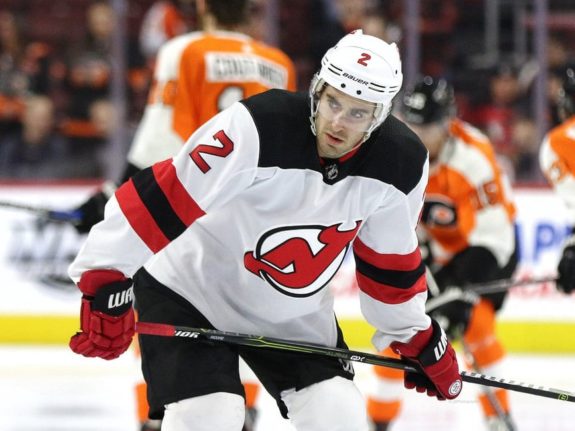 If Shero can find an upgrade, I don't see Moore returning to the Devils next season and Moore can likely get more (no pun intended) on the open market. He played second-pair minutes throughout his tenure in New Jersey which will appeal to a number of teams looking for a top-four defenseman. Someone will give him the contract he wants if the Devils choose not to re-sign him.
Drew Stafford:
He came to the Devils as a late signing in the summer of 2017. He got off to a decent start, with 7 points in his first 12 games but failed to produce much offense the rest of the way. He's also not the strongest defensively and was a healthy scratch for long stretches of the season. The Devils will likely move on from the veteran forward, as they look to open up spots for their younger players.
Jimmy Hayes:
After joining the Devils on a PTO last summer, Hayes signed with the team after an impressive camp and preseason. However, he finished the season with 9 points in 33 games and only played one game after Feb. 22. He also had some of the worst underlying numbers on the team, finishing with a 43.6% CF%. Much like Stafford, the Devils will move on from Hayes and look for other options for depth up front.
Eddie Lack:
He'll be one of the Devils' more intriguing unrestricted free agents this summer. The team's goaltending is in pretty good shape with Cory Schneider and Keith Kinkaid. It's a different story in the AHL, however. The Binghamton Devils weren't very good and their young goaltenders, Ken Appleby and Mackenzie Blackwood, struggled mightily. They both appear a long way from being NHL ready, and that could spell trouble if Schneider or Kinkaid get injured. Given that, don't be surprised if Lack returns to give the organization some depth in net.
*     *     *
Stats from Hockey-Reference except where noted.