Twitter doubled over, writhing in pain. Rioters stampeded throughout the streets of Boston. Children (and full grown-adults) cried. June 26, 2015 could be viewed as one of the worst days in Boston Bruins history.
A Hectic Week, Filled With Ups and Downs
New General Manager Don Sweeney, in his attempt to steer the Bruins away from cap hell, veered the team onto the brink of disaster. Dougie Hamilton, a franchise cornerstone on the blueline for the next decade, was sent to Calgary in exchange for draft picks because the two sides couldn't agree to a contract extension. Milan Lucic, everyone's favorite (yes, I'm looking at you too, Montreal) power forward and professional face puncher joined Los Angeles as the latest jewel in the Kings' crown for a pool of prospects and picks. The overhaul was on; Sweeney grabbed the bull by the horns and began to tear the team down.
But as soon as the process had started, it halted. Rumors swirled of potential additions, from top free agents to veterans who could contribute to checking lines. In between, Zac Rinaldo, world champion face puncher, was acquired and Adam McQuaid, semi-professional face puncher, was re-signed to a long term deal.
Rinaldo and McQuaid bring an element of toughness, a certain grittiness that is necessary to compete. While neither are known for their awe-inspiring talent or ability to score goals on a regular basis, both players compete every shift and pound opponents along the wall when battling for pucks.
The fact that two veterans, who are both replaceable from the lineup, were either re-signed for the foreseeable future or traded for showed that the Bruins weren't just going to retreat into a rebuild. If they were, then why would meddling veterans occupy spots for youngsters who could gain valuable experience playing at the highest level?
Sweeney had a conference call with the media at 5 pm on July 1, but the call was postponed. Speculation arose from seemingly every corner of the hockey world. Matt Beleskey, the highly coveted unrestricted free agent, had reportedly inked a new five year, 19 million dollar contract to join the Bruins.
A short amount of time later, reports surfaced that the Bruins' had acquired local giant Jimmy Hayes from the Florida Panthers. The 6'6″ forward who used to play collegiately at Boston College and was born in Dorchester, was swapped for Reilly Smith and Marc Savard's contract.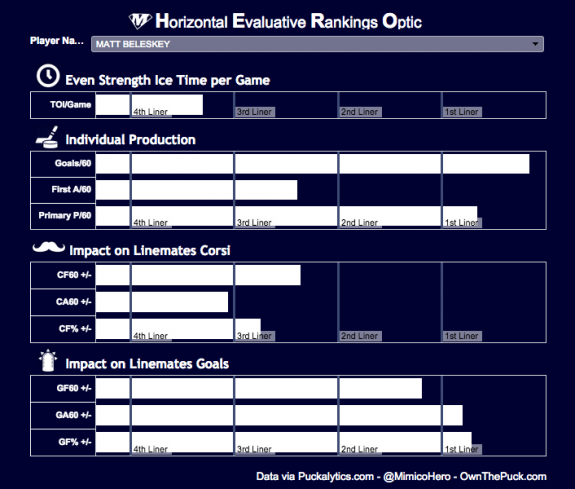 With his moves for physical, talented forwards, Sweeney pushed the Bruins right back into contention. Beleskey reminds some of Lucic, someone who constantly keeps his feet moving while driving hard to the net. He scores plenty of goals in front of the blue paint and wins physical battles in all three zones.
OwnThePuck.com details Beleskey's production in the chart above. Playing fourth lines minutes, yet put up elite individual statistics and had an extensive impact on linemates' goals. Beleskey shined for the amount of ice time received, which is backed up by him dominating statistically compared to fourth line minutes that he was receiving.
@carpenterr33 @Matt_Beleskey @NHLBruins watch his highlights. he epitomizes that style of hustle, punishing bruins hockey. god bless sweeney

— asmae (@asmae_t) July 7, 2015

Hayes plays well off of the puck and uses his massive stride to eat up space on the ice. A typical power forward, Hayes' silky hands around the net have supplied complimentary scoring from the depth lines. A restricted free agent, the Bruins rewarded Smith with a fresh 3 year, 6.9 million dollar contract. Shipping Savard's contract to Sunrise was key for Boston because they no longer had to eat that dead money. Smith, a wildly inconsistent contributor on the Patrice Bergeron line, had his ups and downs with the Bruins. He was rewarded with a new contract after posting 51 points in his debut season with the Black and Gold, but sputtered in his sophomore season, seemingly invisible in many contests.
A few days later, the Bruins signed free agent defenseman and former University of Massachusetts product Matt Irwin to a one deal in order to bolster the defense. Typically a depth defenseman, Irwin can transition out of the zone well. He is a veteran defenseman who understands the way the game works at the professional level, and can help the Bruins with smart play on the back end.
Quick Retooling Instead of a Prolonged Rebuild
With the flurry of offseason moves, much of the roster has been shaken up. If you blinked at all, you could have missed a transaction. Despite what appeared as an attempt to rebuild, the Bruins simply restocked the cupboard with prospects.
With the potential to secure a playoff spot, Cam Neely and Don Sweeney made sure that the Bruins will be competitive. Neely and Sweeney are confident in the team, and they believe that the Bruins also added some top notch prospects to the system with future NHL players and gained some cap relief.
Boasting a group of forwards loaded with heavy hitters and depth at all positions throughout the lineup, the Bruins offense shouldn't be as anemic as they were last season. Tuukka Rask is still in competition for the Vezina, and while the defense is still in need of a top four defenseman, they will be able to be above average at the worst.
With changes throughout the lineup, the Bruins are right in the middle of the race to the Stanley Cup playoffs. An elite goaltender will lead a group of good-not-great offensive and defensive units. 96 points wasn't quite enough last season, and the group this season should hover around the same point total. Will it be enough? Can a depth player step up to propel the team into league's elite? Time will only tell.
All we know is that the Bruins are equipped for success, now and in the future.
Cam Kerry (@camkerryPRS) is on Twitter. He filled up a small bucket with tears when Dougie Hamilton was traded.