After a historic 2022-23 regular season before a historic playoff collapse, things are going to look a lot different for the Boston Bruins next season. There are a number of unrestricted free agents (UFA) and restricted free agents (RFA) that very well will not be back in Boston, as well as the futures of Patrice Bergeron and David Krejci also hang in the balance. General manager (GM) Don Sweeney said at his end-of-the-year media availability that there will be a different look when they gather in mid-September at Warrior Ice Arena for training camp.
To compound matters, the Bruins have a tight salary cap with very little room to bring any of their free agents back that they want, even any of the three trade deadline acquisitions in Dmitry Orlov, Garnet Hathaway, and Tyler Bertuzzi. In order to make additions to the roster, it is very likely that Sweeney will have some tough decisions to make in regard to trading some players under contract to make some salary cap space for next season. While there are plenty of options to move, these three players should be deemed untouchable by Boston's GM and remain with the Black and Gold in 2023-24.
Jake DeBrusk
Since his trade request became public in November of 2022, things have certainly taken a turn for the better between Jake DeBrusk and the Bruins. After former coach Bruce Cassidy was fired last June and Jim Montgomery was hired a month later, DeBrusk rescinded his trade request through his agent with Sweeney and remained in Boston. It's a move that has paid off for both the player and the team.
Related: Boston Bruins 2022-23 Player Grades: Jake DeBrusk
---
Latest News & Highlights
---
After being moved to the first line with Bergeron and Brad Marchand in February of 2022, his all-around game has taken off to the next level that the Bruins hoped it would. Things worked out so well that Montgomery kept the trio together this season for the most part when they were healthy. DeBrusk excelled in all situations and tied his career-high in goals with 27, something he more than likely would have passed if not for an injury in the Winter Classic against the Pittsburgh Penguins on Jan. 2 at Fenway Park that cost him six weeks. He finished with 23 assists and a career-high 50 points with six power-play goals and eight assists.
Even with questions surrounding Bergeron's future, the Bruins need to keep DeBrusk as he carries a $4 million average annual value (AAV) for one more season and is just starting to reach the prime of his career at 26 years old. There are other forward options to trade such as Taylor Hall and his $6 million AAV, but the call with the 14th overall pick in the 2015 Entry Draft is to keep him at least one more season and benefit from his AAV.
Linus Ullmark
What a duo Linus Ullmark and Jeremy Swayman formed for the Bruins this season. They combined to win the William M. Jennings Trophy by allowing a league-low 177 goals. They formed a tight friendship and Ullmark emerged as the clear-cut No. 1 goalie and Swayman was happy for his teammate.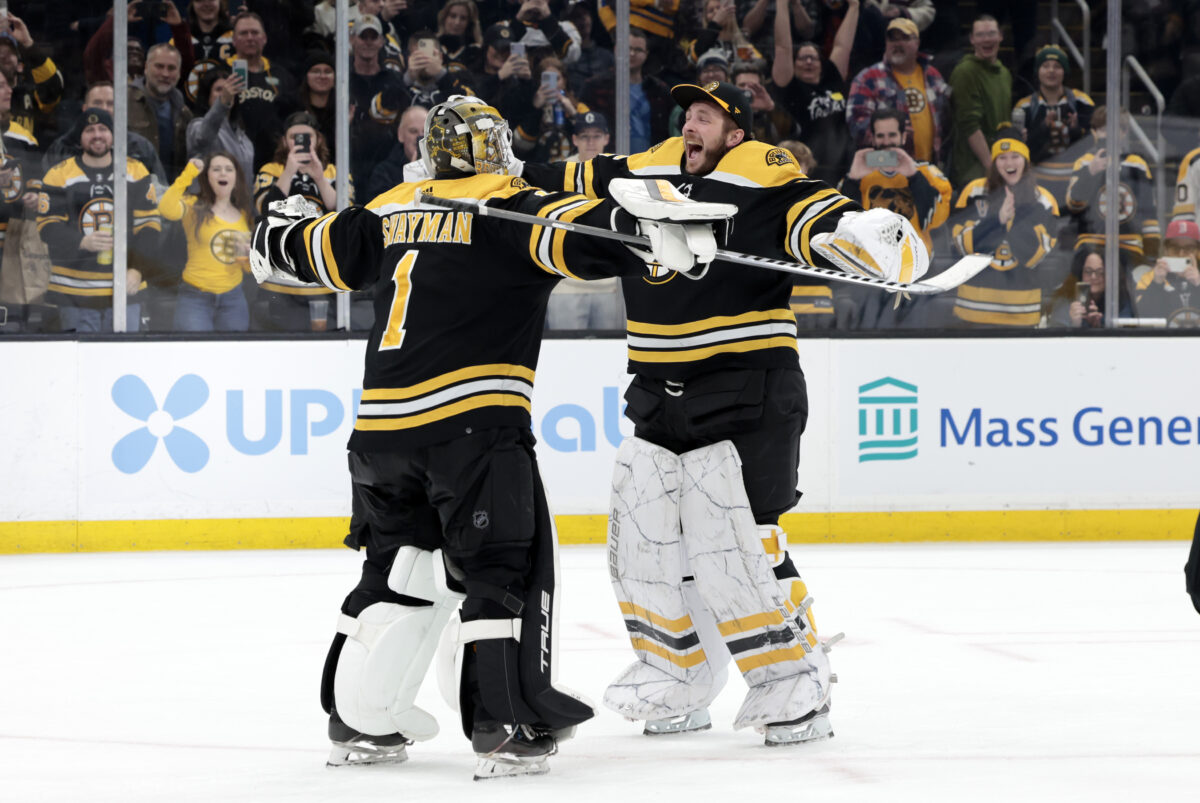 Ullmark is the front-runner to win the Vezina Trophy after going 40-6-1 with a 1.89 goals-against average (GAA) and a .938 save percentage (SV%). He only had two shutouts, but his career season is one that nobody saw coming after his struggles with the Buffalo Sabres before signing a free-agent contract with Boston in the summer of 2021. He went 26-10-2 in 2021-22, but took his play to another level this season.
Splitting up a goaltending duo that was the top in the league last season is not something that Sweeney wants to break up. Swayman is an RFA this summer, but you have to think that he's Sweeney's top priority in signing. Ullmark carries a $5 million AAV and after his season, it's a good deal for the Bruins to have on the books. Brandon Bussi emerged as the top goaltending prospect with the Providence Bruins in the American Hockey League (AHL), but he's not NHL-ready as a backup for Swayman. If it's not broken, don't fix it and goaltending is the least of the Bruins' problems from last season and going forward.
Brandon Carlo
If there is one name that always comes up all the time with Bruins fans about trading, it's Brandon Carlo. The 6-foot-5 right-shot defenseman certainly has had his ups and downs while dealing with concussions, but truth be told, he is still a valuable defenseman for the current grouping going forward. This season, he was good in the absence of Charlie McAvoy and Matt Grzelcyk at the beginning of the season and as always, he is one of the top penalty-killing blue-liners with Derek Forbort.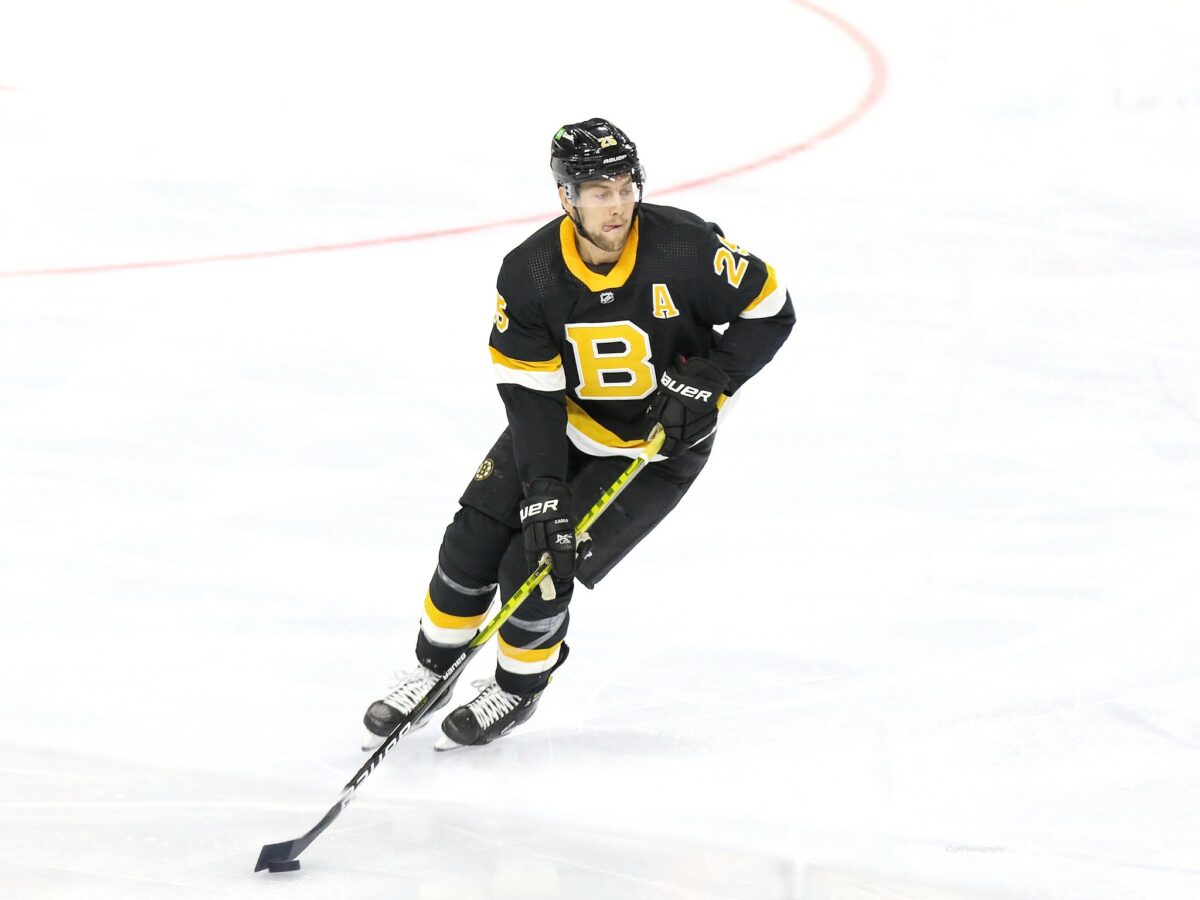 He is far from an offensive defenseman, but on this Bruins roster, he's not needed to be with Hampus Lindholm and McAvoy. He's more of a stay-at-home defenseman that is able to shut down the opponent's top forwards with his long reach. He is a perfect second-pair defenseman and his best partner going forward would be Lindholm who can be the offensive defenseman the Black and Gold need. There are a lot more questions than answers when it comes to the 2023-24 defense in Boston after McAvoy and Lindholm, but Carlo should be mentioned with them as part of the future defense. Moving Grzelcyk and/or Forbort along with Mike Reilly should be the way Sweeney goes while keeping Carlo.
Summer of Change Is Coming
What will the roster look like when training camp begins in September? That's anyone's guess, including Sweeney's. There certainly are some contracts that he would like to move off of his books to create space to re-sign players and make additions. Hall and Grzelcyk are the two obvious players that should be at the top of the list of players to move. Hall's $6 million AAV is a big number and Grzelcyk is going into the final year of his current contract with one more big payday in his future, he could be valuable for a new team acquiring him and looking to make the case for a new contract.
Of course, Sweeney would love to bring back any of the three trade deadline acquisitions, but that is easier said than done. To keep any, multiple contracts are going to have to go out, but DeBrusk, Ullmark, and Carlo should remain in Boston for next season.
---
---