We now continue our series of features counting down to the 2023 NHL Draft in Nashville. In case you missed part one, we looked at 10 prospects that saw their stock rise in the Final Rankings according to NHL Central Scouting.
Related: 2023 NHL Draft's 10 Fast Rankings Risers
Today in part two, we flip the script and look at the other side of the story. We are going to look at five prospects who saw a fall in their final ranking according to Central Scouting.
---
---
These will be prospects that saw a noticeable drop if they were among the highest rated at midterm. These will also be prospects that saw a very sharp decline otherwise. This is not to say not draft any of these prospects. But it is interesting to look at the potential mindset in determining why there was a need to drop these prospects.
Of the five prospects we are sharing today, three are from the North American list and two are from the International list. The first two players are expected to be first-round picks in Nashville. However their drop was significant enough to warrant a review of the situation.
Brayden Yager
Midterm ranking: 5th (North American)
Final ranking: 11th (North American)
Yager is still expected to hear his name on night one of the draft in Nashville. Coming off his 2021-22 where he was the CHL Rookie of the Year, he continued to show his scoring prowess in his draft season by scoring 94 points in 77 games between the regular season and playoffs.
---
Latest News & Highlights
---
Yager however did drop six spots from the midterm rankings. That potentially takes him out of top-10 consideration although some scouting services still have him there. But where there seems to be question is just how good Yager will be eventually.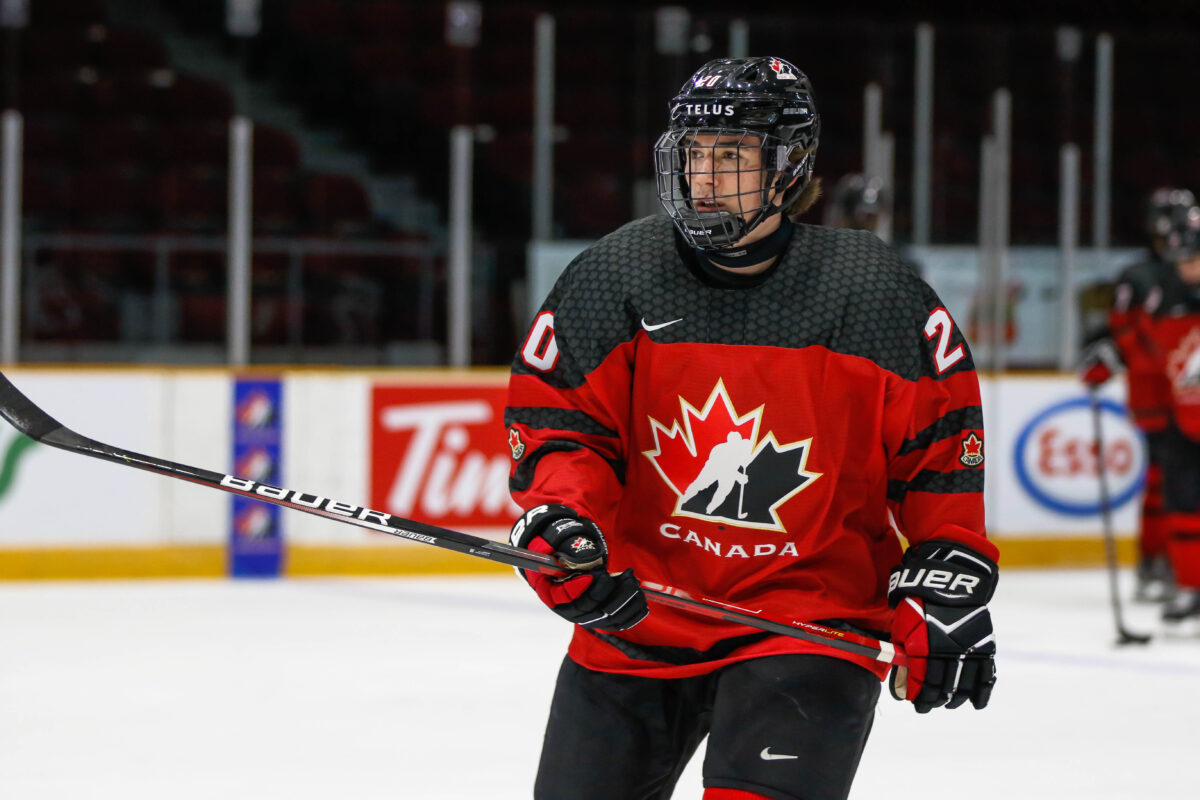 This drop feels like more of a situation where there are so many top-end centers available that are preferable in a higher spot. Upwards of 7-8 centers could hear their name called before Yager depending on how teams organize their list. Yager projects to be a good player in the NHL. But is he worth the risk as a potential top-10 pick? That's what teams will have to figure out.
Axel Sandin-Pellikka
Midterm ranking: 3rd (International)
Final ranking: 7th (International)
Sandin-Pellikka's performance at the U-18's opened a lot of eyes. It had some in the industry declare him the best defenseman available in this entire draft.
However Sandin-Pellikka ran into some consistency issues in other parts of the season which prompted his drop from 3rd to 7th on the final International list. There are enough significant questions around how good of a defender he is to question where in the first round he will go. Couple that with the fact that the 2023 draft is top-heavy at forward. It would be a mild surprise if he goes in the top-10 and this drop is a sign of that.
Ondrej Molnar
Midterm ranking: 48th (North American)
Final ranking: 129th (North American)
Molnar made the jump to the OHL mid-season and joined an Erie Otters team that was going through different challenges including inconsistent play and a coaching change. Ultimately his massive drop down 81 spots is a reflection of his production.
You Might Also Like
Molnar scored just four goals in 34 games with the Otters. But there is still a lot to like about him. Here's Otters AGM Scott Grieve on Molnar: "The skill is high-end. It's elite what he can do with the puck. He thinks the game at a high level. Offensively he's extremely gifted." While the attributes are there, the drop in production now puts him in a place where there's question as to if he'll be drafted.
Molnar is due for a rebound. Once thought of as a top-100 pick, he's still worth a shot late in the draft given the skill he has. The Otters are expected to be better in 2023-24. He should benefit from the team's overall improvement.
Kalle Carlsson
Midterm ranking: 49th (International)
Final ranking: 136th (International)
A drop of 87 spots certainly jumps out. In Carlsson's case, there are questions about what his upside in the NHL is. He's thought of as a smart player who can create offense.
Related: 2023 NHL Draft Guide
However on the international stage, Carlsson hasn't been able to meet the high expectations levied upon him. He's a 200-foot player who is reliable defensively. But he doesn't have that one elite trait that separates him from his peers.
Jordan Tourigny
Midterm ranking: 63rd (North American)
Final ranking: 123rd (North American)
Tourigny's drop of 60 spots seems to point to his lack of production. He was held to just one point in the month of March. While he also has significant questions about his skating and overall defensive play, the industry has him ranked significantly higher than where Central Scouting has him.
Tourigny is a very smart player and uses that to make up for his deficiencies which include being undersized. If he can add strength in the coming seasons, he can easily outperform his 123rd ranking.
Stay tuned for Part 3 of our series that will look at the 10 Must Have Prospects of the 2023 NHL Draft.