The 2023 NHL Draft countdown has begun. With just 46 days until the big event as of this writing, it will be here before you know it. Now is the perfect time to get you ready for all of the action.
Welcome to the first of many draft features we will have for you at the Hockey Writers. By the time we are done, we will cover a lot of aspects of the draft to the point in which you will be overprepared. You will know exactly what storylines to watch for. Trust me, the storylines will be many including a potentially explosive offseason full of big moves.
---
---
The 2023 NHL Draft is very top heavy as you likely already know. Much has been made of the big names that will hear their name called early on Day 1. Starting today, we will dive into the rest of the draft. There are plenty of impact players available at all points in the draft that teams can build around.
In part one, we are going to focus on the draft's fast risers. These are players who saw their stocks rise over the course of the season for one reason or another. These will be players who saw a spike in their final ranking as compared to their midterm ranking according to NHL Central Scouting.
---
Latest News & Highlights
---
This season, we will share 10 players, seven on the North American list and three from the European list, that saw major improvements in their games that warranted a bump. We will start with one of the most intriguing NCAA players not named Adam Fantilli.
Matthew Wood
Midterm Ranking: 8th. Final Ranking: 4th.
The youngest player in the NCAA exceeded every expectation thrown at him. Wood led the University of Connecticut in scoring with 34 points in 35 games. He also added 13 points in seven games at the recently completed U-18's and was named a top-three player on the team.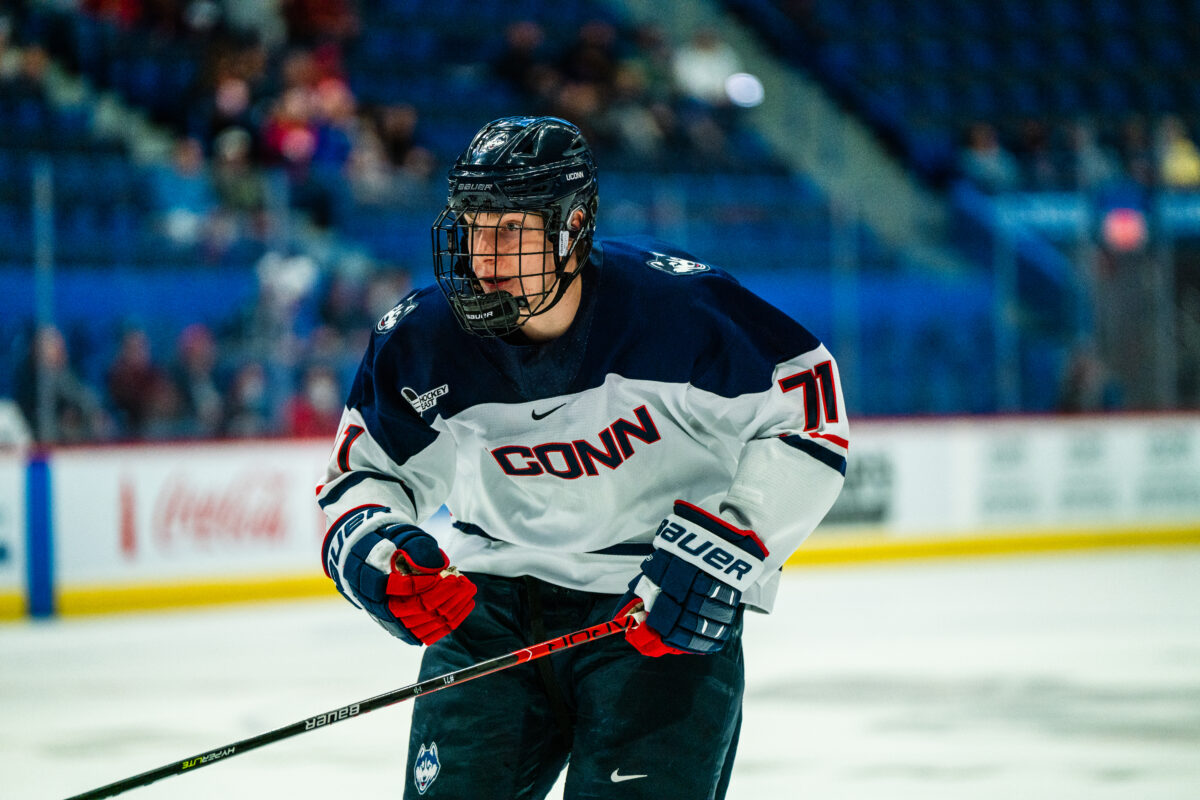 Wood's combination of size and skill make him an appealing Day 1 option. While Fantilli got all of the attention, Wood continued to impress. What he was able to accomplish as a freshman left an impression on many scouts. While he played mostly on the wing, he is also listed as a center. Don't think there's much question he'll hear his name in the first round.
Related: Matthew Wood: 2023 NHL Draft Prospect Profile
David Reinbacher
Midterm Ranking: 10th. Final Ranking: 5th.
When someone draws comparisons to Roman Josi, teams take notice. Then when a player excels as an 18-year old in one of the top men's leagues in the world, teams covet them. That is definitely the case for Reinbacher.
Reinbacher has already represented Austria at both the World Juniors and World Championships. He's widely considered one of the most NHL ready and smartest defensemen available. He's also hard to play against. His rise in the final rankings reflects just how ready he is for the next step. He'll be one of the first defensemen called in Nashville.
Nate Danielson
Midterm Ranking: 13th. Final Ranking: 7th.
The Brandon Wheat Kings had a down season. However Danielson was their bright spot. His upside as a potential top-six center will have teams targeting him early.
Danielson's leadership was also on full display as he's the captain of the Wheat Kings in his draft year. He does everything well and played in every important situation offensively and defensively. He emerged as the team's leading scorer (33 goals, 78 points) which showed the kind of offensive flash he could bring to the next level. His rise in the rankings is due to the potential he has as a center.
Gabriel Perreault
Midterm Ranking: 15th. Final Ranking: 10th.
Perreault continues to impress on the scoresheet despite the questions from scouts and his size and skating. His 53 goals and 132 points led the loaded U.S. U-18 National Team. While Will Smith gets the attention in the top-five, Perreault used this season to show he's good on his own.
His rise in the rankings is attributed to his numbers especially his goal scoring. His skill proved he can be as effective a goal scorer as he is a playmaker. With a bit of a chip on his shoulder, Perreault is ready to make an impact in the NHL. He should safely hear his name in the first round.
Oscar Fisker Molgaard
Midterm Ranking: 50th. Final Ranking: 18th.
Fisker Molgaard was able to crack a roster spot in the SHL despite not having the notoriety of other players. He was able to score seven points in 41 games on HV71 while playing a middle-six role as an 18-year old. He also represented Denmark in both the U-18's and the U-20's.
Fisker Molgaard's skating and creativity has caught the attention of scouts and helped him shoot up 32 spots on the International skater's list. There are some scouting services that even see a potential first-round player here. He's proving to be a sneaky good pick should he fall into the second round.
Nick Lardis
Midterm Ranking: 96th. Final Ranking: 27th.
Sometimes players need a trade and a change of scenery to get the best out of them. Perhaps no player in this draft class represented that statement better than Lardis.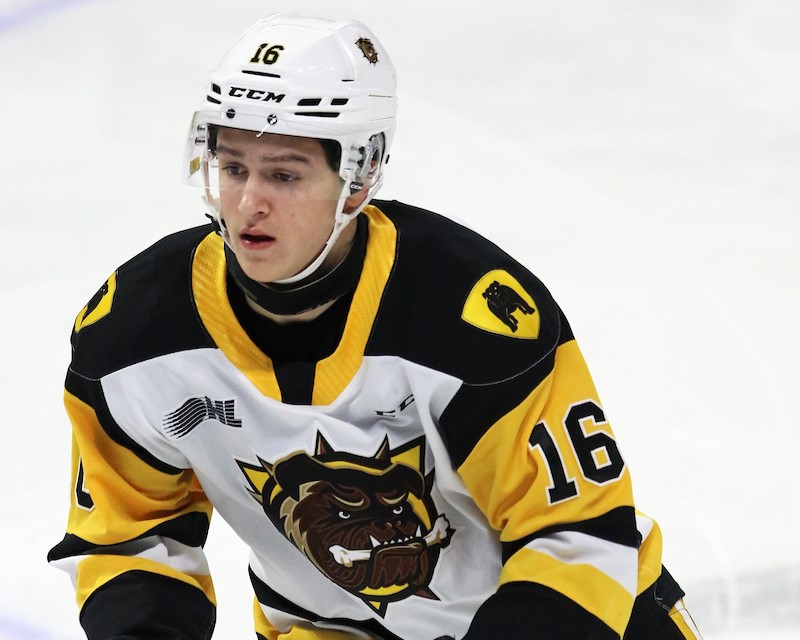 Lardis was dealt to the Hamilton Bulldogs at the OHL Trade Deadline as part of the deal that sent both Avery Hayes and Gavin White to Peterborough. After a slow start with the Petes, Lardis showed his offensive upside and exploded for 25 goals and 46 points in just 33 games with the Bulldogs. He also accomplished the rare feat of playing 69 games in an OHL season thanks to the trade. His goal scoring will have teams targeting him early on day two.
Cam Squires
Midterm Ranking: 114th. Final Ranking: 56th.
Goal scorers will always get the attention of NHL scouts. Reaching 30 goals in major juniors will help a player jump up the rankings. That explains Squires' 58-spot jump on the final list.
While most of the attention on Cape Breton went to Ivan Ivan, Squires showed his ability to finish especially from in close. While he needs to get stronger for the next level, he will have every opportunity to continue his improvement as a 200-foot player. He should hear his name called in the middle rounds and will be a big contributor to the Screaming Eagles in 2023-24.
Felix Nilsson
Midterm Ranking: 78th. Final Ranking: 24th.
Nilsson really stood out at the Four Nations tournament where he showed both his creative playmaking and ability to finish. He is also a member of Rogle BK in the SHL showing an ability to play with men in his draft year.
Nilsson is known as a responsible 200-foot center who does everything well. That's plenty to get major consideration in the middle rounds of the draft.
Sawyer Mynio
Midterm Ranking: 111th. Final Ranking: 62nd.
Easily lost in the shadow of Kevin Korchinski on a loaded Seattle Thunderbirds roster, Mynio has proven to be an important contributor on a team currently playing for the WHL Championship.
Mynio has already played in 36 postseason games in his Thunderbirds' career counting his Game 1 performance against Winnipeg. His experience on a good team has helped his development. He's also doubled his point production in season two making him an intriguing blue line option on day two of the draft.
Matthew Mayich
Midterm Ranking: 122nd. Final Ranking: 72nd.
While Jack Matier got most of the fanfare on the Ottawa 67s blueline, it was his defensive partner Mayich who quietly put a solid season together. While Matier was the offensive threat, Mayich was the shutdown player and excelled in his role.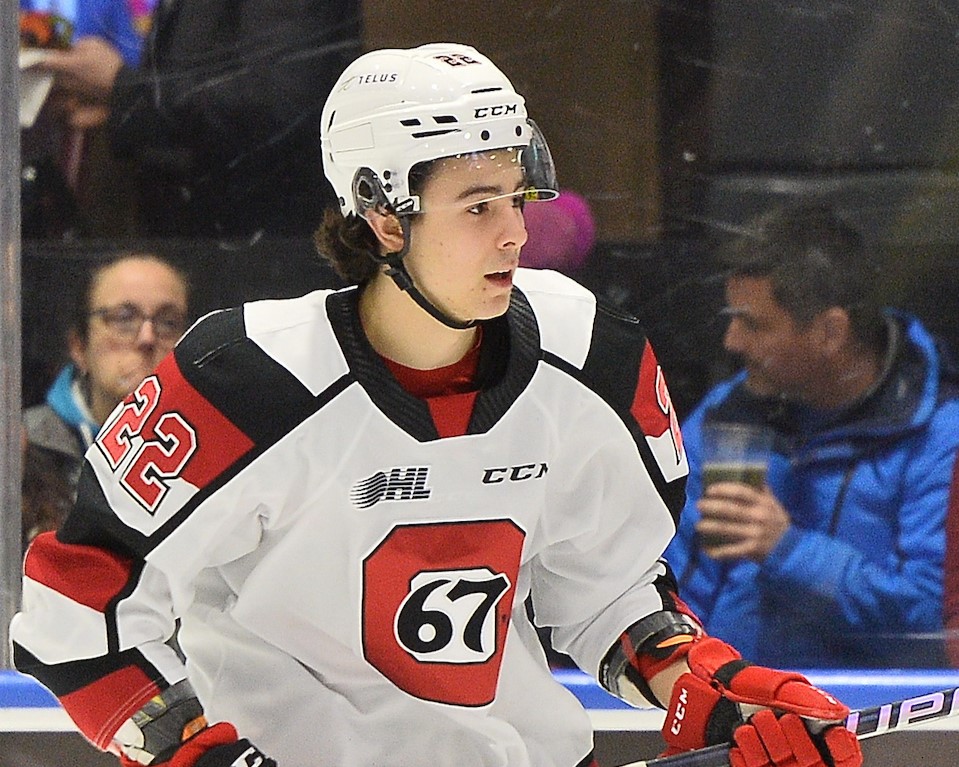 Mayich's 50-spot jump in the final rankings is a reflection of where his overall game is at. He overcame not being able to play in the OHL Cup due to Covid and has settled into Ottawa as a steady player. He especially stepped up when injuries battered the 67s and proved he could handle the extra responsibility. He's an intriguing middle-round option in Nashville.
You Might Also Like
Others considered were Gavin Brindley, Tristan Bertucci, Carey Terrance, Andrei Loshko, Gracyn Sawchyn, Easton Cowen, Cole Brown and Nico Myatovic.
Stay tuned for the second part of our 2023 NHL Draft series as we'll flip the script and look at 10 players who fell in the final rankings.