Long-time NHL forward Corey Perry finds himself as an unrestricted free agent again after two seasons with the Tampa Bay Lightning. If he doesn't re-sign with the team, who will replace him?
When the Lightning signed Perry, he had a reputation as a gritty, tough-as-nails forward who gets under the skin of his opponents but can also score goals. It was exactly what they needed and he fulfilled his role. There may be some tough players on the team, but none rises to the same level as Perry, whose nickname is "the worm." His ability to agitate the opposing goalie is legendary. Currently, only one player seems to have a similar style of play: Tanner Jeannot, whose nickname is the Oxbow Ox.
A Mighty Duck
Perry, who will turn 38 years old on Tuesday, May 16, 2023, grew up in Peterborough, Ontario, an hour and a half northeast of Toronto. When Perry was drafted in the first round of the 2003 NHL Entry Draft, his new team was still known as the Mighty Ducks of Anaheim. He spent the first three seasons in the minors before making his debut in the 2005-06 season.
---
Latest News & Highlights
---
Spending 14 years with the Ducks, Perry won a Stanley Cup in 2007, at the age of 22. In 2010-11, he had his most productive season, scoring 50 goals and 48 assists. During that season, he also scored four short-handed goals and 11 game-winners. Those impressive numbers earned him the Maurice "Rocket" Richard Trophy for most goals that season and also the Hart Memorial Trophy for league MVP. As a free agent, he signed a one-year deal with the Dallas Stars and spent the following season with the Montreal Canadiens before he moved to Tampa to join the Lightning who had defeated his last two teams to win two consecutive Stanley Cups.
Chasing a Cup With the Lightning
As they say, "if you can't beat 'em, join 'em," and that is what Perry did when he signed a two-year, $2 million contract with the Lightning in the summer of 2021. When he signed with the team, he was looking for a longer commitment than what he had been offered when he signed with both Dallas and Montreal. Now, once again, he is an unrestricted free agent, with the ability to sign with any team. At his season-ending exit interview, he stated that he still wanted to play.
Playing on the fourth line with Pierre-Edouard Bellemare and Pat Maroon for most of the 2022-23 season, Perry averaged over 11 minutes per game. He lit the lamp 12 times, six while on the second power-play unit and three game-winning goals; he assisted on 13 goals.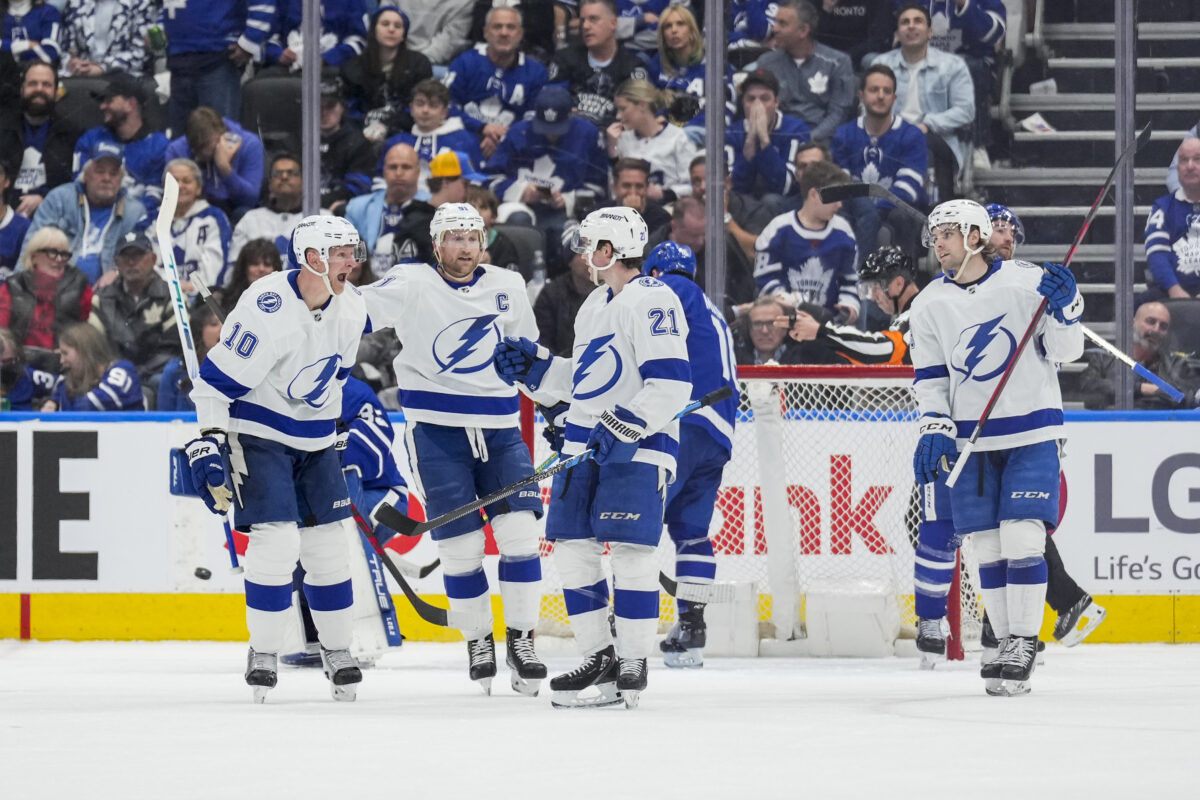 Even though that second championship eluded Perry, it wasn't for a lack of production on his part. During his two postseasons with the Lightning in 2022 and 2023, he played 29 games and scored eight goals and eight assists. However, his contributions to the team are all the intangibles that often are not reflected on the scoresheet.
When Perry was leaving Anaheim in 2021, he commented:
"I like helping younger guys along the way. I was a younger guy and I had great support around me in Anaheim my first three seasons. I had Teemu Selanne, Scott Niedermayer, Chris Pronger, Rob Niedermayer and the list goes on. So, I learned a lot from them, what it takes to be in this league, how to stay in this league and prepare yourself each and every day. I'm just trying to pass on whatever I can to help the young guys."

Corey Perry
Jeannot Can Learn From Perry
When the Lightning traded Cal Foote and several draft picks to the Nashville Predators for Jeannot, some say they overpaid. At 6-foot-2 and 208 pounds, Jeannot is a very similar player to Perry—not just in size, but in playing style and on-ice attitude. He is frustrating to play against, which is the ultimate compliment in hockey. Last season with the Predators, Jeannot had 318 hits, which ranked him second in the NHL. With 290 hits this season, he was slightly off his former pace but he still ranked sixth in the league.
Hidden behind his bruising playing style is a goal scorer. Former Predators coach John Hynes said of Jeannot, "When you think of a power forward, you think back in the history of the game, and power forwards, a lot of them were big, strapping, fast, could hit, could fight, could score. He has that element to him." (from 'Nashville Predators rookie Tanner Jeannot more than a tough guy — he can score too.' The Tennessean, Nov. 13, 2021)
Related: Lightning Add Grit to Lineup with Addition of Tanner Jeannot
Staying healthy could be a concern for Jeannot, given his propensity for dropping the gloves and his strong play in front of the net. For instance, he missed the beginning of the first round of the playoffs against the Toronto Maple Leafs with an injury. On the flip side, one of Perry's strengths is his durability as he has only missed one game in his two seasons with the Lightning. Throughout his 18-year NHL career, he has played in 1,257 regular season games, and scored 883 points, added 439 blocks and an incredible 1,122 hits.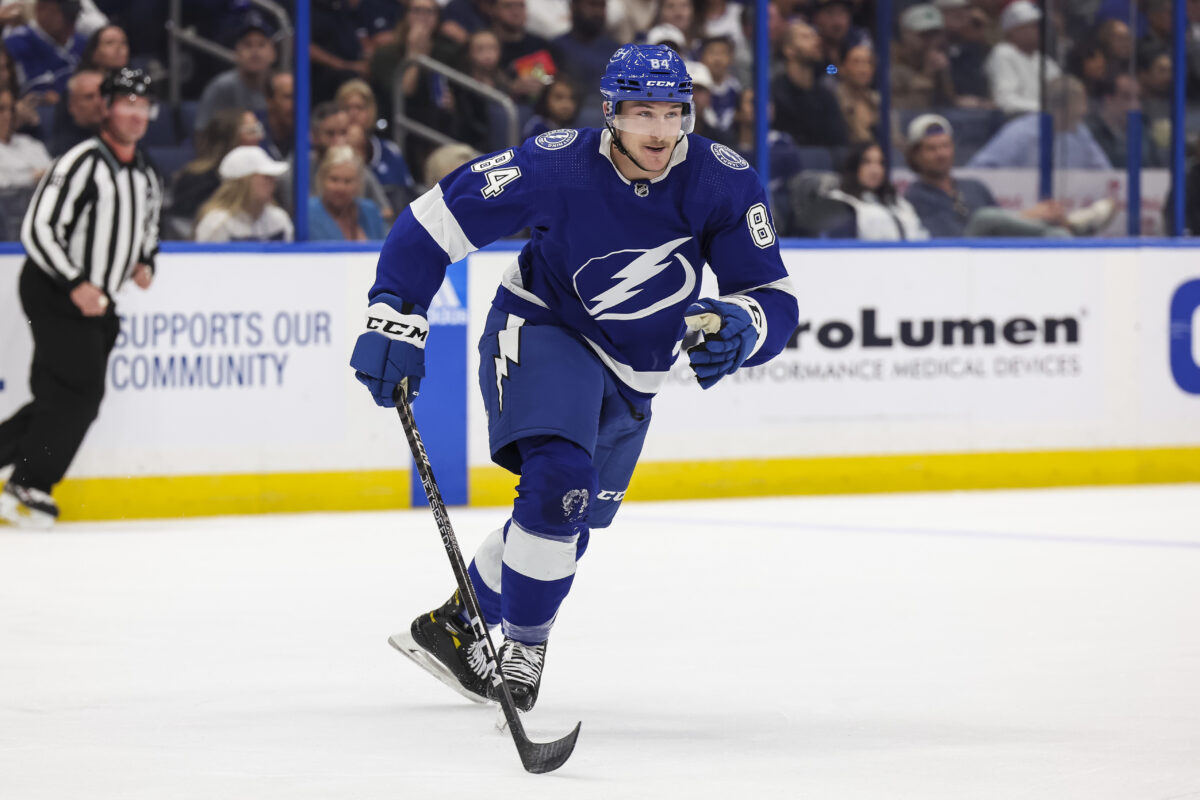 Fans may have forgotten how offensively gifted Perry is, especially since his role on the ice transitioned to more of a defensive slant. However, I guarantee that the other 31 teams have not forgotten that he was MVP of the league. If he wishes to continue his NHL career, I am sure there will be several teams who would sign him.
Jeannot Is Ready to Explode for the Lightning
It's no secret that the Lightning are up against the salary cap again this season and they will not be able to keep their current roster. If Perry does not remain in Tampa, he has certainly been invaluable to the team and someone younger players can emulate. Next season could be a break-out year for Jeannot, who will probably play on the third line and on the penalty kill.
In getting Jeannot, BriseBois said, "He's a big, fast, physical, top-nine forward. He's hard to play against. He plays with pace. He finishes checks often and hard. He can defend. He manages the puck well. He brings his teammates into the fight." That description also fits another player on the team, also known as the worm.
---
---