Oscar Fisker Mølgaard
2022-23 Team: HV71 (SHL)
Date of Birth: February 18, 2005
Place of Birth: Frederikshavnn, Denmark
Height: 6-feet, Weight: 163 pounds
Shoots: Left
Position: LW/C
NHL Draft Eligibility: First Year Eligible
Rankings
Oscar Fisker Mølgaard is one of the 2023 Draft's biggest risers to this point, going from relative obscurity just a few short months ago to now creeping closer and closer to being a first round pick. Fisker Mølgaard's game is defined by his hockey IQ and his high compete level, which have combined to land him a legitimate role in the SHL this season as a teenager bouncing between the second and third line for HV71.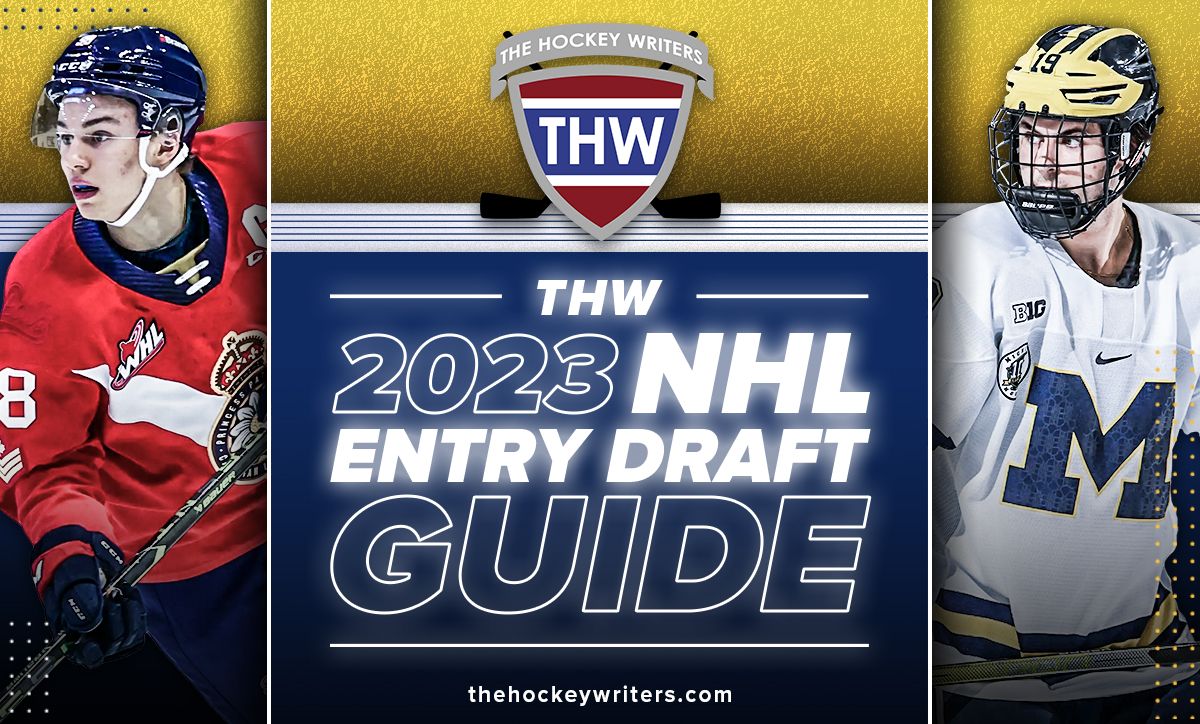 It's not common for draft year players to earn a full time spot in the SHL, especially prospects who aren't considered to be star-level talents. Fisker Mølgaard's rise this year is a testament to his work ethic and his maturity, as both are required for such a young player to succeed in the SHL.
Fisker Mølgaard is not the most dangerous shooter in the world (far from it), but his play produces offense simply by maintaining possession for his team and keeping the puck away from his opponents. Despite having a light frame at the moment, he is quite good at maintaining control of the puck through contact and has shown good hands in traffic. Fisker Mølgaard is a great off-puck player on both defense and offense, showing great instincts when tracking opposing forwards in his own zone. He has shown glimpses of NHL-caliber offense, with the IQ and playmaking of a middle-six winger, but those glimpses haven't been consistent.
Related: 2023 NHL Draft Guide
Fisker Mølgaard's game and his recent rise remind me a lot of Marco Kasper in the 2022 Draft. Both players moved to Sweden at a young age (Fisker Mølgaard from Denmark and Kasper from Austria) to play against better competition and work their way toward the NHL draft. Both players were applauded for their high effort and maturity, affording them a serious role in the SHL as a draft eligible player where they gained attention through their smart, defensive style while questions remained about their ultimate offensive potential. Kasper has since shattered all expectations of him offensively and has already made his NHL debut, so I'm not prepared to doubt Fisker Mølgaard any time soon either.
Even their draft-year production is eerily similar with Fisker Mølgaard scoring 23 points in 21 games (1.10 PPG) in the top Swedish junior league and seven points in 41 SHL games (0.17 PPG) while Kasper scored 13 points in 12 junior games (1.08 PPG) and 11 points in 46 SHL games (0.24 PPG). Now, I'm not saying that Fisker Mølgaard is going to sneak his way into the top-10 of this year's draft like Kasper did last year, but I wouldn't be surprised one bit if he heard his name called on the first day of the draft. I also want to say that the players are obviously not identical, Kasper's skating is certainly better and his ability to protect the puck is on a whole other level, but I think Kasper is a fair comparison for Fisker Mølgaard if everything goes right in his development. 
Other THW Draft Profiles
Oscar Fisker Mølgaard – NHL Draft Projection
I think that Fisker Mølgaard will be drafted in the 30-40 range, though he could be taken in the 20s if a team selecting believes that they can unlock some more of his offensive potential like the Detroit Red Wings did with Kasper. There is a ton of talent in the top 40(ish) of the 2023 Draft, so it will be tough for any prospect to rise very far through that group, but I believe that a defensive forward with experience as a centerman will be hard for some NHL GMs to pass up on in this range.
Quotables 
"Fisker Mølgaard is an intelligent, intense, and strong defensive forward who finds soft ice in the offensive zone and has an array of refined professional habits, his ceiling will be determined by just how much his offensive tools can be developed." – Sebastian High, Dobber Prospects
"Despite his slight frame, he's capable of winning puck battles vs. players far bigger and heavier than he is due to his high compete level and tenacity. Though the tools and flashes of playmaking are apparent and intriguing, it's unclear just how much point production there will be at the NHL." – Spoked Z, Smaht Scouting
"He always maneuvers tight areas and traffic well by using his puckhandling skills and finesse, but also finds his way forward with speed and acceleration." – Fredrik Haak, FC Hockey
Strengths
Defensive structure/instincts
Off-puck offense
Puck protection
Very high effort
Under Construction – Improvements to Make
Develop a more dangerous shot
Fill out his frame a little bit more
Improve on-puck offense
NHL Potential 
Fisker Mølgaard's ultimate potential is likely a great second-line center in the NHL with near elite defensive play. There is a lot that will need to go right for that to come to fruition, mainly when it comes to his offensive play, but it is certainly possible. His defensive play and offensive instincts make me quite confident that he will at least become a good bottom-six forward who provides tons of defensive value. If the NHL team that drafts him can help to unlock some more of his offensive potential, then Fisker Mølgaard will most likely be an impactful middle-six forward who kills penalties in the NHL.
Risk-Reward 
Risk – 1/5, Reward – 2.5/5
Fantasy Hockey Potential
Offense – 6/10, Defense – 8.5/10
Awards & Achievements
2022-23 Most SHL Points by U18 Junior (7)
Oscar Fisker Mølgaard Stats
Videos
---
---
---
Latest News & Highlights
---