In an Edmonton Oilers news and rumors update, Ryan Nugent-Hopkins joined the 100-point club for the first time in his NHL career. How big a deal is that and when was the last time three players on one team hit 100 points in a single season? Meanwhile, goaltender Stuart Skinner continues to roll and the impact Mattias Ekholm is having on this roster continues to show itself as the Oilers are 9-0-1 in their last ten games.
Nuge Hits 100 Points
With an assist on the empty-netter scored by Zach Hyman in Edmonton's win over the Anaheim Ducks, forward Ryan Nugent-Hopkins hit 100 points on the season for the first time in his career. He's the third player on the team to do so this season as Leon Draisaitl and Connor McDavid are both also over the 100-point mark. The trio becomes the first group since 1996 to each reach 100 points.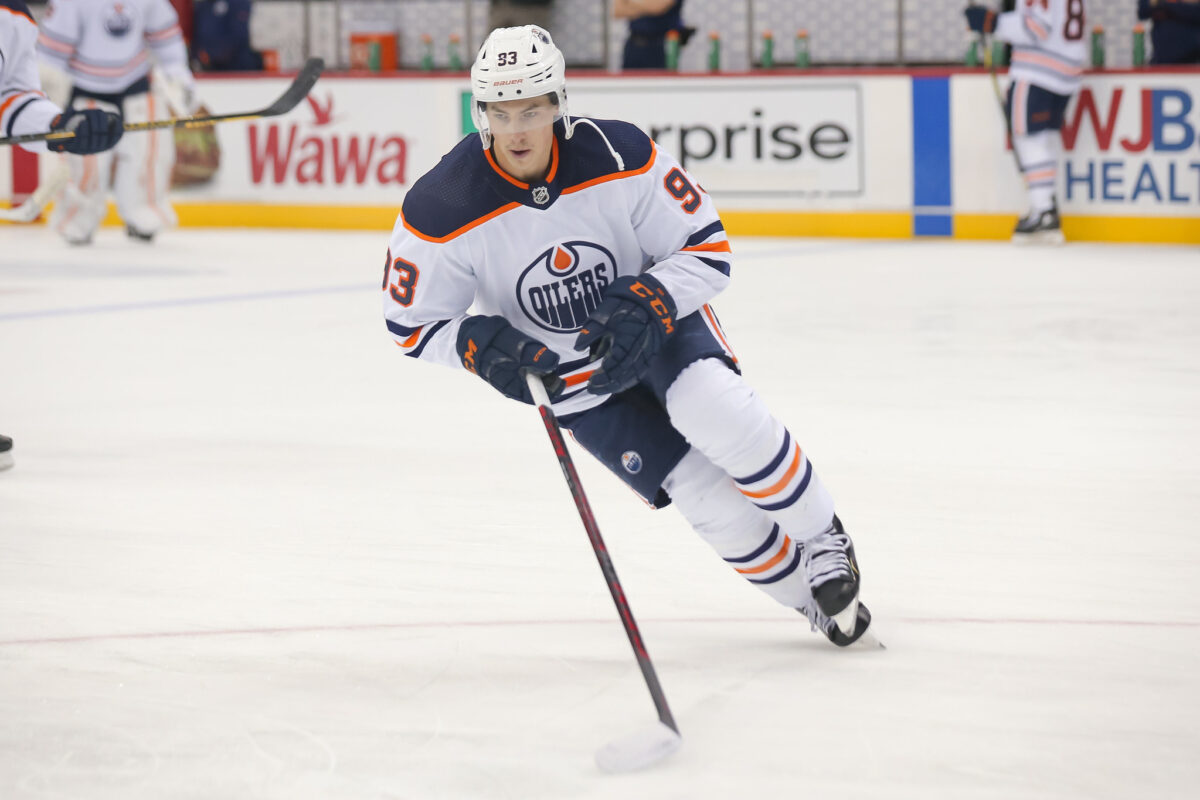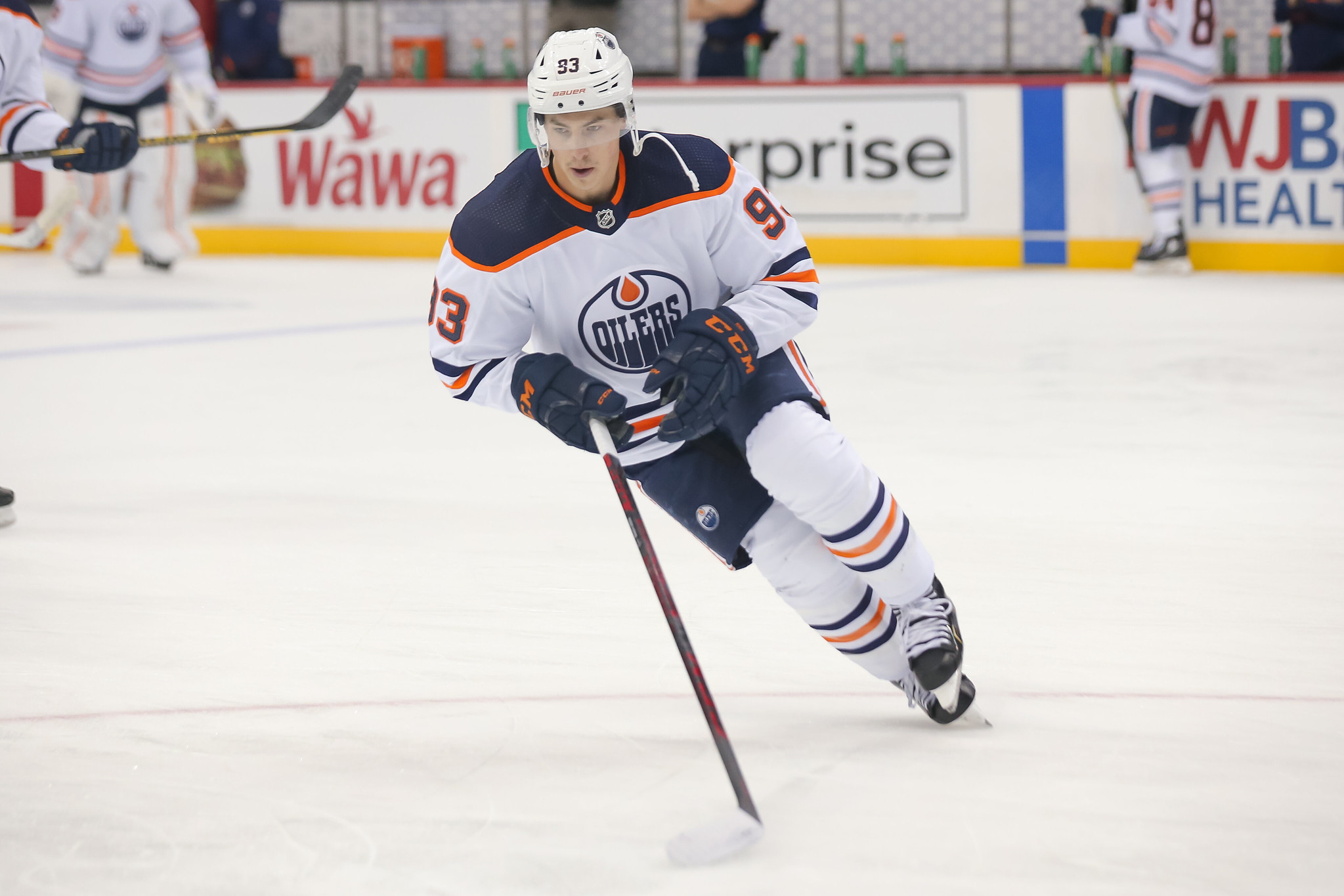 For Nugent-Hopkins, this has to feel incredible, especially when you consider everything he's gone through as a member of the Oilers' roster. As Jonathan Willis of The Athletic points out, "He's a link to the last generation of Edmonton players – a teammate of Smyth, Hemsky and Horcoff – and the most enduring piece of the Tambellini rebuild." Nugent-Hopkins is the longest-serving player on the team and was drafted in 2011. The team was not good for many of his early years. When asked about reaching that goal, the forward noted, "Proud to be able to do it with this group."
Some may try to knock what he's doing because most of his points have come on the power play, but he should get credit for being a key reason that power play is as deadly as it is. It would be easy to argue that it's not among the best power plays in NHL history if Nugent-Hopkins isn't a part of it.
Should Skinner Get Calder Consideration?
Is Stuart Skinner a legitimate contender to win the Calder Trophy this season? He should be based on the season he's having and how quickly he's become a reliable NHL starter. As Oilers' play-by-play man Jack Michaels points out:
"Skinner has ripped off an 11-1-1 record since March 1 to join Matt Murray as the only rookie goaltenders to win more than 25 games in the last dozen years. There's a chance no rookie will hit 60 points this season; could Skinner be Edmonton's long-awaited Calder winner?"
Skinner has won 26 games this season and while his goals-against average and save percentage don't necessarily stand out as incredible, they are impressive for a netminder who wasn't expected to be the starter in Edmonton this season. So too, the lack of other rookies really running away with the race for Calder means the combination of the goaltender's strong play and few others making a claim for the trophy should give him a genuine shot to win it.
Ekholm Continues to Bring It for the Oilers
While pointing out five ways Mattias Ekholm is helping the Oilers win games, it's hard not to be wowed by just how much the defenseman has helped this team since being acquired ahead of the NHL Trade Deadline. His point production has slowed in the last five games and his minutes are typically under 20 per game, but Allan Mitchell of The Athletic notes his impact on the roster is still impressive.
---
Latest News & Highlight
---
Noting he's providing mentorship, reliable defense against elite opposition, strong positioning, and late-game steadiness, Mitchell notes:
Ekholm is the most complete defenceman to skate for Edmonton since Chris Pronger. His veteran presence and calm demeanour have impacted the team's defence and made the overall structure of the club more effective across 200 feet.

source – 'Lowetide: 5 ways Oilers' Mattias Ekholm has delivered since trade' – Allan Mitchell – The Athletic – 04/05/2023
He adds that Ekholm will directly have an impact on the team for the next three seasons, but what he can do for Evan Bouchard and Philip Broberg during that time will have an impact for the "rest could stretch out over the "rest of this decade and beyond."