The Montreal Canadiens are limping to the end of the 2022-23 season, setting records for man-games lost due to injury. This has had a direct impact on their ability to compete and has caused them to lose more games than they should have. With that said, as general manager (GM) Kent Hughes guides his franchise through a rebuild, it may be a blessing in disguise, especially ahead of a draft considered to be deep in game-breaking talent and high-quality prospects. 
The Canadiens have two first-round picks – the second was acquired from the Florida Panthers in the Ben Chiarot trade – so Hughes has a blue-chip asset to add an impact player. Despite a strong prospect pool, the organization needs to find another top-tier prospect. Where the Canadiens draft will depend on how Florida's season ends; they are currently in a playoff spot, ranked 16th in the NHL, but it's uncertain where that pick will land. However, we can expect there will be a level of skill at their disposal. There are several options, so it is time to get acquainted with these possible draft targets.
Matthew Wood, RW/LW, University of Connecticut (NCAA) 
Matthew Wood is a big, right-handed forward who can play all three forward positions. He has an outstanding wrist shot combined with a quick release, which is partly why he is a natural goal scorer. After an impressive season of 45 goals in 46 games with the Victoria Grizzlies of the British Columbia Hockey League (BCHL), Wood committed to the University of Connecticut, and the 6-foot-3, 197-pound winger wasted no time making his presence known. With 11 goals and 34 points in 35 games, he had a very impressive freshman season in the NCAA.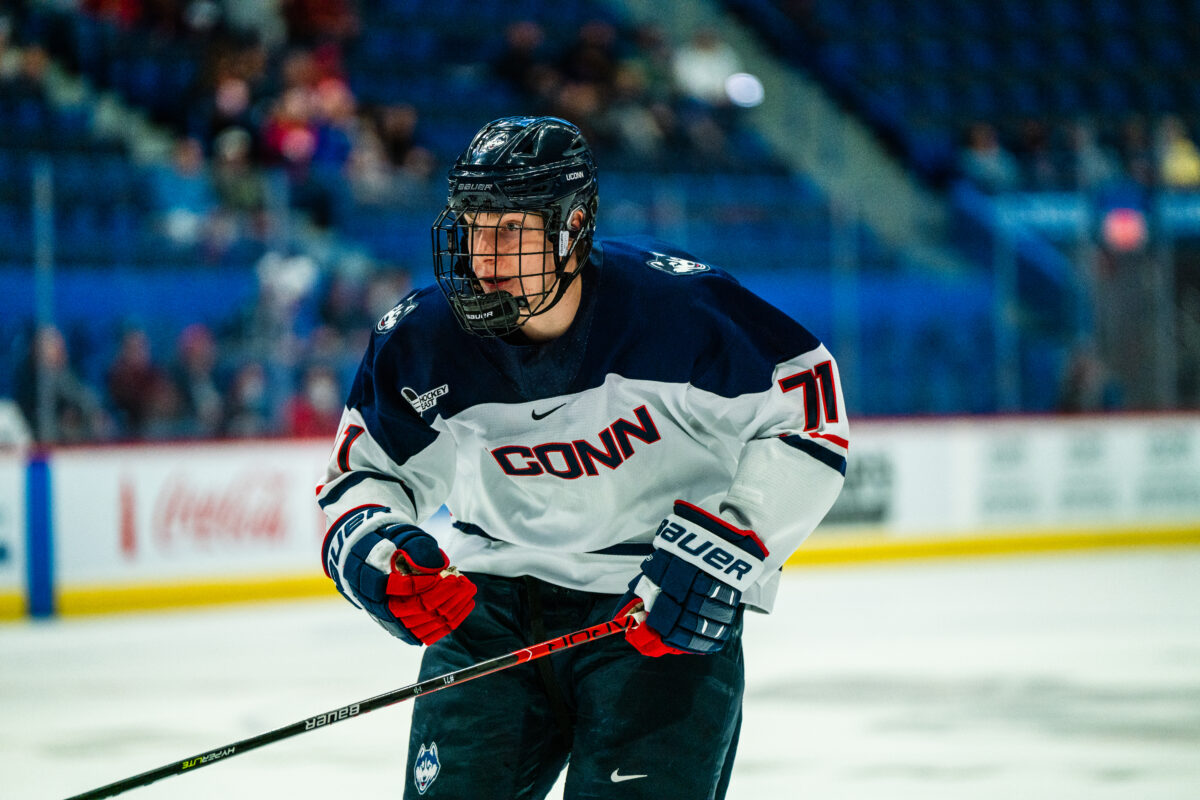 After his first season, he is averaging a little under a point per game and finished the 2022-23 season leading his team in shots on net and in scoring with 34 points. He was one of the largest surprises in the NCAA this past season, as he was the youngest player in Division 1 hockey. Offensively, he is highly gifted, with a controlled and powerful shot, an excellent one-timer, and strong puck-handling skills. He is adept at attacking the net, using his size to gain positioning and take up space to be able to tip shots in, control rebounds, and score in tight. 
"There's a lot of Tage Thompson (Buffalo Sabres) comparisons, especially since both went to UConn. Both of them are not going to look like the Energizer Bunny, having that quick twitch, but they've got the longer stride. Matthew thinks it well. He's got good edges. I think the power and strength will come. I think it's going to be an impressive season for him."

– NHL Central Scouting senior manager David Gregory  
If this was the 2022 Draft, Wood may have been a top-10 pick. This year, he will slide down, perhaps as low as 16th, where the Florida pick sits now. Wood has the frame to add significant size and strength, which would be beneficial as he steps into the professional ranks. He will also need to work on his overall speed, especially as he adds size, if he wants his full game to translate to the NHL. With his mature demeanor, commitment, and work ethic (which are second to none), it is a safe bet he will improve his overall game and become a top prospect in very little time. 
Dalibor Dvorsky, C, AIK (HockeyAllsvenskan) 
At 6-foot-1 and 201 pounds, Dalibor Dvorsky is a big-body center that teams love to have in their lineup. However, his main attribute is his high hockey IQ. He can read the game well and knows how to position himself for optimal defensive play. He is also a powerful skater with terrific balance, acceleration, and strong edgework, all of which allow him to track back defensively and create separation on the attack.
Related: Canadiens' Top Pick Targets in 2023 NHL Draft  
---
Latest News & Highlights
---
Offensively, he can be quite dangerous, especially with his highly accurate missile of a shot. He has a complete shot arsenal with an elite release as well. While his six goals and 14 points in 38 games playing for AIK don't leap off the page, keep in mind he is playing professionally at only 17 years old. Against his peers, he dominated, scoring 10 goals and 21 points in 10 games for AIK's under-20 junior team.  
His commitment to defensive play might push him up the draft board. Playing professionally at such a young age and being given defensive responsibilities is impressive. He has a natural instinct for the game and is adept at using his size to help him gain an advantage in one-on-one battles. He projects to be a very strong top-six, two-way center who will be able to play in any situation. He is an ideal penalty-killer, thanks to his already mature defensive game. Also, he can run a power play from the half wall, making hard and accurate passes in traffic or attacking the net with his large frame and ability to get his stick on pucks for tips and rebounds.   
Nate Danielson, C, Brandon (WHL) 
Nate Danielson is a 6-foot-1, 186-pound, right-handed center – a coach's dream. His work ethic and team-first attitude make him a natural leader. Danielson's commitment to defense allow him to gain the trust of his coaches, who tend to put him out in any situation. He also has a high hockey IQ, which allows him to read and react to plays quickly and helps to camouflage any perceived deficiencies in his skating. He is lacking top-end speed, but that is an area to work on for many prospects and can be easily improved with training.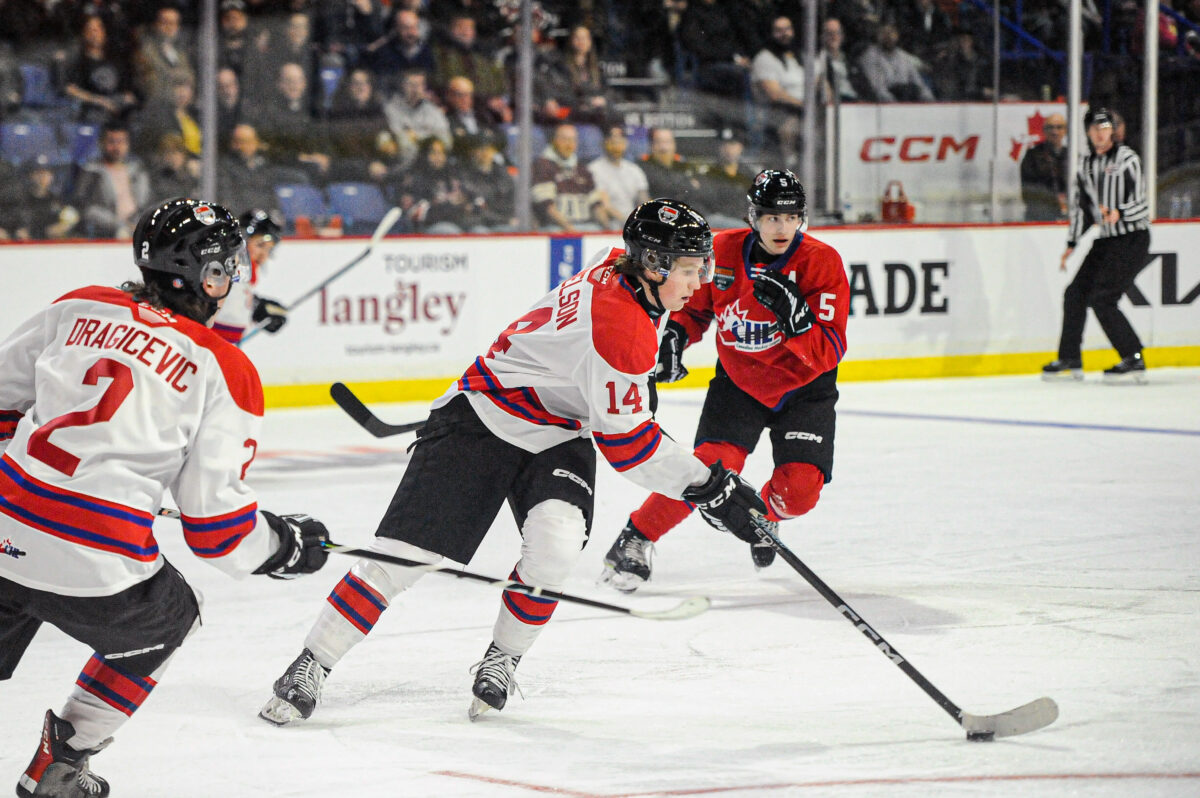 He's an effortless skater with smooth footwork and full mobility in every direction at top speed. The hidden jewel of his game, and what will make him an impact NHL player even without putting up big point totals, is his ability to control the transition game. His zone exits and entries are done with speed and cleanly, while his skating allows him to cover a lot of areas, get in low and turn up ice quickly and at top speed. 
"He's a pro-sized, hardworking pivot who can skate and excels in driving through the middle of the ice, pushing tempo, and playing with energy. Danielson plays a well-rounded, two-way game, is a proficient penalty killer, wants to make a difference in all areas when he's on the ice and blends good overall skill with his effort. While his game doesn't have the dynamism of the other kids in this loaded WHL class, most scouts project Danielson as an everyday top-nine NHL center. I'd like to see him go past effective and really take over more, but he makes his fair share of plays, he's a sub-.500 team's leading scorer, and it does feel like he has middle-six centre written all over him."

– Scott Wheeler, The Athletic (from "2023 NHL Draft top 64 prospects: Scott Wheeler's March ranking," The Athletic – 01/03/23). 
Danielson is a defense-first, two-way center. In the offensive zone, he rarely pushes the pace and is not the focal point of the offense. He does do the heavy lifting as a puck retrieval player, helping maintain possession using the cycle and forechecking hard whenever there is a loose puck. He also makes intelligent passes and has a laser of a shot; however, he doesn't shoot often enough, which could be because he lacks confidence in his shot, which could be more accurate.
He projects as a two-way center who can be a difference-maker, especially for a contending team – like Jordan Staal has been his entire career. As a point producer, he is more of a complementary player, yet, even if it's unlikely he reaches the 70-point plateau, he does project to become the ideal third-line center who can provide 50 points and play a key role on both special teams. What makes him a solid pick in the middle of the first round is that he is "safe", as he's very likely to reach his potential floor as a third-liner. 
With these players and others like Calum Ritchie, Samuel Honzek, and Riley Heidt, this draft will be a target-rich environment. The Canadiens are well positioned to select an impact player who fits any number of needs, most importantly, has elite skill. In the end, barring a draft lottery win by the Canadiens, they will be drafting a young player who will need time before joining the NHL club. But with patience, the player selected should be able to become a cornerstone of the franchise's core group.