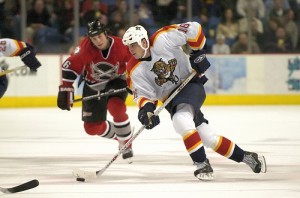 Is Horton going to excel as a Bruin?
Bruins busy leading up to draft
Steve Kendall
For several weeks after the colossal playoff collapse, much of the talk surrounding the Bruins has been about just how they would rebuild the team. Many felt there was no way they could bring the entire management team and main corps of players. Others felt just a slight tweaking was all the B's needed.
Judging by what the B's have done in the last two weeks, it seems they might feel a mix of the two strategies is the answer.
The latest move happened early today, when GM Peter Chiarelli announced the Bruins had signed defenseman Johnny Boychuk to a two-year contract.
Boychuk, 26, started the year as the team's seventh defenseman, but steadily improved during his first real NHL opportunity. By the playoffs, he was one of Boston's best players, earning over 26 minutes of ice time per game while being paired with Zdeno Chara.
"He made great strides this year," Chiarelli said during a conference call. "He was patient before he got into the lineup. He learned our system. He's got a dimensional shot. He competes. He's got size. The biggest thing that I saw was that he's improved from being the Defenseman of the Year in the American League, being our seventh D to start, working his way into our lineup patiently, but learning along the way."
Boychuk was the second defenseman Chiarelli brought back in the past few weeks. Earlier this month, he signed Dennis Seidenberg to a four-year contract. This appears to be a great move, as Seidenberg was outstanding after being acquired in a late-season trade. His absence during the playoffs was felt, especially during the four-game collapse to the Flyers. His abilities to move the puck and play on the power play are skills many of the Boston defensemen lack.
A week ago, the Bruins made a big move in the front office, promoting Cam Neely to President. Cynics view this move as a way to placate disgruntled fans, but Neely was heavily involved in the team this past season and this move is more than just symbolic. Neely's promotion will hopefully mean a more hands-on role for him, which in turn will mean more players in his mold.
It didn't take long to see which way the Neely promotion would go, as a few days later, GM Peter Chiarelli traded much-maligned defenseman Dennis Wideman, the 15th pick in the 2010 draft, and a third round pick in the 2011 draft to Florida in exchange for talented but underachieving forward Nathan Horton and hard-nosed center Gregory Campbell.
Horton, 25, has scored 20 goals or more six times and is as tough as nails. However, he has never reached the level of play many expected when he was drafted with the third overall pick in 2003. If Neely et al can convince Horton to work harder, he could blossom into the 40-plus goal scorer the Panthers envisioned.
Campbell, on the other hand, is a likely fourth-line center in the mold of Steve Begin – or at least what the Bruins thought Begin was. He won't score a lot of goals, but he will play physical and be annoying to opposing forwards. His arrival may mean the end of Vladimir Sobotka's time in Boston.
So far, the offseason has proved quite fruitful for the Bruins. There are still some major moves to be made, including Friday's draft (Hall or Seguin?), whether to trade or hold on to Tim Thomas, and decisions on unrestricted free agent Mark Recchi and restricted free agents Mark Stuart, Blake Wheeler, Daniel Paille, and Sobotka.
Tomorrow: Seguin or Hall?
Boychuk crushes Ellis