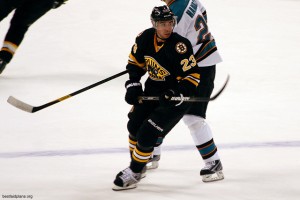 By Mike Miccoli, Boston Bruins correspondent
Call it the luck of the Irish, if you will.
On a St. Patrick's Day matinee against the Flyers, Chris Kelly put the Bruins on the board first, knocking home a rebound of a shot fired mid-circle from Benoit Pouliot. Kelly's 17th goal of the season marked the first time that the Bruins have scored first in any game since Saturday, March 3 against the New York Islanders–eight games ago. Perfectly cliched, that Kelly would be the one to get the Bruins going early.
"(Kelly's) Scottish, not Irish, but playing well today seemed to be important to him anyway," said Bruins coach Claude Julien.
Lucky or not, the Bruins were able to snap their three-game losing streak by beating the Philadelphia Flyers in a shootout, 3-2.
To be expected, the game was a tight affair as the Flyers came into Boston 7-2-1 in their last ten with the hottest goaltender in the NHL, Ilya Bryzgalov, anchoring their play. Before Saturday, Bryzgalov was a whopping 7-0-0 with four shutouts in that span.After the Bruins scored two goals in the first period, one by Kelly and another from a streaking Tyler Seguin, the Flyers fought back to score two tip-in goals that would tie the game and send it to the extra frame.
"We fought hard and they got two deflections, said Bruins captain Zdeno Chara. "Those are always tough to prevent but, like I said, that's hockey. The most important thing was that we didn't change our mindset. We had a great attitude today and, like I said, great team win."
The Bruins did play well however, despite getting ahead early. It was the closest to a full-60 minute effort that Boston has put forward in quite some time. The Bruins were able to eliminate the shooting lanes for the Flyers in the first period while creating some of their own chances as well. Seguin's goal, his 25th of the season, came after the second-year sophomore found an opening between two Philadelphia defensemen to bury a pass from Patrice Bergeron.
"I think it's a huge statement for us," said Bergeron. "To realize when, we played for 65 minutes tonight, but when we play for the whole game and keep putting pressure, keep working hard and staying with it, and not getting down on ourselves, we always find a way to get on top of ourselves and get the win. It's a huge statement game for us, and we can obviously build from it – but it's only one game."
Tim Thomas was solid in net for Boston, making 27 saves, none more important than his last of the game when he stopped Daniel Briere in the shootout to win the game.
"We needed to show up and have a good game at home," said Thomas. "Things haven't been going our way–that's a polite way of saying it lately. To battle out tonight and come up with a good, solid strong game at home and pull out with two points, is hopefully very big for us moving down the road."
Thomas' reaction after the making the save says just how big this win was for the Bruins.
"I usually visualize winning right before the shootout," said Thomas. "Today I started to do that and said 'no I'm not going to let myself do that' and stay calm because I don't want to get too far ahead of myself. Then, I thought, when you win, you might not even be excited, but I was wrong. When I made the save, it was exciting. We needed those two points and we needed to leave the arena with a good feeling after the game real bad."
Joe Corvo was the odd-defenseman-out on Saturday after Julien announced he would be a healthy scratch during this pregame press conference. It was the first game that Corvo hadn't dressed for all season. Julien explained that Corvo was healthy, albeit "a bit banged up." In his last game against Florida on Thursday, Corvo had a goal but was still a -2 on the night.
The Bruins host the Toronto Maple Leafs in Boston on Monday night.