The Boston Bruins are facing their most important offseason in nearly a decade.
It got off to an explosive start with the firing of former general manager Peter Chiarelli days after the club missed the playoffs. Don Sweeney has since been promoted to fill the vacancy left in Chiarelli's wake.
After Months of Speculation, Boston has decided to bring back Claude Julien for a 9th straight year as Head Coach of the @NHLBruins

— Bob Pompeani (@KDPomp) June 5, 2015
After announcing the news of coach Claude Julien's return behind the bench for next season, the focus now shifts to the roster. Daniel Paille, Gregory Campbell and Carl Soderberg have been informed they will not be returning to Causeway Street next season. The team is tight against the salary cap with young defenseman Dougie Hamilton awaiting a new deal.
The draft is fast approaching while free agency begins in a little over two weeks, which means business is about to pick up for Boston entering the back half of June.
Many have speculated on potential assets the club could trade for established NHL talent, cap relief, and/or prospects. Boston has several players that could find themselves on the trading block this summer as Sweeney attempts to maneuver around the mess his predecessor left. Here is a look at some of the Bruins' more valuable pieces that could be in play this summer.
Milan Lucic
The most talked about player this offseason has been 27-year-old Milan Lucic. Boston's top-line winger has patrolled the left side alongside center David Krejci for the better part of the last two seasons. Even though he finished third on the team in points (44), Lucic admitted he was tentative about his physical play this season due to how he was perceived publicly.
The bruising power forward struggled to make his presence known on the ice most nights, hulking his six-foot-three-inch frame around the ice.
Could be interesting if Bruins and Coyotes engaged in a Lucic discussion around PHO's No. 3 pick.

— Kevin Paul Dupont (@GlobeKPD) June 9, 2015
However, Lucic is Boston's most valuable asset heading into the summer. There has been a recent debate on the potential of packaging Lucic and Boston's first-round pick (14th) in exchange for the third overall selection in this year's draft held by the Arizona Coyotes.
Since the 'Yotes are listening to offers for their pick, it is a very enticing prospect for Sweeney to not only shed $6 million from Boston's cap but also have the opportunity to draft a potential franchise player in Noah Hanifin, Dylan Strome, or Lawson Crouse at number three.
Boston's new GM should assess his options carefully when it comes to Lucic because the power forward may garner the best return for the Bruins this summer.
Loui Eriksson
A nightmare first season in Boston saw Loui Eriksson suffer two concussions and struggle to produce in 63 games. The soon-to-be 30-year-old bounced back this year, scoring 22 goals and 47 points, second only to Patrice Bergeron's 55. The most important thing for Eriksson was his health. He only missed one game all season, showing no ill effects of the concussion issues that plagued him in 2013-14. The right winger also led all Bruins forwards averaging 18:28 of ice time per game.
Eriksson's strong season will be met with intrigue by Boston's brass. The sizeable forward has two years remaining on his contract at a modest cap hit of $4.25 million. Teams that are looking for a consistent scorer on the right side may be in the market for Eriksson's services. This summer could be the peak of his trade value, so the Bruins will have a decision to make on what to do with the biggest return piece they got from the now infamous Tyler Seguin trade.
Malcolm Subban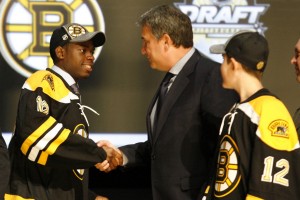 There was much fanfare when Malcolm Subban was drafted 24th overall in 2012 by the Bruins. The netminder was regarded by many as one of the NHL's top prospects.
However, things have not exactly gone according to plan for the 21-year-old. Subban found himself splitting time with journeyman goaltender Jeremy Smith in Providence this season, playing in 35 games with a 16-13-4 record, 2.44 goals-against-average, and .921 save percentage.
The six-foot-two-inch netminder did make his first NHL start in St. Louis this season but it was one he will love to forget. Subban gave up three goals on just six shots in 31 minutes of action before being pulled in favor of Rask.
Nevertheless, he is a raw talent and has the potential to be a starter in the League. Subban's trade value is still high and Sweeney would do well to gauge his value this summer. Given the performance of 2010 sixth-round pick Zane McIntyre in goal for the Fighting Sioux of North Dakota this year, his steady progression may make Subban expendable.
The big question is whether Boston's new GM will mortgage the future to improve his club now.
Stay tuned for part two, where we look at three more players that could be valuable trade chips for the Bruins this summer.