If Boston Bruins general manager Don Sweeney is going to make a trade this offseason, odds are that the team he's talking with is more than likely going to inquire about some of the Bruins top prospects.
Any deal that Sweeney makes will have to be done without parting ways with some of the Bruins' top prospects. Below are three prospects that I think should be untouchable to other teams should Sweeney make a deal.
Jack Studnicka
This is a no-brainer. Jack Studnicka is the Bruins top prospect and has the possibility of finding himself on Causeway Street as early as the 2020-21 season on a full-time basis. With Patrice Bergeron and David Krejci getting up there in age as the top two centers, Studnicka will be looked upon to man one of those two spots in the very near future.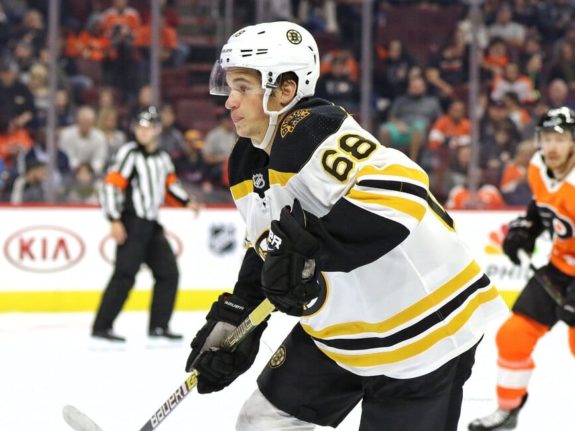 Selected 53rd overall in the second round of the 2017 Entry Draft, Studnicka had 23 goals and 26 assists this season with the Providence Bruins in the American Hockey League in 60 games. He joined Boston in the Toronto playoff bubble and played in 5 of the Bruins 13 playoffs games and failed to register a point.
A natural center, he spent his time in the playoffs this summer for the Bruins as a right-wing. He mostly was on the second line with Jake DeBrusk and David Krejci.
With Bergeron and Krejci back in the fold for at least another season, there is a real chance Studnicka finds himself on the Providence/Boston shuttle. He would be in that shuttle to play games at center in the minors and add depth to the Boston wings. Regardless of where he ends up next season, he's a talent that Sweeney can't afford to part ways with.
Urho Vaakanainen
A prized defenseman selected 18th overall in the first round of the 2017 Entry Draft, there's a good chance that with the moving parts on the Bruins defense this offseason that Vaakanainen finds himself in the top-six next season.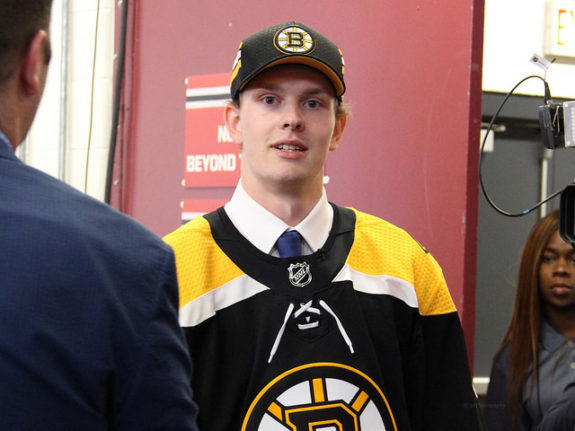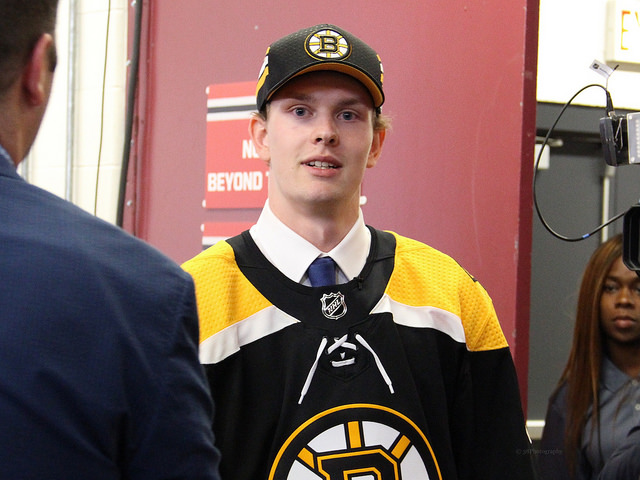 He played in five games for Boston this year and did a nice job of fitting in and not making any glaring mistakes. It almost looked like it belonged. He had 14 points in 54 regular-season games for the second straight season in Providence.
He is a prospect that is NHL-ready, but is blocked by the young defensive talent on the Bruins blue line with the likes of Charlie McAvoy, Brandon Carlo and Matt Grzelcyk. Sweeney re-signed Kevan Miller on Oct. 9 and Connor Clifton is another veteran blueliner. On a lot of other clubs, Vaakanainen would already have made an impact in the league.
With Torey Krug leaving for the St. Louis Blues in free agency and questions still surrounding whether or not captain Zdeno Chara will be back for a 15th season, there will be an opening or two available in the top-six. Vaakanainen is very close to being a full-time NHL defenseman and a key part of the Bruins unit going forward.
Jeremy Swayman
I know, you must be saying huh? A goalie? Well, Tuukka Rask is entering the final year of his eight-year, $56 million contract at 33 years old and has hinted at a possible retirement when his contract is up. Backup Jaroslav Halak is returning on just a one-year contract for 2020-21 and he is also on the backend of his career. The Bruins have to start thinking about the future and who will be the next man between the pipes.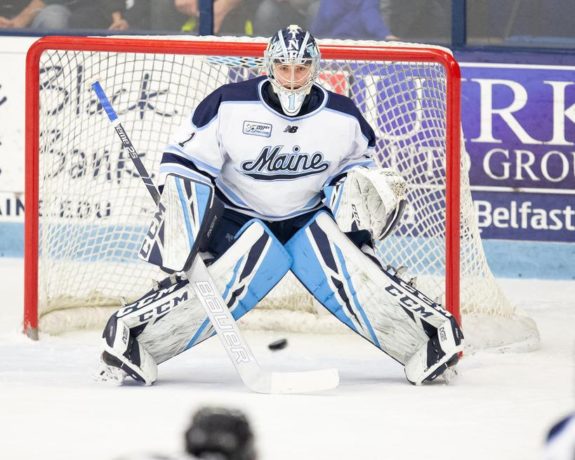 Swayman signed his entry-level contract after his junior season at the University of Maine in March. He was a finalist for the Hobey Baker Award, given to the top collegiate hockey player, after a stellar season in Oreno. He went 18-11-5 and finished with a 2.07 goals again average (GAA) and had a .939 save percentage (SV%). 
This season will be his first season as a pro and he will be battling Daniel Vladar for time in Providence. With questions surrounding Rask and Halak following next season, the Bruins would be wise to hold onto a goalie that is beginning his career after a stellar season in college. The 111th pick in the fourth round of the 2017 Entry Draft, he will make a case to be the heir-apparent to Rask in time and you have to be encouraged by his career at Maine.
These Three Need Time
There are other prospects that the Bruins have that would be of interest to other teams, but it's hard to argue that holding on to these three is a no-brainer. Studnicka and Vaakanainen are two NHL-ready players that are going to be a nightly impact in Boston sooner rather than later. Swayman comes into the organization with a lot of hype and if he can impress in the pros like he did this year at Maine, then there is a lot to like moving forward with him.
---
---