"Anyone but the Canadiens."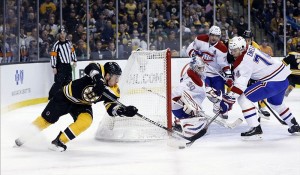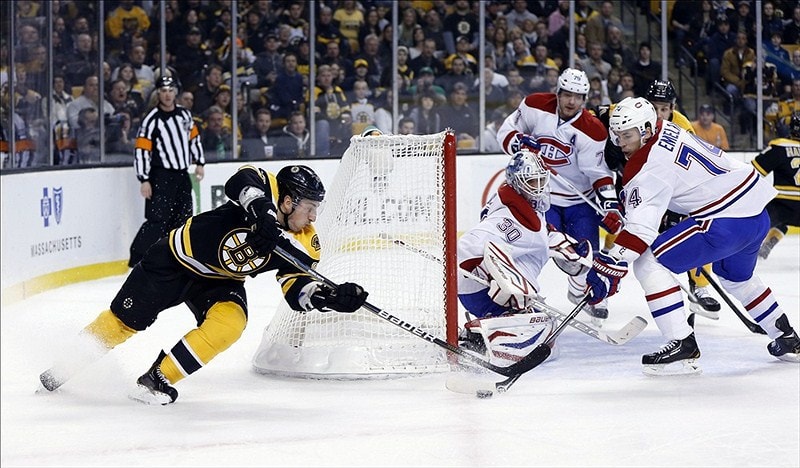 That would be my answer as to who I'd like to see the Boston Bruins face in the playoffs. And could you blame me? Prior to their sole win over the Canadiens on March 12, Montreal had won five straight against Boston, including Monday night's 2-1 shootout win that snapped the Bruins' 12-game winning streak. On the 2013-14 NHL season, Montreal finishes 3-1 against Boston. Even Tuukka Rask, visibly and statistically one of the elite goaltenders in the NHL, has a poor record against the Habs: 3-10-3 all-time.
While the Bruins have proven that they can hang with almost any team in the league, and as they sit atop the NHL, Eastern Conference, and are about to clinch the Atlantic Division, it has always been the Canadiens that give the Bruins fits. So why would you want the Bruins to play the Canadiens in a grueling seven-game series, where the loser goes home, and the winner advances to the next round?
Because it would be awesome for the Bruins and Canadiens rivalry. Monday night's game proved that.
Admittedly, I was wrong. A playoff series between Boston and Montreal would be the highlight of any NHL postseason and after watching another chapter of the historical Bruins and Canadiens rivalry unfold, with the Habs snapping the B's 12-game winning streak, you'd want more. And you'd want it soon.
The way that they play against each other is unlike any other NHL game. The energy level jumps up, the fans get into it, the players are relentless, and for a game in mid-March towards the end of the season, Monday's was perhaps one of the most fun to watch all year. Best of all, these teams legitimately dislike one another. If that doesn't scream storylines for the postseason, I'm not sure what does.
"I think it would be a very physical series," said Brad Marchand. The Bruins and the Canadiens combined for 14 penalties in Monday's game. "We would try to play just like we played tonight and hit them every chance we get, and they're probably going to want to do the same thing they did tonight–poke at us and try to get us to take penalties.  So it would be a lot of fun to watch."
Montreal had no problems getting underneath Boston's skin, antagonizing them and drawing penalties. Since the Bruins have the highest 5-on-5 goals for/against ratio (1.59) in the NHL, the Canadiens were wise to get them to play shorthanded. And when the Canadiens start to push, the Bruins are going to push right back. Hard.
"You have to have your emotions in check as much as you can," said Milan Lucic, who exchanged barbs and words with Montreal's Alexei Emelin more than once on Monday. "Unfortunately there were times where we took some penalties, especially in the first two periods, but once we were able to kind of put that aside and focus on what we needed to do to get a win as you saw in the third period, we were able to create, get penalties and get power plays more than being in the penalty box."
Emelin's low hip check on Lucic spurred Zdeno Chara to retaliate on him and get penalized just 1:19 into the game. Lucic didn't exactly appreciate the hit from Emelin, a Montreal player who has taken the place of Mike Komisarek as number 17's top rival in a Canadiens jersey.
"Whether it's fair, legal or whatever you want to call it, I mean if he wasn't scared, he'd stand up and hit me and not go after my knees," said Lucic on Emelin's hit. "So it just shows how big of a chicken he is that he needs to go down like that to take me down. It shows what kind of player he is and on my end, you've got to keep your guard up at all times."
See? Pure hatred.
The budding Lucic and Emelin feud isn't the only player-on-player dispute that bubbles from the Bruins and Canadiens rivalry. P.K. Subban and Brad Marchand's prolonged rivalry continued on Monday. After jawing at one another on a offensive zone faceoff for the Bruins, Marchand was guilty of a high stick in the corner after Subban snapped his neck back, just a bit too much, for the call.
"He plays hard and I play hard and we just seem to match up against each other a lot," said Marchand, who later went uncalled after repeatedly pushing Subban to the ice in the third period. "He's on the right side and I'm going down his wing and his corner, so we tend to bump heads every now and again and it's better hockey."
While Subban and Marchand's skills of playing the pest are eerily similar, both players have a knack for taking minor penalties. Subban has 35 minor penalties this year, compared to Marchand's 31. Notably, no NHLer has more high sticking penalties than Marchand's nine. The chippy play between the two make the Bruins and Canadiens rivalry even more fun to watch on a 'what will they do next' basis.
In a seven-game series, both teams would grind the other down. The speed of Montreal would eventually wear off as would the patience of the Bruins playing smart, physical hockey. It'd be raw. It'd be two teams leaving it all on the ice for a chance at the Stanley Cup. With the way the new playoff alignment works, there's a chance that the Bruins could face the Canadiens in the playoffs.
If they do, it'll go seven games. When it does, it's going to be another epic chapter in the Bruins and Canadiens rivalry.
Follow Mike on Twitter for more Bruins updates, news, and commentary.