The brother of Toronto Maple Leafs forward James van Riemsdyk has inked a two-year contract with the Chicago Blackhawks that will go into effect next season. Trevor van Riemsdyk will join the Blackhawks organization on the heels of a 23 point season with the University of New Hampshire as a defenseman. In signing van Riemsdyk, the Blackhawks land one of the top college free agents on the market, and that's not all.

Blackhawks Land Name From Pedigree
Trevor van Riemsdyk will enter the NHL with recognition to his name before ever logging a minute of ice time. That's because his brother, James, is not only a five-year veteran in the league, but also a University of New Hampshire alum himself. While brother James has size and a few pounds on his younger brother, Trevor will likely grow into his 6-2 frame as he joins the Blackhawks as a 185 pound 22-year-old.
James' younger sibling, Trevor, isn't the only van Riemsdyk who's likely to join the NHL. The youngest of the van Riemsdyk boys, Brendan, recently finished up his high school hockey career and will be eligible for this year's NHL Entry Draft. Of the three, however, Trevor is the only defenseman, and the only right-handed stick handler. That hasn't stopped Trevor from tapping into the resource of having an NHL star as an older brother.
Sioux City also picked up Brendan van Riemsdyk, younger brother of Toronto Maple Leafs forward James and UNH D Trevor, 51st overall.

— Chris Peters (@chrismpeters) May 7, 2013
https://twitter.com/kanetaves/status/448269152818851840
"It's been a good transition so far; the guys have really helped me adjust to this level," said Trevor shortly after beginning his college career. "It's very different from playing in juniors — more attention to detail here. And James definitely has a lot of experience under his belt on huge stages, so he's had some words of wisdom for me as we get going here."
Although Brendan has not hounded James for tidbits of information to this point in his young career, James has played the elderly mentor, nonetheless, with both Trevor and Brendan.
"I do try to go about my business and do stuff that my family would be proud of," said the oldest van Riemsdyk. "I try to help them whenever I can. If I see things that I know I would have wanted to know, when I was a little bit younger at their age, I try to pass that stuff along. Hopefully I can help chase after their dreams. They're the same way that I was at their age, they dream of playing in the NHL one day. Obviously it's a one day at a time process, but I try to help them out whenever I can."
Blackhawks Land Aggressive Defenseman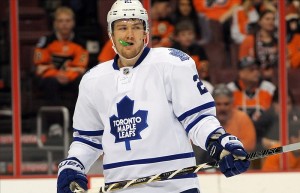 Trevor van Riemsdyk used his college playing days to take his game to the next level. Much like his brother James, the newest Blackhawk is considered laid back. But as his game developed, so did his stick handling and offensive prowess.
"We always worked on our skills together, me, James and my dad, just throwing saucer passes in the driveway and shooting on the net," Trevor recalled. "We always stressed the skill part of the game, and the best way to do that from defense is to get involved in the rush. Growing up, that's the way I liked to play."
Because the middle van Riemsdyk went undrafted, the Blackhawks land a gifted defenseman that UNH head coach Dick Umile considers one of the best at his experience level.
"He's as good as there is," said Umile. "He plays just like his brother. He sees the ice, he has a great feel for the game and he's very skilled. He has great control of the puck and he has great composure with the puck."
van Riemsdyk has been touted as one of this year's top undrafted free agents, despite suffering an ankle injury that likely curbed his already high stock.
"Coming into the year, I believed Trevor van Riemsdyk, the younger brother of U.S. Olympian and Toronto Maple Leafs forward James van Riemsdyk, would be one of the top free agents. However, when TvR went down with a fractured ankle in January, which effectively ended his junior season. I wondered how much it would impact the market for him and if teams would hold off. Chicago didn't and could be rewarded for their aggressiveness. Had van Riemsdyk not been injured, I'm guessing there would have been a long line to sign him. He was in the process of compiling a career year at UNH after being named a first-team All-American last season as a sophomore, averaging 0.88 points per game from the blue line with four goals and 19 assists in 26 games. At 6-2, 185, he has a little bit of bulking up to do, but his mobility and keen offensive instincts give him some noticeable upside. What makes van Riemsdyk even more intriguing is his development trajectory. Coming out of the EJHL, he was a little raw and it showed at times his freshman season. As a sophomore, he was one of college hockey's best defensemen and was again the first half of this season. He'll need time in the AHL to get his pro legs under him, but there very well could be a solid NHL defenseman in the near future in van Riemsdyk. This is Chicago's second UFA signing and it loads up an area that doesn't have a lot of depth in what is generally a solid pipeline. Van Riemsdyk was due back from his injury soon, but UNH's season ended in the Hockey East tournament. He may have some time to see AHL action this year." — Chris Peters
Blackhawks Land Key Need

Back in January, GM Stan Bowman talked about his team's needs as the NHL trade deadline lurked in the distance. Little did he know at that time that van Riemsdyk would end up joining the Blackhawks nearly two months later.
"I think you can never have enough defensemen. I think last year Vancouver used 10 or 11? Up front, I think you can make the same argument for a centerman," explained Bowman. "But if you talk to the other GMs, and I've talked to a lot recently, they're looking for center and defense as well. Those are the positions most in demand. We're probably not unique that way."
While the Blackhawks already showcase a bevy of defensive talent, from Norris Trophy favorite Duncan Keith, to Brent Seabrook and Niklas Hjalmarsson, it's still been somewhat of a struggle to find a pairing-mate for third-line defenseman Nick Leddy.
The Blackhawks traded for 23-year-old David Rundblad earlier in March, receiving an offensive defenseman who blocked 11 shots in 12 games with the Phoenix Coyotes this season. Still, Rundblad's offensive numbers through the small sample size of NHL games have been limited, recording one point in 14 games – two in which were with Chicago.
Rundblad has been an offensive explosion playing for AHL Portland, though. In 50 games last season, the Swedish defenseman scored nine goals and 30 assists, as well as two game-winning goals. Rundblad's future with the Hawks, however, is uncertain since he'll be a restricted free agent at the end of the season; making the addition of van Riemsdyk all the more convenient.
Rundblad, who is plus-one with no points registered in two games for the Blackhawks, now finds himself trying to fit into Chicago's plans despite limited playing time. The former Coyote is known for his knack for scoring from his body of work in the AHL, as well as leading a power play, an attribute found in van Riemsdyk as well.
"You want to show yourself every day, every game you get to play," said Rundblad. "And if you don't play a lot, you might want to do too much and think too much, I guess.''
In 102 games for New Hampshire, the middle van Riemsdyk scored 75 points, one more than his older brother James. Although van Riemsdyk will likely see time in AHL Rockford, it shouldn't be long before he is a mainstay in Chicago. If his college track record is any indication, there is much to anticipate.
"He is a  smooth-skating, mobile defenseman who needs to be better in his own end to succeed in the NHL. His offensive instincts from the blue line could make him a very valuable power play quarterback for a team down the road." — SB Nation