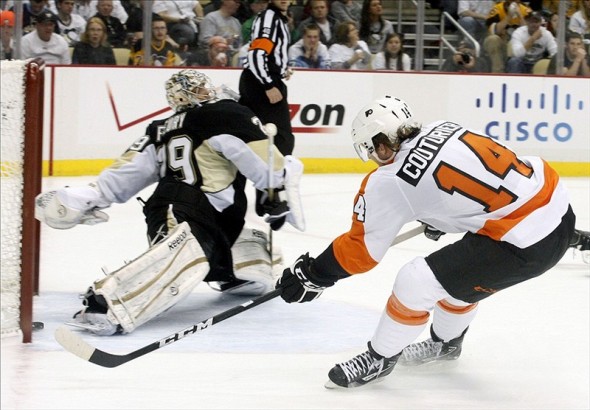 We oftentimes talk about home ice advantage and how much it can impact a club when coming into their rival team's barn. Typically, we find that teams have better home records than away. The best example of this would be the first two teams to clinch playoff berths this season – the Boston Bruins are 28-7-3 at home versus 21-10-3 away, and the St. Louis Blues are 25-5-4 at home in contrast to 23-11-3 while playing away. What I find interesting about home ice advantage, however, is the battle between the Flyers and Penguins – and more importantly, how home ice seems to be a disadvantage.
A Look Back
Let's take a look back at the Consol Energy Center and its opening season back in 2010-2011. The Penguins faced the Flyers three times at home and they didn't win any games in their own building. They went 0-for-3. The 2011-2012 season was not much more promising, although the Penguins managed to improve their home games to 1-for-3 in Consol's sophomore season. Sophomore slump or slight improvement? This sounds sad either way.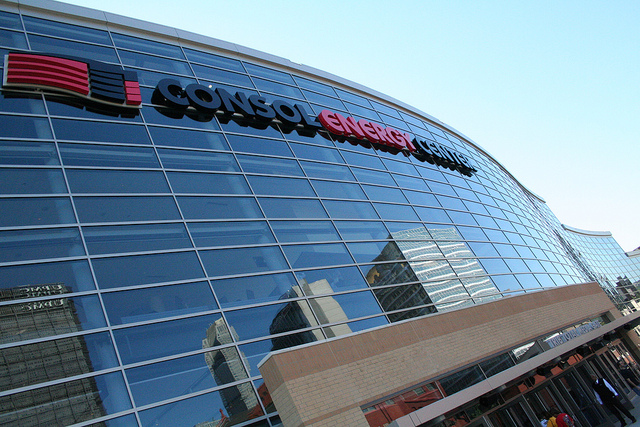 The memorable spark to the Keystone state rivalry came in the 2011-2012 Stanley Cup Playoffs when the Penguins and Flyers faced off in the first round; the two teams were seeded 4th and 5th in the Eastern Conference, respectively. The Penguins again were reduced to a 1-for-3 home record, while the lower seeded Flyers were 2-for-3 at home. Although neither team managed to win all their home games, the Penguins were noticeably at a disadvantage.
Recent History
The playing field seems to have been leveled  in the Battle for Pennsylvania in recent years, as both teams seem to be about even when playing in the other's territory. The 2012-2013 lockout-shortened season was the first of these incidents, as the Flyers went 0-for-2 at home and the Penguins went 1-for-2. This 2013-2014 season has mirrored last year, although the scores have been flipped. Philadelphia went 1-for-2 and the Penguins went 0-for-2 at home. Again, neither team managed to secure all possible points in their home barn. This leads me to wonder – is this just a Pennsylvania thing, or does home ice disadvantage extend to other rivalries as well?
Are Other Rivalries Facing Home Ice Disadvantage?
Being a Chicago-native, a playoff rivalry that is close to my heart is the one extending both North and South of the border. Maybe you can recall a series that included Dustin Byfuglien rubbing a hat trick in his opponent's face? Yes, I'm talking about the Vancouver Canucks and the Chicago Blackhawks.
I wish I had a fun rivalry name for the teams… perhaps we can just agree that they share mutual fans because of the Chicago Wolves affiliation and its proximity to Chicago. I'm unofficially going to call this rivalry the Ryan Stanton Fan Club. Since nhl.com doesn't allow you to review past seasons beyond 2003-2004, I figured that I would leave all of my evidence for my home ice disadvantage theory up to my two Western Conference foes.
Let's Get Down To It
The recent history rivalry between the Hawks and Canucks really began during the 2008-2009 Stanley Cup Playoffs and continued for the following two seasons as the teams continued to meet in the post-season. The 2008-2009 series found the teams meeting in the second round and left the Vancouver Canucks with a 1-for-3 record at home and the Chicago Blackhawks 2-for-3 at home. I would call this series a split, simply because a 7-game series cannot be divided equally. So far, no disadvantages here.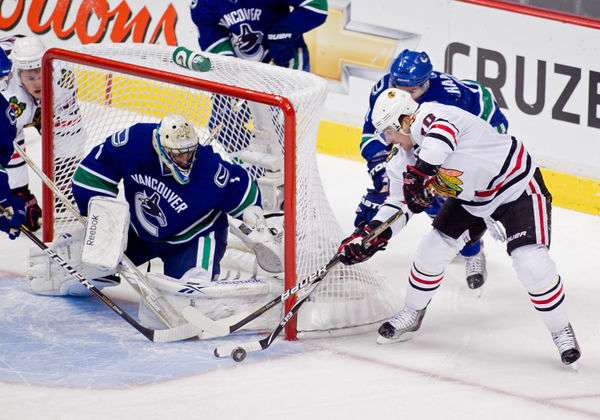 Moving onto the 2009-2010 season, we find yet another second round meeting for our Chicago Wolves brethren. This playoff series got a little wonky, as Vancouver was given no love by Rogers Arena, going 0-for-3 at home. Similarly, Chicago went 1-for-3 at the United Center during this 6-game series. I would say that this post-season meeting came with the most home team losses – but it does not prove my home ice disadvantage theory quite as well as the Penguins and Flyers.
Finally, the 2010-2011 Stanley Cup Playoffs lead us to the most recent meeting of the Canucks and Blackhawks in which they met for a full 7-game series. The Canucks went 3-for-4 at home with the Blackhawks naturally going 2-for-3 at home as the losers of this first round match up. Similar to the 2008-2009 season, the two teams fared pretty well in front of their home crowds. It is important to note that in the three post-seasons that were just examined, the regular season match ups saw the home teams split – in other words, both teams went 1-for-2 at home during the 2008-2009, 2009-2010, and 2010-2011 seasons. This proves my point that the home team (*unless said home team is the Flyers or Penguins) is most likely at an advantage, but is not guaranteed to win 100% of their home games.
What Does It All Mean?
I'm going to conclude based off the aforementioned (but solely based on one other rivalry) evidence that the Pittsburgh Penguins and Philadelphia Flyers rivalry is unlike any other in recent history. The two teams play their worst in front of their home crowds, yet put up a fighting chance against their naysayers. The Madhouse on Madison may be rockin', but the rivalry team will just have to keep knockin'. While in the Keystone state, however, you might just be let in when you start to knock…