It is Nov. 19, 2013, and the Clarkson Golden Knights have fallen to ninth in the national rankings. It is March 9, and Clarkson has just been shut out in the ECAC championship game. It is March 21, and the Golden Knights have won their second-ever NCAA Tournament game to advance to their first-ever national title game, where they will meet Minnesota, who has one loss in the past 89 games, who has the nation's best offense, the best defense, the best everything, who is looking for its third-straight championship and fifth title overall.
It is before puck drop of the national championship game, and Clarkson has no chance. Right?
♦♦♦
How do you define success?
Is failing synonymous with losing? Or maybe a better question: do success and winning have to go hand-in-hand? Can you have one without the other?
Do you define success by 38 wins or one final loss? Can you define success by any number of victories at all?
Does success have to look like a mess of gloves and pads and sticks, championship hats turned backwards, a trophy being hoisted? Or can it also look like an exhausted, gutted group of girls, standing humbled on their blue line?
How do you define success?
♦♦♦
It is the first period of the national championship game and things aren't looking so great for Clarkson. Minnesota has taken a 1-0 lead early. More Gopher goals feel inevitable. The Golden Knights are getting outshot, outchanced, and they're spending a lot of time in their own zone. No chance. Right?
But Erica Howe is giving them a chance.
"I can't say enough about Erica Howe," said Clarkson captain Carly Mercer. "She's an incredible goaltender. She is an incredible competitor."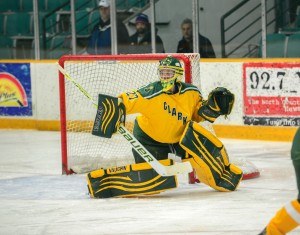 "She keeps things calm for us back there," said Golden Knights head coach Matt Desrosiers. "She doesn't give up a lot of second- or third-chance opportunities, which helps out your team in a lot of different ways, obviously not giving up very many goals, but not making things very panicky within your zone."
"At the end of the day our entire team knows that she is going to bring her best and play her best and that's what she did tonight," Mercer said. "We're confident in her. She's never given us a reason not to be. And I wasn't surprised that she played another incredible game tonight."
It takes Clarkson exactly 10 minutes to find an answer for this seemingly unanswerable team and flip the game around.
With 1:23 left in the period, Shannon MacAulay and Christine Lambert drive the puck to the net and crash it, and in the scramble Lambert gets a stick on it, and it slips in. Tie game.
The Golden Knights are buzzing now, and 1:03 later, with a delayed penalty coming up on the Gophers, Jennifer Shields takes a shot and Shelby Nisbet gets a piece of it, sending it past Minnesota goaltender Amanda Leveille and into the back of the net. 2-1.
It is the end of the first period, and it's starting to feel like Clarkson has a chance.
♦♦♦
After being in control for almost the entire first period, it is Minnesota that finds itself down a goal at the intermission.
"I was really frustrated about it, to be up 1-0 and playing really well, I thought," said Gophers head coach Brad Frost. "It took a couple of minutes for us to handle their forecheck a little bit but then I felt we carried the play the rest of the period, up until the 18:37 mark there where they got that one."
Still, Clarkson's energy and competitive play wasn't taking the Gophers by surprise.
"I think that it's nothing we haven't seen before," said Minnesota senior captain Bethany Brausen. "Just as any game would be for a national championship, they threw their heart and soul at us and they got the best of it tonight, and good for them."
♦♦♦
It is 38 seconds into the second period and Patty Kazmaier winner Jamie Lee Rattray has batted home a puck on the doorstep to give Clarkson a two-goal lead. It is the very first time any team has taken a two-goal lead over the Gophers since North Dakota did so on Nov. 17.
Clearly, the Golden Knights haven't gotten the "no chance" memo.
"It's just the mentality that they have," Desrosiers said. "They all believe in each other, they believe in themselves. They're so confident that they can get the job done."
♦♦♦
The Gophers, of course, aren't done yet. There's a reason they've lost once in the last 89 games.
They get a power play goal from Maryanne Menefee just over six minutes into the period to pull within one. And then Rachael Bona knots the score at three apiece less than two minutes later.
"Having to climb back there down 3-1 early in the second, what a great job our kids did with that to get it tied up," Frost said.
♦♦♦
It is the second intermission of the national championship game, and Clarkson is tied with the two-time defending champions.
"Going into the third period, we went in and said, 'Hey, at the beginning of the year, if we told you guys you got 20 minutes to win a national championship, would you take it?'" Desrosiers said. "And they looked at us like 'Yeah, we would.'"
Some would be shaken up after giving up a two-goal lead to a very good opponent. In fact, nearly every team the Gophers have faced over the past two years has failed to find a response when they take over a game.
"We knew coming into this game we were going to have to play 60 minutes no matter what," Mercer said. "Even after they scored those two goals on us and it was a tie game, there was no point in time that we thought we could back down or lay off the gas, so it didn't really change for us. Our energy stayed the same and we knew that we just had to keep sticking with it, keep plugging away, and we just had the utmost confidence in ourselves."
The utmost confidence? Against the country's number one team?
Maybe this was never about who they were facing.
"The confidence that this team has hasn't wavered all season long, even over the last couple of days," Desrosiers said. "I have not seen one glimpse of them thinking they could not win this game. Even throughout the game, even when we were down a goal, up by a couple, and they started coming a little bit, it never wavered."
Maybe this was about the Golden Knights, and the opportunity at hand, and their belief in their ability to take advantage of it.
♦♦♦
What if success is knowing, when your time is up and you're at the end of the road, that you made an impact?
"I like to hope that we made our mark on the program," said Minnesota senior forward Kelly Terry. "All four of us (seniors) bring a different thing to the table. We try and lead by example, we lead vocally. Our up and coming future senior class, they're all amazing people as well."
Or maybe success can be measured by how much you dread saying goodbye.
Isn't that the hardest part, after all?
"I think that the culture we've developed on this team, absolutely, the hardest thing is saying goodbye to your teammates, more than anything," said Brausen, whose red eyes and tear-stained face are, as she says, a testament to her team and how much it means.
"We hope that we continue to demonstrate the values that our team has and set the standards like that," Terry said. "I have no doubt that this program is going to be successful for all of eternity."
But how do you define success?
♦♦♦
It is the third period of the national championship game, and Clarkson is competing with 15 skaters and four defensemen. One of the blue liners that they're missing is Erin Ambrose, the best defender in the country.
And yet. Here are the Golden Knights, tied with Minnesota in the last period with the national title on the line.
"We had a lot of players step up in big ways over the last few weekends," Desrosiers said. "Not only did our four defensemen do a great job stepping up and not only playing solid defensively, but they started getting into it and contributing offensively, this weekend especially. In big situations they stepped up and played well. The play of our four D was phenomenal over the last few weeks."
With such a short bench, especially on the back-end, no Clarkson player could afford to be anything but totally dedicated defensively, including the forwards.
"We've preached all year how important backchecking is, and in a game like this against Minnesota that's attacking off the rush the way that they do and having D jump into the rush and stuff like that, it's going to be very important that we backcheck well and I thought we did that," Desrosiers said. "This team just understands the game of hockey, that sometimes things need to be kept simple. You have to win little battles, get pucks out, get pucks in, and they've accepted that, and that's why they're at where they're at right now."
And right now, Rattray is carrying the puck into the offensive zone, and Vanessa Gagnon is picking it up and feeding a pass behind her, and Vanessa Plante is stepping into it and firing a rocket towards the goal, and the puck is in the net.
There are eight and a half minutes left in the national championship game, and Clarkson has a 4-3 lead.
♦♦♦
How do you define success?
"We talk all the time about what success is and it's easy to say what success is when you're winning," Frost said. "But success for us is the embodiment and fulfillment of our values of being tough, grateful, disciplined, and devoted. And that's what success is to us, and hopefully we win a lot of games along the way. And we did. Unfortunately we didn't win the biggest one here, but our kids were successful. They were so successful this year."
♦♦♦
It is the final five minutes of the national championship game, and MacAulay has forced a turnover at the blue line, and she is all alone from the red line in.
"I guess I tipped it off the girl's stick and I had a lot of time to think about it, but I was prepared for it," MacAulay said. "We've all been preparing for this game for weeks now, so I didn't freak myself out."
With 4:16 left in the game, she lifts the puck past Leveille and gives the Golden Knights a 5-3 lead.
"I just kept trying to stick with it and I knew I had the team behind me with it 100 percent," MacAulay said. "Without their energy, pumping me up on the bench and stuff, I wouldn't have been able to capitalize on that, so I thank them for it."
Minnesota gets one back a few seconds later, but Clarkson has all the momentum, and MacAulay, to cap off a fantastic weekend, has what will stand as the game-winning goal.
It is only fitting that MacAulay, the perfect example of the Golden Knights' depth and the impact it had this weekend, would be the one to seal it for Clarkson.
"Obviously we have Jamie Lee Rattray's line that has done a good amount of scoring for us, but we've had contributions all throughout our lineup and that was no exception this weekend," Desrosiers said. "I know Minnesota was trying to match lines with us tonight, but that didn't bother us. We're confident with every single line that we have out there, offensively and defensively. They all know their roles, they all know their jobs, they all do it very well. And they have done it very well all season long."
It is the national championship game, and the seconds are winding down, and Clarkson has a 5-4 lead.
♦♦♦
"It's a game of momentum shifts," said Brausen. "I think there was a lot of that tonight. They go up a goal and we come back, and they go up a goal, and we're coming back.
"It's a game of hockey. It's not always going to go your way. So we're trying not to think about one game as a measure of our whole season."
What has made the Gophers so great, and so hard to beat, is their ability to always find a way to swing the momentum in their favor by game's end. But on Sunday, it was Clarkson who pushed back in the third period, and Minnesota who came up short in its search for a response.
"We all know that hockey is a game of inches," Frost said. "You can play really, really well and lose. You can play really poorly and win. And the success for us is the fulfillment of our values and just playing for that person next to you and leaving it all out on the ice. And our kids did that. And that's all, as a coach, I can expect of them. I can't say, 'Hey, go win this hockey game,' but I can say, 'Give an incredible effort and have a great attitude,' and that's what they did.
"Tonight the big scoreboard said that we lost. I would tell you that we won, all year. This was an incredible team and an incredible group of four seniors that helped change the culture of our program."
Losing? Losing sucks. But failure is so much worse, and it is failure that is foreign to this Minnesota team.
♦♦♦
It is the end of the 2014 season, and the Clarkson Golden Knights are national champions.
It is pandemonium, of course. Equipment is everywhere. There is a giant pile of humans on top of Erica Howe, just yelling and screaming and crying and cheering because that's how it feels when you win a championship. There is something about the looks on the faces of the Clarkson players, though. There is pure joy, happiness, exuberance, sure. But for the first time all day, and all season, there is also disbelief.
Out of everything, it is that unwavering confidence and steadfast belief that defines them.
"They were on the bench, yelling and screaming that, 'Hey, we're going to get this done, we're going to get it done for each other,'" Desrosiers said. "It's just a great group to be a part of when you have players that are that confident in their own abilities, but also that confident in their teammates that they're going to work hard for each other."
To a lot of people, this is considered an upset. Is it?
"Absolutely not," said MacAulay. "I think we deserved this. We worked hard all year for it and we knew coming into this game that we were going to give them a run, and yeah, Minnesota's won it two years in a row, but that didn't mean anything to us. We knew we were going to give them a game and that's what we did."
"We didn't care how many national championships they'd won," said Mercer. "This was our year."
More than anything, this is a team that believed, all the way through. And not the underdog, chip-on-the-shoulder, do-you-believe-in-miracles kind of belief. No. This was no miracle. This was just a team that wanted to, and thought it could, so it did.