On Monday it was announced that Matt Beleskey will miss the next six weeks due to a knee injury he sustained over the weekend in a game against the Buffalo Sabres. Six weeks is a long stint to be without a potential top six forward, but ultimately the Bruins will not miss Beleskey over that time.
Beleskey is Slacking
http://gty.im/499995300
Beleskey's numbers and play are looking weak this season; in 24 games played he has put up two goals, three assists, and has a minus-6 rating. He also has not shown the grinding style that he did in Anaheim before signing with the Bruins two summers ago. He showed that he could score goals in big-game situations in Anaheim, another quality that hasn't transferred from the Ducks to the Bruins. The extensive amount of time off Beleskey will have may be a blessing in disguise for the team, and maybe even for himself.
The next six weeks will allow the Bruins to try out different line combinations and spend more time on some of the young and newer players on the roster, something they have a plethora of this season. These players include Tim Schaller, Austin Czarnik, Ryan Spooner, recent call-up Anton Blidh, a returning Frank Vatrano, and more. Spooner has had his difficulties this season and with Beleskey out, Spooner will have more chances during games which will hopefully help him find his way and reach his potential.
Higher Expectations
Beleskey is now in his second season with the B's, and this season looks like it will end up as bad as last season. Beleskey did score a career-high 37 points in 80 games played, but for the money he signed for that summer, this total was undesirable. A player making the money he is making should be scoring at least 20 goals per season, and putting up somewhere around 50 points.
His grinding style was supposed to fit with the Bruins and Claude Julien's system, but for some reason it has not clicked. The season prior to signing with the Bruins, he scored some amazing game-winning goals at the end of the regular season and in the playoffs. He looked to be on the up-and-up, beginning his career on the right side. He just did not fit well with the Bruins last season and unfortunately ,this season looks like it will end the same way, or more likely worse than his first season with the Bruins.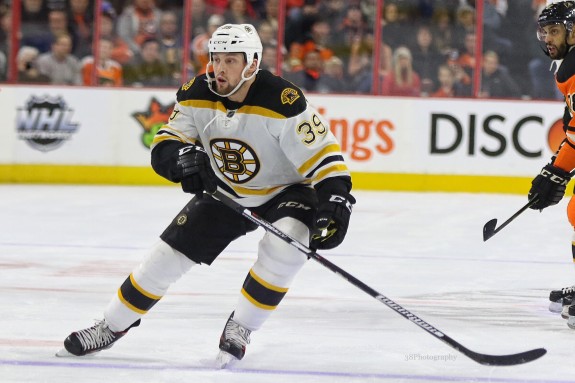 Trade Options?
If Don Sweeney and the Bruins do not want to wait for Beleskey to develop into the player he was supposed to be when he first got here, which at this point seems like a lost hope, they can always bring up the option of trading him. The only problem with this is that he has a no-trade clause in his contract until the end of this season. This means the B's would have to ask his permission before opting to trade him. If he agreed, they could trade him for some prospects or draft picks, and maybe package him with Malcolm Subban, to get rid of the always-struggling goaltender. Another problem with this is that they'd have to find another team willing to take on the two players, who both have pretty low trade value at this point in the season.
It would be very easy to replace Beleskey, as the Bruins have a ton of young forwards champing at the bit for his position. Also, for a lot less money, the Bruins signed Dominic Moore over the summer. Moore has begun the season on fire, scoring six goals and three assists, numbers that Beleskey should have at this point in the season. It seems like a lot of players for less money would be better than Beleskey in his role right now.