Bryan Bickell's locker is empty. His story is now a memory in the room where he forged new Carolina Hurricanes relationships at the beginning of the season. These relationships were not lengthy, his playing cut short early in the season by a diagnosis of Multiple Sclerosis (MS). But, they are relationships that sustained him nonetheless as he fought back and ended the season one of the highest of notes.
The white jerseys are the Carolina Hurricanes at the MS Walk in support of teammate Brian Bickell, diagnosed in Nov, back on ice this week. pic.twitter.com/bwoQF0WxZO

— Rick Follweiler (@RickFollweiler) April 8, 2017
What's Next for Bryan Bickell
Bickell played in the Hurricanes' last home game on April 8 against the St. Louis Blues. I had a chance to talk with him after that game and when the team made themselves available to the media on exit-interview day, which was on April 10. He said he is hopeful for advances in the treatment of MS and the possibilities that research has regarding the disease in the future. "Over the last 10 years to where it is now, you know, hopefully they'll find something," Bickell said. "If not, a lot of people have been living for a lot of years, so you know, it's part of my life and I just have to work around it."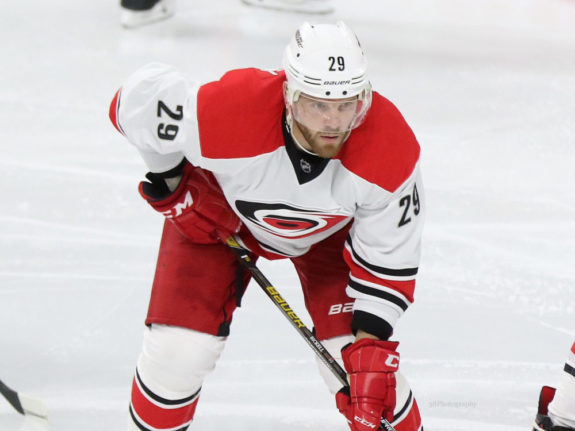 I asked Bickell "What's next?" With reflection, he expressed that what's next is family time.
"I think that just being a dad is my first step," Bickell said. "And you know, if something falls into my lap then we'll take. But, we're taking it day by day and see what's next."
It's no secret that Bickell loves to fish, so it will not be a surprise to see him enjoying fishing with his family.
One of my colleagues in the media asked Bickell at what point he decided to retire. I was slightly surprised by his answer, thinking he may have had it in mind for a while.
Bickell said, "Probably about three or four days ago. You know, just me and my family talked and my biggest thing was my health. I don't want to take risks. Obviously, I've played hockey for my life and it's obviously tough to leave. But, I've got life after hockey. Watch(ing) my kids grow will be important."
Going Out Strong
Bickell had his NHL career cut short. Retirement was thrust upon him courtesy of MS. Still, this Stanley Cup-winner went out like a true champion. His teammates rallied around him and gave him incredible emotional strength and support. They participated in a walk to raise money for MS on his first day back in NHL action. And they shared in his excitement being back on NHL ice. Even head coach Bill Peters acknowledged there was something special going on with Bickell's return. After the Blues game, Peters was asked if he thought about putting in Bickell for the shootout. Peters said, "I should have."
Peters got his chance the next night in the 'Canes' last game of the season against the Philadelphia Flyers. Like a script written in a movie, Bickell was called upon to take a shot in the shootout versus the Flyers, and he scored.
During Monday's exit interview, Bickell said, "To finish off like that, getting the win with friends and family there, scoring in the shootout was obviously special. To see the support from the Philly fans, believe it or not they were very warming." Bickell said that he thought his teammates wanted to jump on the ice after he scored the shootout goal, "but I came by the bench and they kind of mobbed me."
Obviously, the week was filled with emotion for Bickell. He summed everything up by saying, "It was a good run, had a lot of fun. There's another page in the story, we just don't know where it's going to lead me yet, but it's going to be fun."
I asked Bickell as he was about to leave how hard it was to play with the MS a part of his body now. He said, "To where it [my game] was a year or two ago to where I am now, it's not near where I need it to be to be in this league. I was just thankful to get the opportunity to finish off here. They gave me the rights and it finished off in a good way."
It sure did, and Bryan Bickell will be missed.
Mark lives in the Raleigh, NC area and covers the Carolina Hurricanes.