With BU's 2015-16 season coming to an end last weekend at the hands of the Denver Pioneers, it's time to look forward to what is to come next season for David Quinn and the Terriers.
The graduating class of 2016 is not a huge class for the Terriers, with only six players departing. However, the names that are leaving are big ones. Three of the teams four top scorers (Danny O'Regan, Ahti Oksanen, and Matt Lane), the team's best defenseman (Matt Grzelcyk), and starting goalie (Sean Maguire) will be walking across the podium in May. Thankfully, the Terriers have a lot to look forward to in the freshman class that David Quinn is bringing to Commonwealth Avenue in September 2016 to replace them.
There are currently nine freshmen expected to join the team next year, and you can expect to hear a number of their names called very early on at the 2016 NHL Draft in June. Four of them have a very real chance to be selected in the first round, which is unheard of even for a powerhouse team like BU. In addition, current freshman defenseman and Hockey East All-Rookie team member Charlie McAvoy will almost assuredly be selected in the first round as well. For some perspective, Bob McKenzie's midterm rankings have eight current or future college hockey players in the top 30.
That makes for potentially five BU commits/players selected in the first round of one draft. I don't know for a fact, but I would have to imagine that would be a record. While they have all committed to the Terriers, actually getting them to campus in the fall can be another battle after they are drafted and NHL teams get in their ears. Thankfully, the Terriers have everything a player could want: an elite hockey team, a top-quality education, and the chance to live in Boston.
Of the top five recruits in all of the NCAA for 2016 according to College Hockey News, four are Terrier commits. Here's what Terrier fans have to look forward to with each of them and their current draft rankings according to a number of different sources:
Clayton Keller, Center
Rankings: McKenzie (15th), ISS (14th), Button (8th), NHL CSS (8th NA)
Keller is a dynamic offensive talent at the most important forward position. If Keller was a few inches taller (he's 5'10"), we would be talking about him as a lottery pick. He's an extremely shifty skater that processes the game quickly, and can really thread the needle with pinpoint passes to teammates. Equally adept at scoring and passing, Keller is an all-around threat whenever he is out on the ice. Playing for the USNTDP U18 team this year, he has racked up 120 points in 72 games, by far the most on the team.
Keller was one of the final cuts for the 2016 US WJC team and is very likely to represent the team at the 2017 tournament. When the Terriers faced the USNTDP team in an exhibition game earlier this season, Keller was one of the best players on the ice, registering 3 assists in a 7-4 win against his future team.
Kieffer Bellows, Left Wing
Rankings: McKenzie (18th), ISS (17th), Button (16th), NHL CSS (12th NA)
Riding shotgun on the same line with Keller for the USNTDP this season was Bellows, the son of former NHLer Brian Bellows. Bellows has been on the receiving end of many of Keller's beautiful passes, and his goal totals show that he is taking full advantage. He leads the USNTDP in goals (55, 14 more than second place Keller), and is second in points behind Keller with 99. It would not be a surprise at all to see David Quinn keep this duo together to start the season.
Bellows is a pure goalscorer that possesses a deadly shot. He can use it from all angles, and is willing to go to the dirty areas to score, not just relying on his sniping abilities. His shot is powerful and he can get it off in a flash. He supplements his shot with a powerful skating stride and uncanny ability to hold onto the puck with defenders draped all over him and drive the net.
Dante Fabbro, Defenseman
Rankings: McKenzie (17th), ISS (24th), Button (12th), NHL CSS (18th NA)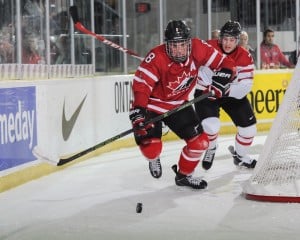 Elite prospects don't come from the BCHL too often, but this year the Penticton Vees have produced two great ones in Fabbro and teammate Tyson Jost (a North Dakota commit). Fabbro is a prototypical modern two-way defenseman. He's an excellent skater, is confident with the puck on his stick, and uses his intelligence to defend effectively in his own zone. He's not an overly physical player, but uses his body effectively to control gaps in his own zone, and he plays the body willingly when needed. He has no discernible weaknesses to his game, a rare feat for an 18-year-old defenseman.
His 67 points in 45 games this year led all defensemen in the BCHL. With senior Matt Grzelcyk departing, expect Fabbro to take over some of the duties for quarterbacking BU's power play, with some help from Charlie McAvoy and Brandon Hickey, assuming he doesn't turn pro after the season (I expect Hickey to stay for another year).
Chad Krys, Defenseman
Rankings: McKenzie (47th), ISS (NR in Top 30), Button (86th), NHL CSS (30th NA)
At the beginning of the season, Krys was ranked somewhere between 25-30 in most early analysis of the 2016 Draft. He's had a solid year this year, but has not been other-worldly, and some other buzzier prospects having great seasons have passed him. Once the Draft reaches picks in the twenties, the consensus BPA becomes less and less clear as more prospects are legitimate picks at that point. As a result, despite his ranking, Krys could still go in the first round.
He possesses the skill most sought after in defensemen today: excellent skating. Krys represented the US at the 2016 World Juniors, and while he did not register a point, played well for a 17-year-old and should be a key member of the team next year. For the USNTDP this year, his 36 points in 58 games are second among defensemen on a total and per game basis (.62).
98 D Chad Krys (@USANTDP) commits to BU. Huge 2016 add to the Terriers blue line, top-end skater, elite vision, pure talent. Draft-eligible.

— Over the Boards (@overtheboards) August 14, 2015
Krys loves to jump into the rush and create offense from the backend. His defensive game is the only area of his game that requires improvement. However, his skating ability allows him to recover from the majority of mistakes he may make.
Joining the players mentioned above will be forwards Hank Crone, Patrick Harper, and Johnny McDermott, defenseman Vas Kolias, and goaltender Jake Oettinger to round out David Quinn's 2016 recruiting class.
Oettinger will battle with Conor LaCouvee and Max Prawdzik for the starting goaltending spot vacated by Sean Maguire. One notable thing about Oettinger is that he is not eligible to be drafted until 2017. While it is not uncommon for players to play in the NCAA during their draft year, it is very rare for goaltenders to do so. Some early 2017 mock drafts have pegged Oettinger as a late first round pick, but prognosticating that far in advance, especially with goalies, is speculation at best.
Bill Schoeninger is a Philadelphia Flyers writer and current Boston University student studying business. Coming to THW from Hometown Hockey, Bill follows and writes about the Flyers, Boston University Terriers, and NHL Draft prospects. Follow him on twitter @BSchoeninger17