It's been a busy off-season for the Buffalo Sabres.
Granted, the team isn't all that much better, if at all, and they'll almost certainly be #bad4ekblad next year. Still, the Sabres have been on a quest this off-season to apparently acquire ALL the defensemen.
It started by re-signing Mike Weber, the solid veteran defender, to a three-year extension. It continued at the draft with the first round selections of the huge Rasmus Ristolainen and the even huger Nikita Zadorov.  Also at the draft, they swapped out Andrej Sekera for Jamie McBain (MENDOZAAAAAAAAAA!) and a pick.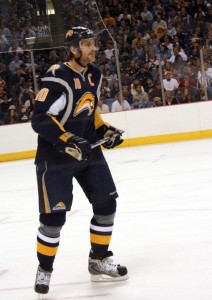 Since draft weekend, they've re-signed depth defender Alex Sulzer and traded Riley Boychuk for former Sabre Henrik Tallinder. Oh, and there's also a rumor floating out there that they could be interested in acquiring Alexander Edler from the Vancouver Canucks. Got all that?
The Sabres now have Tallinder, McBain, Sulzer, Weber, Tyler Myers, Christian Ehrhoff, Mark Pysyk, Chad Ruhwedel, and Braden McNabb as plausible NHL defensemen heading into he season without even taking into consideration that Ristolainen or Zadorov could make the big club.
The consensus seems to be that Tallinder was brought back into the fold simply to help Myers. The 6'8" Myers has struggled the last few seasons and hasn't quite been the same since his outstanding, Calder Trophy winning rookie season – the last time Tallinder was around. If Tallinder can help Myers, who is still just 23, right the ship and become the franchise defenseman it looked like he would be, the move to bring back Tallinder will have been a huge success.
Since the Sabres know they'll be offensively challenged and likely not very good unless they can play some shutdown defense, there could be a chance that Myers, Weber, Ehrhoff, Tallinder, McBain, and Sulzer get the first crack so that the youngsters can develop in better environments.  Would you want to expose either first round pick to an environment where there's likely to be little in the positive column?
Or, and this seems more logical, could one of them become a trade piece?
Myers is likely out, contrary to popular belief. He's young and has a ton of potential; a smart team doesn't give up on a guy like him at 23 years old. Not unless you want to see him thrive somewhere else. Tallinder is tied to Myers (as mentioned earlier) so he's out.
Ehrhoff is out for two obvious reasons: his contract (8 years left with $22M in salary left and a cap hit of $4M for each year) and the fact that he was the Sabres best defenseman last year. McBain, Sulzer, and Weber aren't likely to be dealt considering they were traded for/re-signed.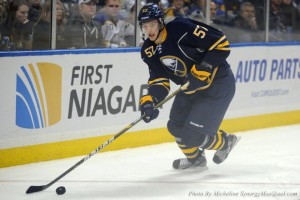 So who do they move? Pysyk? Ruhwedel? McNabb? Not likely. There's not a ton of value there unless you're moving one of them in a larger package.  Aside from something involving Thomas Vanek and Ryan Miller, those packages don't exist.
The likely explanation for the defensive moves is that the Sabres know there isn't a lot to be had in terms of meaningful offensive acquisitions. Amassing as much talent as they can find on defense gives them options they just don't have offensively. Not to mention the fact that it gives them flexibility should they want to move someone via trade to make that offensive addition.
There's also the belief that they know they aren't going to score many goals this year and easing the blow that will come from a lack of offense won't likely mean more wins but at least they won't be getting shelled night in and night out, especially if/when Miller and Vanek are dealt.
Defensive stockpiling might not be the move that cures all that ails them, but for the Buffalo Sabres, it might be the best possible move in the short term.
At the very least: here's to hoping Tallinder can resurrect Tyler Myers. If that happens, these moves are a win regardless of what else happens.
Follow me on Twitter: @RWTFC