Free Agent Frenzy wasted no time descending on the NHL, Friday, with the league's new preliminary negotiation period allowing UFA's to find new homes with the quickness.  As with the start of every July in the NHL, some seriously dumb dollars were doled out, with the most notable deals including David Clarkson raking in seven years of term with Toronto, and Valtteri Filppula becoming a 25 million dollar player for Lighting, singing for five years to replace the bought-out Vincent Lecavalier.  More veteran stars meanwhile, prudently went the Cup hunting route, with Daniel Alfredsson and Jerome Iginla inking one-year contracts with the Wings and Bruins.
The spending spree hit the Music City as hard as anywhere else in the league, as David Poile used his extra negotiating time to add four new contracts to the fold, signing free agent forwards Viktor Stalberg, Matt Cullen, Eric Nystrom and Matt Hendricks.  Unfortunately for the Predators however, each of these transactions were among the lowest-value signings on the day, and have a real chance of challenging Paul Gaustad for the worst bang-per-buck on the roster.  Either Poile couldn't attract any marquee free agents and had to settle for the pu pu platter, or he's grabbing random bodies to plug holes before wildly trading from the roster.  Terrifyingly, he could also be really high on his current forward crop, which would explain adding such specialized role player types.
Anyway, without further ado, let's examine these varying degrees of bad.
Viktor Stalberg
New Contract: 4 years, $12 million ($3.000 AAV)
Was Making: .875 million in Chicago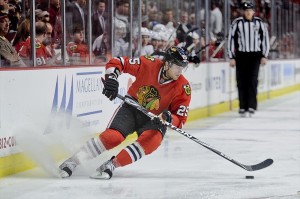 The youngest of the new Predators, 27 year old Viktor Stalberg is going to have to readjust himself to life in the real NHL after getting some of the cushiest deployments in the league during his last three seasons in Chicago.  When not riding shotgun with the best center-wing combination in the league in Patrick Kane and Jonathan Toews, Stalberg was sheltered on the third line with Andrew Shaw seeing the opponent's worst offensive players.  Name the usage metric, and Stalberg will be at the easiest difficulty setting, bringing up the rear in quality of competition among Blackhawks forwards and sporting a 60% ratio of offensive to defensive zone starts.  The free agent's only real assets are his size and blistering straight line speed, and his serious deficiencies handling the puck and thinking the game made his hold on a roster spot more tenuous than it should have been.  Stalberg was even healthy scratched in the playoffs for Brandon Bollig, something that should never, ever happen to a forward contributing anything to a lineup.
Stalberg will be given a greater opportunity with the Predators than the 14 minutes per night he saw in Chicago, but he doesn't actually deserve it.  He can't score or defend with consistency, and his inflated price tag only makes him less valuable to a team with significant issues doing both.  Sure, Nashville was also a poor possession team, but Stalberg's favorable Corsi numbers are the product of a limited role on an elite team and not much else.
Matt Cullen
New Contract: 2 years, $7 million ($3.500 AAV)
Was Making: $3.750 million in Minnesota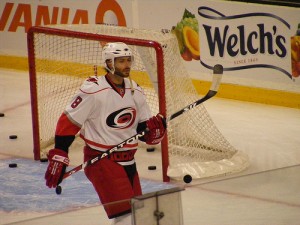 This is a total head scratcher, from both financial and hockey perspectives.  For starters, it took two years, and the additions Zach Parise and Ryan Suter for Cullen to start earning his last free agent contract, and yet Nashville was only able to knock 250k off the pivot's price tag on his new deal. Due to his age, the deal's cap hit also doesn't go anywhere if Cullen does what most 37 year olds do and retires.   With the Wild, Cullen was a double-digit minus in each of his first two seasons, and failed to score 40 points for the first time since the 2005 lockout – and that's despite Mikko Koivu being tasked with the primary offensive and defensive assignments.  Cullen had a bounceback year last season, posting some of the best defensive figures of his career to go with 27 points in 42 games; but the small sample size, in addition to playing behind multiple forwards better than anyone in Nashville, make this look like the biggest outlier of the three.
Cullen's acquisition also raises structural questions within the Nashville roster.  The Predators already have four centers – David Legwand, Mike Fisher, Craig Smith and Gaustad – and it's unlikely any of them will be banished to pressbox for a guy in the market for a CCM walker.  Perhaps he mans the right wing, as he did during his brief stint with the Senators, but Patrick Hornqvist and Colin Wilson are above him on the depth chart there too.  So basically, he's a 3.5 million dollar third line C/W, who needs to be kept far away from either top scorers or checkers, with a huge regression potential due to his age.  Woof.
Eric Nystrom
New Contract: 3 years, $7.5 million ($2.500 AAV)
Was Making:  $1.4 million in Dallas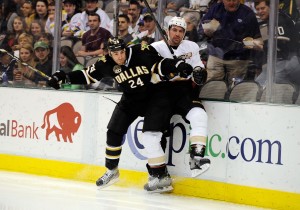 Unlike Stalberg and Cullen, former Star Eric Nystrom at least has some recent experience as a checking forward – placing fourth among Dallas forwards in quality of competition last season.  Unfortunately for those expecting another lockdown forward for Christmas however, he's also by-far the worst actual hockey player of the three.  Nystrom was resoundingly murked in possession this season, with the third-worst corsi among Dallas' regulars at -11.34 – although some of that can be attributed to his paltry 33% offensive zone start ratio.  The 30 year old free agent managed slightly better possession figures in a more sheltered role the season prior, but was still solidly negative in the puck-control department.
The reason we're going right to the advanced stats here is because again, he's an even less exciting player in the traditional sense.  Nystrom's the type of effort guy coaches love to pair with scorers to "shake things up," and can skate on offensive lines without tripping over his own feet, but that's about all he brings to the table aside at even strength aside from the occasional fighting major.   His only notable offensive production is a 16 goal, 21 point season – unless you want to get doe-eyed about the time he potted 11 in 2010 – and he's never managed ten assists in a season despite ample icetime with the Stars.
He is an asset when down a man however, and was a first-unit penalty killer for the Stars, so it appears Poile paid the free agent premium to bolster his fourth line and 29th ranked shorthanded group.
Matt Hendricks
New Contract: 4 years, $7.4 million (1.85 AAV)
Was Making: $.825 million in Washington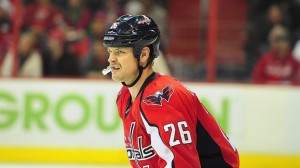 Hendricks is a generic fourth line C/W who's really good in the shootout, and has only the pressure of signing day to thank for his million dollar raise.  He hasn't had noticeable offensive or possession figures in two years (8 and 9 points counting backwards from this year), and his defensive game is solid (third and fifth in SHTOI among Caps forwards) but otherwise not-noteworthy.  He isn't trusted with crucial defensive assignments, and while he's good at faceoffs (56.8 and 53.6 FO%) he's doesn't take that many of them.  He's a willing combatant as well, although his mean streak is the result of trying to stick in the bigs rather than an inherent nastiness.
If you can't tell, there's a theme here, and Hendricks is the fourth Nashville free agent signing of the unimpressive depth forward variety.  These new Predators will probably add the depth to help a team crushed under the weight of injuries last season do better than 14th in the conference, but their total contribution to that effort will fall laughably short of their price tag.  Before July 5th, the Predators needed to develop their youth and add difference-making talent at forward, and with that date come and gone, they still need to achieve those goals.