The Winnipeg Jets most important move on draft day may not have been selecting a certain player, but rather, trading for Michael Frolik. And on July 5th when many teams were plucking up free agents, the Jets once again made a trade to improve their lineup, this time adding Devin Setoguchi. Both players should make key contributions to a team that has lacked offensive depth for many years.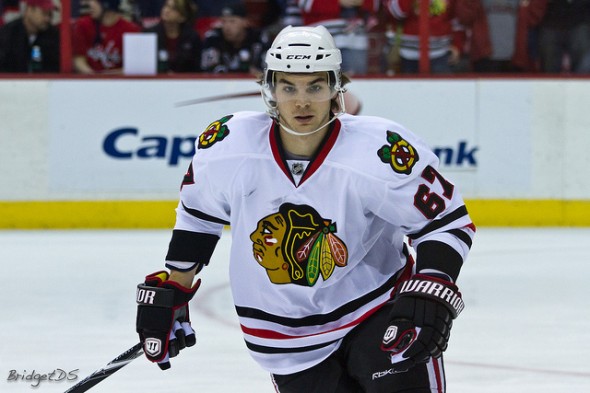 Michael Frolik
Michael Frolik was acquired from the Chicago Blackhawks in exchange for Winnipeg's third round (74th overall) and fifth round (134th overall) picks in the 2013 NHL entry draft. While early draft picks such as Josh Morrissey, Nicolas Petan, and Eric Comrie could play big roles in the future, it's Frolik who will have an immediate impact on the Jets.
The 25-year-old Czech native was originally selected 10th overall in the 2006 NHL entry draft by the Florida Panthers. Frolik's rookie campaign in 2008-09 proved to be his most productive season, as he tallied 21 goals and 24 assist for 45 points in 79 games. He posted another 20-plus goal and 40-plus point season the following year, but hasn't had that level of offensive success in the years since.
However, that doesn't mean Frolik hasn't performed well. Some of his biggest contributions just don't show up on the stats sheet.
Frolik plays smart, two-way hockey and can be physical if need be. He is extremely effective defensively in the neutral zone and in his own end. He is a savvy, responsible penalty killer and was one of the main reasons Chicago had so much success when they were down a man this season.
Frolik was second among Blackhawks forwards in blocked shots with 23 and third overall on the team in takeaways with 42. These are solid numbers, especially when you consider Frolik averaged just 12:31 in ice time this season.
The Jets will certainly benefit from having a defensive forward like Frolik in their lineup. He will help a penalty kill which struggled in 2013, finishing 24th in the NHL. He will also bring some depth to the offense and could potentially find a spot on the second line. At worst, he should find himself on the third line.
Frolik is entering the final year of a three-year contract which carries a modest cap hit of $2.33 million.
Devin Setoguchi
The Jets may not have landed star free agent on July 5, but Kevin Cheveldayoff did make another key trade. The Jets sent a second-round draft pick in 2014 to the Minnesota Wild in exchange for Devin Setoguchi.
Setoguchi was selected eighth overall by the San Jose Sharks in the 2005 NHL entry draft. The 26-year-old right winger was born in Taber, Alberta. He stands 6'0″ tall and weighs 205 pounds. He suited up for the Saskatoon Blades and Prince George Cougars of the WHL, before making the jump to the NHL in 2007-08.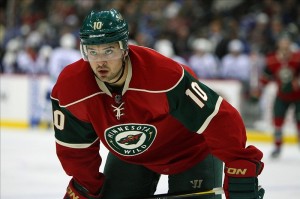 Like Frolik, Setoguchi's best season statistically came early in his career. In his first full season with the Sharks in 2009, he racked up 31 goals and 34 assists for 65 points in 81 games. Setoguchi was less consistent in the following three seasons, but did manage to hit the 20-goal mark twice.
This past season was his second as a member of the Minnesota Wild. Setoguchi played well, finishing second to Zach Parise for the team lead in goals with 13. He notched a total of 27 points while appearing in all 48 games.
Setoguchi has great speed, decent hands and has made significant improvements in his defensive zone play in recent years. That said, his greatest asset may be his ability to play a solid physical game. He was second on the Wild this past season with 92 hits. It's this style of play which leads one to believe he could take a spot alongside Evander Kane on Winnipeg's second line.
Although he spent time on the left wing in Minnesota, in Winnipeg Setoguchi could return to the right side where he's more comfortable. With his strength and quickness, Setoguchi should help Winnipeg to be much more effective on the forecheck. His size will be a welcome addition to a team that has struggled at times to generate scoring chances off the boards and from the corners.
Setoguchi is entering the final year of a three-year contract which carries a cap hit of $3 million. He will become an unrestricted free agent next July.
Eric is a postgraduate public relations student at Humber College. Prior to that he obtained a bachelor's degree in communication studies from the University of Windsor. He covers the Winnipeg Jets for The Hockey Writers and is a featured columnist for Bleacher Report.