Buffalo Sabres defenseman Rasmus Dahlin has won his first of likely many NHL honors, giving hockey fans a glimpse of his incredible talent.
Dahlin, the No. 1 overall pick at the 2018 NHL Draft, has been named the NHL's Rookie of the Month for November. In 15 games, the first-year blueliner put up a goal and nine assists for 10 points. In the middle of the month, Dahlin had points in seven of nine straight games. He ranked second among all rookies with a plus-9 rating.
November was a good month for @rasmusdahlin00 — your Rookie of the Month. pic.twitter.com/d2KWTskLMY

— NHL (@NHL) December 1, 2018
Upon hearing of the honor, Dahlin took it all in stride. "It gives confidence. It's easy playing on this team. They help me out a lot, so thanks to my teammates," said Dahlin. "I'm getting more comfortable. I take steps every game."
During the month, the elite puck-moving defenseman logged an average of 19:54 for the Sabres who vaulted up the NHL standings with an 11-3-1 November record. Sabres fans had a lot to be thankful for–the team went on a 10-game winning streak from Nov. 8-27, matching their franchise record set in Jan. 1984 and equaled in Oct. 2006. They finished the month in second place overall with a record of 17-7-3 and 37 points.
"[Being named Rookie of the Month] says a lot about him. It's great to get someone recognized from our team," said coach Phil Housley. "It's been well earned by him."
It's been awhile since a rookie Sabre has been called out by the league. Dahlin is the first Sabre since winger Marcus Foligno to earn the rookie honor (March 2012).
Related: Sabres Continue Winning Despite Loss
Dahlin Living Up to the Hype
As this season has unfolded, the 18-year-old Dahlin is gaining experience and building confidence. The native of Lidkoping, Sweden has 14 points (two goals, 12 assists) in his first 27 games. He's the league's top rookie defenseman, two points ahead of Maxime Lajoie of the Ottawa Senators.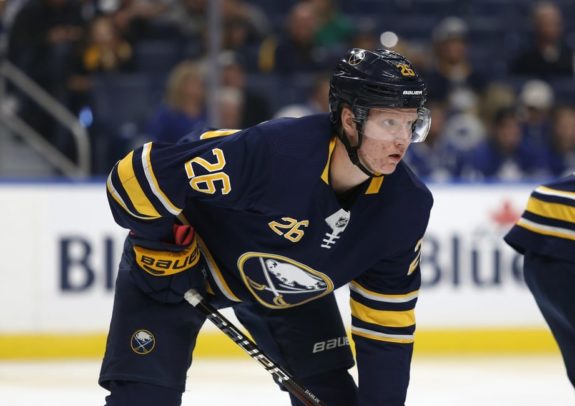 While not sheltering him, Housley has eased Dahlin into his first year in the NHL. In his first 18 games, Dahlin only played more than 20 minutes in four games. Since then, he's been a workhorse, playing 20 minutes in eight of his last nine games. And in six of those, he's played over 22 minutes. He skated a career-high 25:51 last Thursday against the Tampa Bay Lightning. It's proof that Housley likes what he sees and is counting on Dahlin in key situations–on the power play and in overtime.
"He's really adjusted well to the North American game," said Housley. "He's done a good job and done a good job playing with a lot of different partners, be it on the left side or the right side."
Dahlin's Corsi statistics reveal how well he's helping drive the Sabres offense. With the smooth-skating, crisp-passing Swede on the ice, the Sabres are taking 66.24 shot attempts for per 60 minutes compared to 49.59 against. At 5-on-5, he's been one of the team's best blueliners. He ranks second among all Sabres in total ice time, behind only Rasmus Ristolainen. (Stats courtesy of NaturalStatTrick.)
Dahlin is not rattled when facing elite players. His dipsy-doodle move against two-time Norris winning defenseman and fellow Swede was a work of art that led to teammate Jeff Skinner scoring the game winner.
Rasmus Dahlin's behind-the-back around Erik Karlsson to set up the game-winning goal is just beautiful. Especially on repeat. pic.twitter.com/pG2Hi0Wu2X

— Buffalo Sabres (@BuffaloSabres) November 28, 2018
Like any rookie adjusting to the North American game, Dahlin has made mistakes. His awareness and acceleration often enable him to recover, negating his initial error. He's been fortunate that many of his giveaways and turnovers haven't been too consequential. Even when his mistakes lead to goals, he quickly bounces back and plays, without losing confidence.
"Let's face it, our younger players are going to make mistakes and we've had a lot of patience through that", said Housley. "But I think he's gotten better and used to more minutes. I think he feels comfortable playing a lot more. It was just something that he earned. He earned his way up there."
Other NHL Rookies Making a Mark
Other notable rookies receiving consideration for the month of November:
Elias Pettersson of the Vancouver Canucks notched six goals and six assists in 14 games. He was Rookie of the Month for October.
Brady Tkachuk of the Ottawa Senators put up ten points in 11 games.
Colin White of the Senators compiled 10 points in 14 games.
Cal Petersen of the Los Angeles Kings went 4-4-0, with 2.41 goals against average and a sparkling .929 save percentage, with one shutout.
Related: Sabres 'Better Days' Are Here
Another Honor for Dahlin
Adding Dahlin to the blueline corps has already changed the team. They're spending less time in their zone and exiting it faster. The team is having success at a level it hasn't seen in a decade. He's also up for consideration in the 2019 All-Star game. His name is on the ballot along with teammates Rasmus Ristolainen, Jeff Skinner and Jack Eichel.