Welcome to Senators' Weekly, where you can catch up on the past week of the Ottawa Senators throughout the 2018-19 season. From trending topics to surging prospects to news and notes, this is your weekly roundup on all things Sens.
The Senators dropped their first game this week, a 4-2 loss to the New York Rangers, leaving the team with a four-game losing streak. Despite things looking bleak, the team ended the week on a three-game winning streak beating the Philadelphia Flyers 4-3, shutting out the Rangers 3-0 and then spoiling Erik Karlsson's return to Ottawa with a 6-2 blowout over the San Jose Sharks.
The club is now 12-12-3, sitting just two points back of the Montreal Canadiens, who they face twice in a home-and-home this week, for the final wild-card spot. They are 12th in the Eastern Conference and 22nd in the league. The Senators continue to surprise this season as most had them pegged for the league basement this season. For the first year of a rebuild, they are putting together a respectable season.
Here are the notable headlines and stories from the past week.
Karlsson Returns but Boedker & Former Sharks Steal the Show
Senators, Fans Embrace Former Captain Karlsson
Two and a half months after the Senators pulled the trigger on the rebuild and sent Erik Karlsson to the San Jose Sharks, the former star returned to the Canadian Tire Centre. However, the "Pesky Sens" spoiled his return in a decisive 6-2 win. The former Senators captain had no points, was a minus-2 and had nine shots in 24:55 of ice time.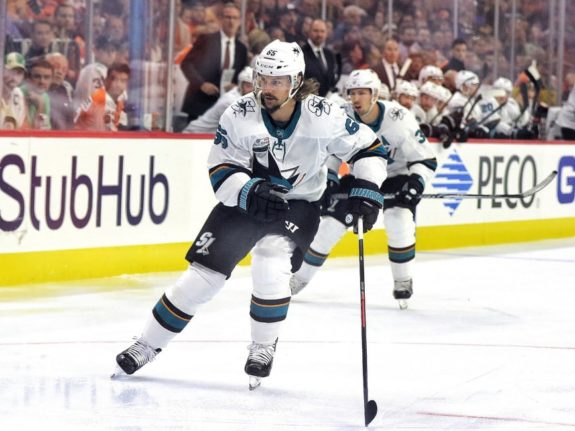 Prior to the game, Karlsson was unsure on what to expect from his return. "I don't really know what to expect to be honest with you, I think it's going to be a little bit emotional. How it's going to play out I'm not really sure. I haven't really tried to overthink it too much. I know it's going to be a lot of things going on and I'm going to try and stay focused on the game. It's an important one for us. I'm going to do what I always do and that's going to be my best."
The defender spent the day before the game with someone who knew exactly what he was going through, former captain Daniel Alfredsson. After signing with the Detroit Red Wings, Alfredsson returned to Ottawa on the exact same day as Karlsson five years prior. Alfie talked to reporters about his experience returning to Ottawa where he had a goal and an assist,
"I can't say I looked forward to it. It's awkward and you're not sure what's going to happen with emotions. We're all very comfortable once the puck drops and then we know exactly what to do. The emotions before, I was a mess most of the day, and I don't think I had a very good game as well. It ended up being a special memory in my career with the reception I got and the treatment the fans gave me." (From: "GARRIOCH GAME REPORT: Ottawa Senators play the role of spoilers in Karlsson's return" – Ottawa Sun – 12/01/18).
Other than a few "boos" near the beginning of the game, the Senators and fans embraced the return of Karlsson. He was given a standing ovation during his video tribute, was given the rookie-treatment by the Sharks by letting him do a lap around the ice solo and was seen chatting with his former teammates even during the game. At one point, Karlsson crashed the Senators net, snowing Craig Anderson with a big smile on his face. Later in the game, the Swedish defender tried to bank the puck in the net off Anderson's skate and the two could be seen smiling and chirping back and forth.
Welcome back, Erik! pic.twitter.com/aPtqkHJ4LX

— Ottawa Senators (@Senators) December 1, 2018
Despite the loss, Karlsson had a lot to take away from the game, "It was good. It was a lot of fun. I did a good job of trying to stay focused on the game. At the same time, it was a good experience to remember the good stuff that happened here and nice to be able to play in front of this crowd again." (From: "GARRIOCH GAME REPORT: Ottawa Senators play the role of spoilers in Karlsson's return" – Ottawa Sun – 12/01/18).
For the Senators, they knew that their former captain's return was on everyone's mind but handled in the dressing room, keeping the team focused on the game as head coach Guy Boucher told reporters, "We didn't make it a big story. We never even talked about it once. That's outside stuff. Our job is to focus on what we need to do on the ice, focus on how the opponent plays." (From: "GARRIOCH GAME REPORT: Ottawa Senators play the role of spoilers in Karlsson's return" – Ottawa Sun – 12/01/18).
All Eyes on Boedker, Former Sharks
While the return of Karlsson was what everyone was talking about, the game also marked the first time Mikkel Boedker, Chris Tierney and Dylan DeMelo got to face their former team as well. They made sure to leave an impact against their old teammates. Boedker led the group, collecting a goal and three assists en route to downing the Sharks, Tierney added an assist and DeMelo collected a hit and two blocks in the win.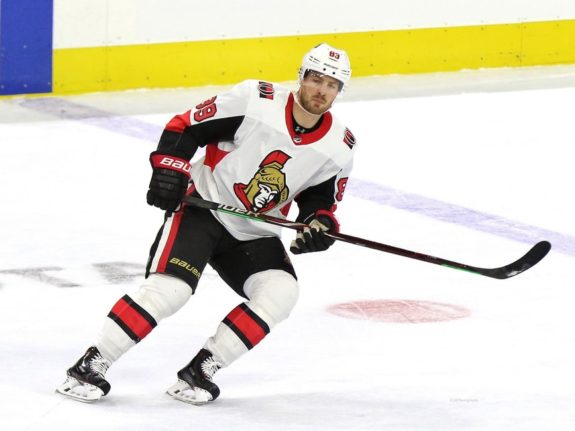 After the game, Boedker talked about how much he enjoyed facing his former team, "It was a lot of fun out there today, we played hard as a team. There's three of us in here who played against our old squad and everybody seem to rally around that. It was a good feeling in the room before and definitely on the ice I thought we played really well." (From: "GARRIOCH GAME REPORT: Ottawa Senators play the role of spoilers in Karlsson's return" – Ottawa Sun – 12/01/18).
Sharks Joe Pavelski, the three player's former captain, praised the trio after the game, "All three of those guys were great teammates when they were in San Jose. It looks like they're all off to pretty good starts here, so we're happy for them, definitely. It's always a little awkward playing them the first time."
The former Sharks will get their homecoming next month, when the Senators visit the Sharks on Jan 13.
Duchene's Stepping up His Game in Contract Year
Matt Duchene had quite a month. The 27-year-old collected eight goals and 14 assists for 22 points over 15 games in November, including seven multi-point games. This brings his totals on the year up to 12 goals and 21 assists for 33 points in 27 games. What makes this all the more impressive, is that he's been playing with rookie Drake Batherson and Mikkel Boedker for the majority of the month. Duchene has really elevated his game this season, including this impressive game-winning goal against the Flyers.
With 22 points in the month of November, Matt Duchene has been clutch to say the least! No surprise here but his game winner against the Flyers is our @Bridgestone Play of the Month! pic.twitter.com/QQCpMhDC0k

— Ottawa Senators (@Senators) November 30, 2018
In a contract year for the veteran, he's continuing to drive up his price for his next contract. He's currently in the final year of a five-year, $30-million deal and his future is very much up in the air. It's well-known that the Senators don't like to spend too much on their players, and the team also needs to re-sign Mark Stone. It would be very expensive to sign both of them.
TSN's Bob McKenzie reported earlier in November that despite Duchene's camp and Senators management meeting twice, it's still too early to say this deal will get done. That being said, McKenzie says there seems to be interest from both sides in signing the extension. He believes that it would be an eight-year deal somewhere between $8-$9 million. But if Duchene signs, is that the end of Stone in Ottawa?
The other option for Duchene is to head to free agency where he will get paid more than the Senators would sign him for. If that's the case, the team should look to trade him before this year's deadline. Duchene would bring back a large haul that could help the team long-term. When he was brought in from the Colorado Avalanche, the Senators sent a first-round pick, a prospect and Andrew Hammond, as well as Kyle Turris to the Nashville Predators. With Duchene having the year he's having, the return could be even more coming from a contender.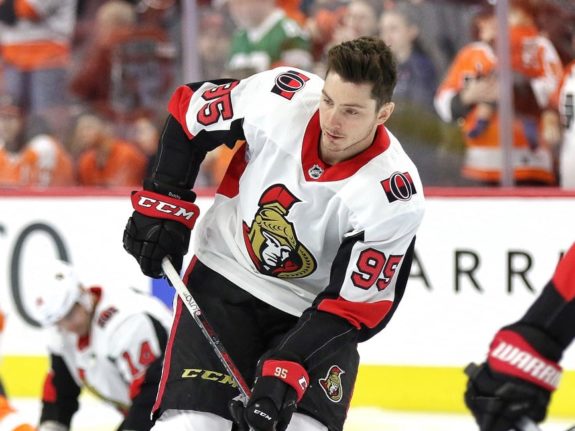 If the team can re-sign him, they definitely need to. He's an elite player that can help develop the young players coming up. If it's looking like they can't lock him down though, trading him could help the team as well. The worst case scenario is that they don't trade him and he doesn't re-sign, walking into free agency for nothing (remember Zdeno Chara?) and angering an already angered fan base.
Until the Duchene's future is known, Senators fan's should just enjoy the stellar play he's displaying on the ice every night. He has over half of the points he had last season (59) and should pass that mark seeing that the season is only a little over a quarter done and he show's no signs of slowing down.
Senators' Sign Defenseman Justin Falk
On Nov 29, the Senators signed defender Justin Falk to a one year, $650,000 deal. Falk has bounced between the NHL and AHL ever since he was drafted 110th overall in the 2007 NHL Entry Draft, playing for the Minnesota Wild (twice), New York Rangers, Columbus Blue Jackets and the Buffalo Sabres. He has 269 games played, scoring three goals and adding 30 assists. He made his debut Dec 1 against the San Jose Sharks, getting into a fight with Cody Sorenson after a hit on Joe Thornton. He finished the game with six hits, one shot and five penalty minutes in 12:31 of ice time.
Related – NHL News & Notes: Sabres, Falk, Krejci & More
Boucher commented on the play of Falk, after getting into Ottawa at 1:30 am and playing in the 1 pm game, "Honestly, I think it's the best I've ever seen in all my years of one player coming in with nothing, no practice, just a few minutes of talking and getting on the ice. He did everything right. He got in there, gets the big hit and get's the fight after and shows that he's present and contributing already. It says a lot about him."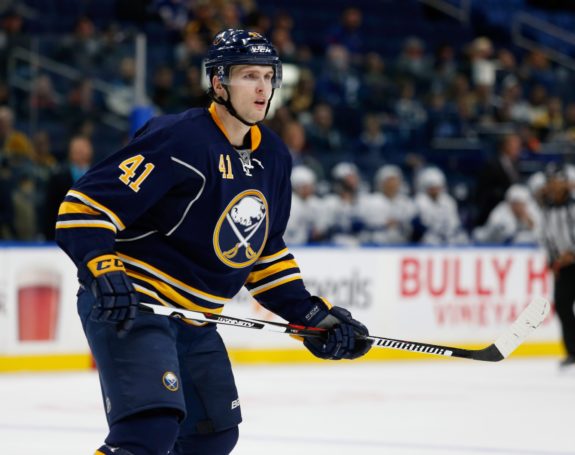 The Senators have struggled defensively this season, allowing the most goals in the NHL (107). Does Falk, who hasn't been able to hold on to an NHL role, really help that? He is a stay-at-home defenseman, which the team needs, but he's not a great option. It's likely that Falk is just a temporary solution due to Mark Borowiecki and Maxime Lajoie being injured, and the top defensive prospect Christian Wolanin also hurt.
The move does seem strange coming after the Chris Wideman trade, as it seems they traded a better defender, just $450,00o more expensive just to replace him with a lesser defenseman. Once Borowiecki and Lajoie are back in the lineup, Falk should be sent down the AHL and be a call-up candidate when needed. At some point this season, Wolanin deserves his shot at the big club though.
Senators News and Notes
Thomas Chabot continues to impress in his sophomore season. The young defender has seven goals and 31 assists in 27 games so far this season, and is in some impressive company. Through a team's first 27 games, Chabot ranks fifth in the last 25 seasons for points by a defender behind Bryan McCabe (35), Brian Leetch (33 twice) and of course Erik Karlsson (32). He's also the 16th defender in NHL history to record 30+ points in a season by Dec 1 and first since McCabe did it back in 2005-06.
Goaltender Craig Anderson has been handling the load well, despite playing in 24 of the team's 27 games. He's 11-9-3 and has faced the most shots against in the league (853). His statistics are rising him in the record books this season. His shutout against the Rangers was his 41st, putting him in a four-way tie for 38th in league history with Carey Price, Tuuka Rask and Marty Turco. The win against the Sharks was his 272nd, making him 44th all-time. Both of those rankings should rise before the season is up.
Starting out as an Ottawa Senators contributor for The Hockey Writers, Josh is now an editor and at-large contributor, focusing on prospects, the NHL Draft, hockey history, and breaking news stories.