In the first year of any rebuild, there's a guarantee for player turnover on teams. For the Ottawa Senators, that process has begun. Among the new faces includes rookies Brady Tkachuk, Maxime Lajoie and Drake Batherson and newly acquired players Mikkel Boedker, Chris Tierney and Dylan DeMelo. Expect there to be some more as the season progresses.
The Senators have eight pending unrestricted free agents (UFA) currently in their lineup, along with two restricted free agents (RFA). It gets even worse with the non-roster players where there are five pending UFAs and nine RFAs. Some of these players have been core pieces of the club for years, including Mark Stone, Ryan Dzingel, Cody Ceci and Chris Wideman. Others are newer, like Matt Duchene. Whether they've been in Ottawa for years or this is their first year, a rebuild means no one is safe. With the risk of these pending free agents walking away this offseason for nothing, they are even more at risk.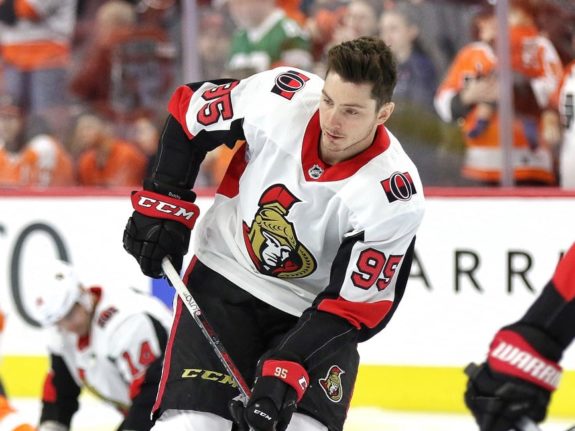 Ottawa will be making some moves this season and they should. General manager Pierre Dorion proved this offseason that anyone is available by trading away star defenseman Erik Karlsson to the San Jose Sharks. If they have players who they think won't resign, or if they can get a return that will help them long-term, they need to do just that. Also, any money that isn't living up to a contract should be moved to make room for the pending free agents.
Related: Three Best Trades in Senators History
Here are five players that the Ottawa Senators should move before the Feb. 25 NHL Trade Deadline (in no particular order).
Honourable Mention: Mark Stone
Why Mark Stone is an honourable mention on this list is that they shouldn't trade him, but they might. Stone is currently signed to a one-year, $7.35 million contract which he signed just before arbitration in the offseason, making him the highest paid player on the team. He's eligible to sign an extension with the Senators Jan. 1, 2019, but the question is, will he want to?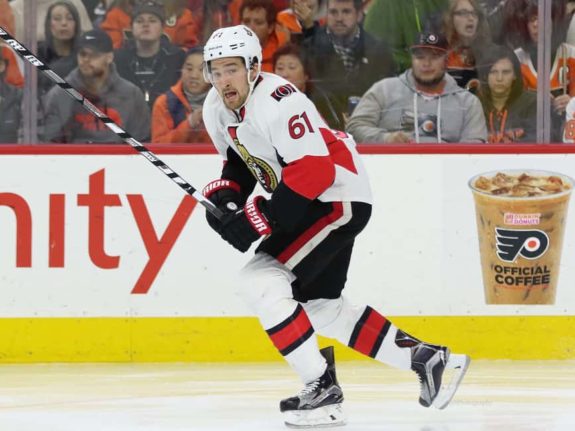 The 2010 sixth-round pick will need to decide what he wants to do. Will he want to wait around with the rebuilding Senators for a chance at the Stanley Cup or does he want to win now? He has a chance to make this team his, and it could even be argued that he has already done so. If he wants to see his efforts through and enjoys living in Canada's capital, that's good news for Sens fans.
The Senators should do everything they can to keep Stone. In his four full seasons in Ottawa, he has 64, 61, 54 and 62 points. He's become a star on this team and if he does resign, should be the next captain. He's shown his leadership on and off the ice, even taking in 2018 fourth-overall pick Brady Tkachuk to live with him as he gets accustomed to NHL life.
If he tells the Senators he wants to stay, they shouldn't be afraid to spend a bit more than they're used to, because his deal will likely be close to the $9 million per year he was asking for last summer. If he makes it known that he has no intention of resigning in Ottawa however, he would likely have the highest return on this list. The Duchene trade got the Colorado Avalanche an absolute haul, including the Senators 2019 first-round pick, and the Stone return would be at least equal.
Bobby Ryan
Bobby Ryan is not the player the Senators traded for back in 2013. Especially considering he's the second-highest paid player on the team at $7.25 million. Playing with the Anaheim Ducks, Ryan had 57, 64, 71 and 57 points in seasons where he played more than 60 games. Since coming to Ottawa, he has 48, 54, 56, 25 and 33 points. While still good totals, he's a long way off from the 64 and 71 point seasons with the Ducks.
Related: Senators Rebuild Can't Happen With Ryan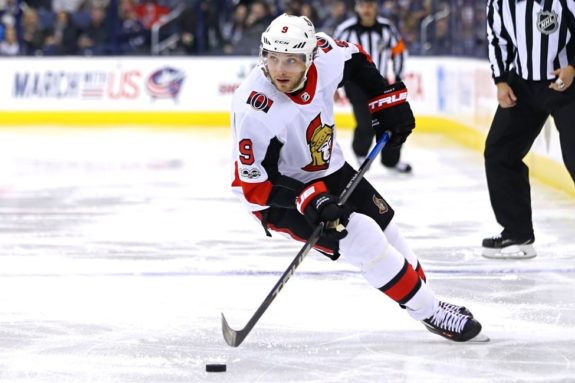 He's a tough sell though. on top of the declining point totals, he's also become injury prone. Although strangely, just to his hands, with seven hand injuries since 2014. If they were to pull off a trade, it would likely include sweetening the pot with a draft pick or a prospect, not something teams should really do in a rebuild. They could also try to pair him with a bigger name, say Matt Duchene, although there would have to be quite a bit of money coming back in that trade too. If it was an expiring contract though, it might be worth it to get Ryan's big contract off the books.
The biggest downfall with trading Ryan is ironically also his cap hit. As a team who never spends to the cap, the cap floor becomes the issue. As the team begins to hand over the reins to the young players, their entry-level contracts bring the salary cap down. Ryan's $7.25 million brings that down a lot. But, as mentioned above, the Senators have numerous players as pending free agents. If the team can resign Stone, let's say to the $9 million he asked for, resigns Dzingel, who's up for a hefty raise from the $1.8 million he makes now, say $4-5 million, plus they'd likely need to retain salary in most trade scenarios, it should end up balancing out.
Tom Pyatt
Whether by trade or waivers, Tom Pyatt needs to come off of the Senators roster. Through the club's first 21 games this season, Pyatt has zero points and is minus-12. Head coach Guy Boucher has highlighted his penalty killing ability in the past which might explain why he's stuck around if Ottawa wasn't last in the NHL on the penalty kill.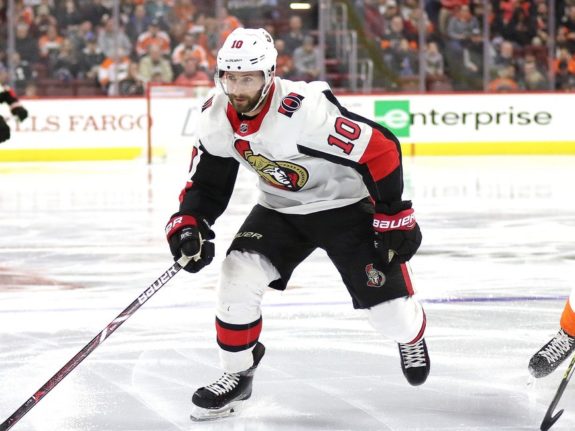 On top of his disappointing start to the year, Pyatt is taking a spot in the lineup that could go to a younger player. At 31-years-old, Pyatt's best is likely behind him, yet there are numerous players knocking at the door of this lineup. Rudolfs Balcers, Filip Chlapik, Nick Paul or Logan Brown could take that spot and get in some NHL experience before they get the full-duties call-up. They might not stay the full season but deserve a chance to get a taste of the NHL.
If they look to trade him, Pyatt could fetch the club a low draft pick. They may need to wait though for Pyatt to get on the scoreboard or raise his plus/minus to actually get a team to take him. A stint in the AHL may improve his value as well and give a prospect a chance.
Chris Wideman
Before a hamstring injury limited cut his season short at just 16 games, Chris Wideman seemed poised to break out for the Senators. Especially after the Erik Karlsson trade, it was expected that Wideman could help fill the loss on the back end. That hasn't been the case though, as the addition of Dylan DeMelo and the emergence of Thomas Chabot, Maxime Lajoie and even Christian Jaros and Ben Harpur has seen Wideman relegated to a seventh defenceman – or even a healthy scratch.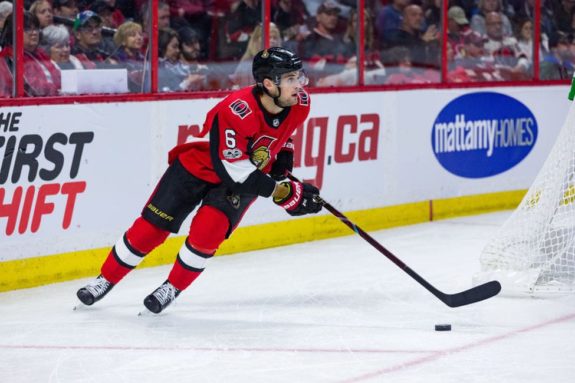 The Senators thought this could be his year too, signing him to a one-year, $1-million deal to see if he could be the defender they thought he'd be. Falling down the depth chart though, it doesn't look like he'll be in Ottawa for long. If they were to look to trade him, they'd need to find a way to boost his value now though, as seventh defenders and healthy scratches usually are not that attractive. Getting Wideman some more ice time could help get him noticed by other teams.
At this point, it would probably be a low draft pick for the 28-year-old, although higher than what Pyatt would get. If he is given a chance to prove himself, that could rise to a higher pick or even a young player in return from a team who needs some defensive depth.
Cody Ceci
The last two players on this list will get very different responses from Senators fans. For Cody Ceci, it's safe to say that Sens fans would embrace a trade that would send the former 15th overall pick away from Ottawa. He was going to be the homegrown star, from being born in Ottawa, to playing for the OHL's Ottawa 67's, to the Ottawa Senators. He has yet to really live up to the hype that surrounded him when he was selected six years ago.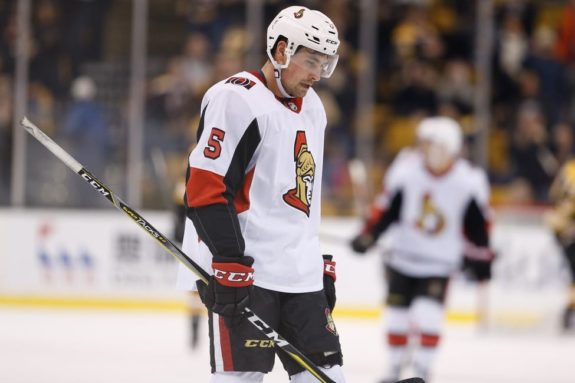 He hasn't been the offensive force that many thought he would and his defensive game hasn't been where it needs to be – he was on the ice for a league-leading 121 goals against last season. This season, what many hoped would be a turn-around year for him, it's been more of the same for Ceci. He has four goals and seven points through 17 games and is a minus-six. He's also worst in the league for shot attempts for/against with a minus-138. (Bobby Ryan and Tom Pyatt are also in the top-4 at minus-129 and minus-123 respectfully).
Much like the organization moved on from Curtis Lazar, (whose career needed a jumpstart, to say the least) the same needs to be done with Ceci. For a team in rebuild-mode, moving on from players who were supposed to be stars and haven't blossomed into that role should be first in line for trades. Ceci simply hasn't lived up to his potential, and a fresh start could be good for him and the Senators.
As for the return, that's tough. Before the Taylor Hall-Adam Larsson trade, there were rumours that the trade was almost a one-for-one with Hall and  Ceci. There have also been rumours that Ceci would be traded for then-Tampa Bay Lightning forward Jonathan Drouin. Either one of those would be best case scenario, but not extremely likely. Being a former first-rounder, who's only 24, he may grab a higher-end forward who isn't the former league MVP though. Defensemen in the NHL come at a very high premium (See the Taylor Hall for Adam Larsson trade again, a steal as that may have been) and it is time to see what the Senators can get for their defender.
Matt Duchene
This is the one that some may disagree with. Yes, Matt Duchene is on pace to have a career year, is currently in the top-five of the NHL for scoring and is a number one centre, which is not an easy find. But, the Senators should trade him. Hear me out.
Duchene may go on to have the best year of his career, but for what? The team is in the first year of a rebuild. There are dark times ahead. Would you rather pay Duchene $8 to $9 million per year to have a number one centre, even though you might not contend for the Cup for approximately half of the contract he signs? (That being based on TSN's Bob McKenzie's recent tweet estimating the contract at eight years and between $8 and $9 million). Or, think of the haul that the team could get for him, which could even speed up the rebuild by having those extra pieces.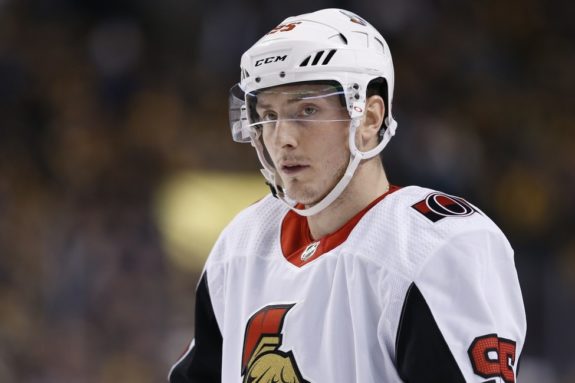 To anticipate the return, you only have to look one year ago, for when the Senators acquired Duchene from the Colorado Avalanche. In return for Duchene, the Avalanche got a prospect, a first- and third-round pick and goaltender Andrew Hammond. While Hammond was more of a salary dump from Ottawa, a prospect from the first round and two solid picks are a great return. Assuming the Senators can get at least that return for him, why not fill the cupboard with as much as you can and trade him?
That being said, Duchene's camp and the Senators have talked about a possible extension, but they did that with Karlsson too before they traded him. Duchene also made it known when he asked for a trade from the Avalanche that he wants to play playoff hockey. The Senators likely won't make the playoffs this year and might miss next year as well. Does he bet on Ottawa having a quick turnaround or go to a contender and push them over the top? Rather than letting Duchene make that choice and having it be the wrong one for the club, a trade could be the best option for the Senators.
If the club resigns him, it's great. But, it might come at the cost of Mark Stone. Knowing that owner Eugene Melnyk doesn't like to open his wallet too much, it is reasonable to expect that only one gets signed. Stone is a year younger and has a more consistent track record than Duchene, so if one has to go, Duchene should be the one.
If they don't trade Duchene and signing him to an extension falls through, the Senators risk losing him for nothing this offseason. In that case, all of the pieces they sent to Colorado, and to the Nashville Predators in Kyle Turris, would have also been for nothing.