What's The Grind Line? Apart from the once-famous line of Kris Draper, Kirk Maltby, and either Joe Kocur or Darren McCarty, The Grind Line is also The Hockey Writers' weekly column about the Detroit Red Wings. Rachel Anderson, Jacob Messing, and Tony Wolak are the muckers who makeup THW's forechecking unit and sound off on Red Wings topics.
This past week, information hit the airwaves that Detroit Red Wings goalie, Jimmy Howard, was being pursued by the St. Louis Blues and even Pittsburgh Penguins. Howard is off to a very good start with Detroit, maintaining a 2.70 GAA and .922 save percentage. Jimmy's consistent play comes as a bit of a surprise after several seasons of iffy performances and no shortage of injuries. With Howard playing well so far this season, the goaltending situation Detroit finds itself continually recanvasing doesn't seem to be an issue… yet.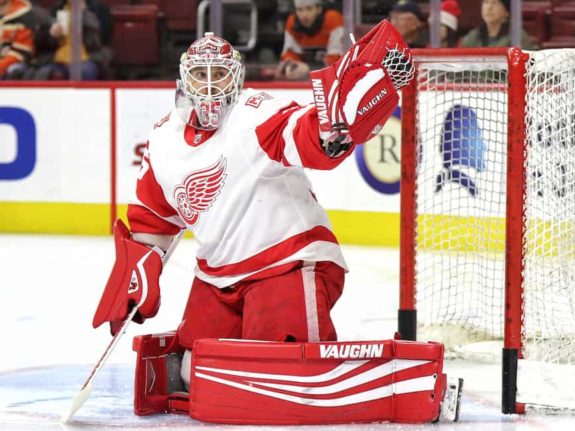 Howard's contract is only through the remainder of this season, and at 34 years old, it's unlikely that he'd be a good re-sign for Detroit. The interest garnered in Jimmy has prompted The Grind Line to take a look at who is coming down the developmental pipe that will eventually take Howard's place. We decided to take a look at these prospects and pick who is the most promising that is making their way to Detroit.
Rachel Anderson – Kaden Fulcher
Kaden Fulcher is proving to be an adaptable goalie with elite potential. He's currently assigned to the Red Wings ECHL affiliate, the Toledo Walleye. Learning under veteran Pat Nagle, Fulcher has a promising 5-1-1 record in his first seven games played. At only 20 years old, he's playing among the pros as if he's been there for years. He has a dedicated work ethic and confidence that is already showing in his 0.912 save percentage with Toledo.
I talked with Fulcher in Toledo earlier this season about his dedication to learning. His work ethic and drive to make his way into the lineup was evident, "…being the young guy, obviously you don't know how many starts you're going to get right away so I think it's just treating every practice like a game – coming into it (with) 100% effort and 100% prepared," he told me.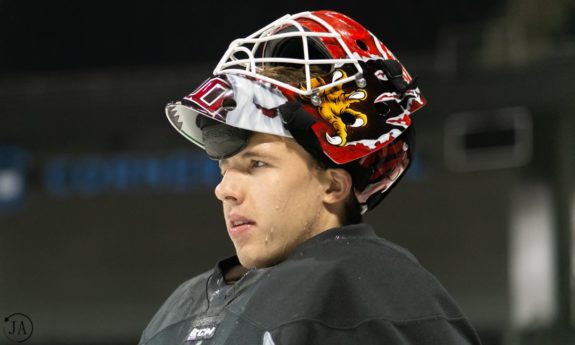 Fulcher has confidence, sharp reflexes and a calm eye on the ice which is something that will carry him far. He's likely a few seasons out of being considered for Detroit, with Harri Sateri and Patrik Rybar holding down the fort in Grand Rapids in the meantime. Both Sateri and Rybar are only signed for a season, so there's a strong likelihood Fulcher will get the nod come 2019-20.
Tony Wolak – Keith Petruzzelli
I've shared this opinion a few times before, but Keith Petruzzelli has a bright future ahead of him. One of Detroit's 2017 third-round picks, the netminder is presently a sophomore at Quinnipiac University and has followed up an unimpressive freshman campaign with a stellar start to the 2018-19 season.
Petruzzelli has started 10 of Quinnipiac's 15 games and already accumulated three shutouts – leading the NCAA (along with six others) in that statistic. Overall, he has looked way more composed in net and confident in his game. Petruzzelli's size is obviously a plus, but his strong lateral movement is a nice compliment to his frame.
It'll be a few years until we see him in a Red Wings uniform, of course. First, he'll need to decide when he will join the professional ranks and the Red Wings will then need to sign him – college prospects cannot sign a contract and continue on collegiately. Petruzzelli will likely need a year or two in the minors as well before seeing NHL time. But when he's ready for the big leagues, the Red Wings will have a solid, starter-caliber netminder on their hands.
Jacob Messing – Patrik Rybar
Taking a slightly different course than Rachel and Tony, Rybar is the most exciting goalie prospect for me. While the 25-year-old doesn't have the same upside of Fulcher or Petruzzelli, strong play for the American Hockey League's (AHL) Grand Rapids Griffins will go a long way in helping other prospects develop winning attitudes and learn professional hockey ahead of Detroit.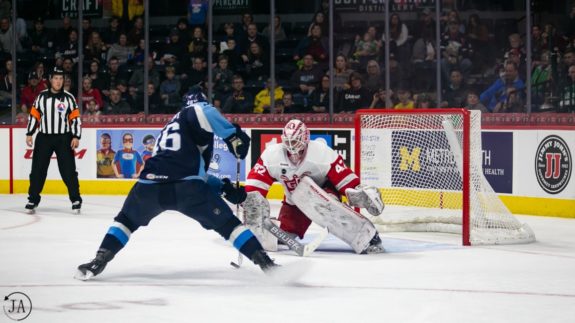 A handful of Griffins from the franchise's Calder Cup championship teams in 2013 and 2017 have graduated to the Red Wings and Rybar will have a hand in continuing that trend. After a bumpy start to his AHL career, Rybar has settled in nicely, sitting with a 5-2-2 record, .908 save percentage (SV%) and 2.30 goals-against average (GAA).
Eluding to the aforementioned interest in Howard, there's a 99.9 percent chance any potential trade of Howard would yield a netminder in return to tandem with Jonathan Bernier for the immediate future. But on the slim chance, Howard is traded without a replacement in return, Rybar will likely be the call-up to finish the season with Bernier. After all, he did finish 23-13 in the Czech Extraliga last season with a .932 SV% and a league-leading 1.72 GAA and seven shutouts, proving his ability to play against top players.
Rybar's immediate impact in the organization, albeit on a current one-year deal, and the handful of years between the ECHL and NHL for Fulcher and Petruzzelli, makes him the most exciting goalie prospect for Detroit.