All it took was a lottery win and the addition of a generational talent to shift the outlook of the Buffalo Sabres' defense. What was widely considered one of the worst blue lines in the league last season now resembles a group with outstanding potential. With Swedish sensation, Rasmus Dahlin now in the fold, players who were forced into roles that may have been too big for them, have now been shifted down the depth chart.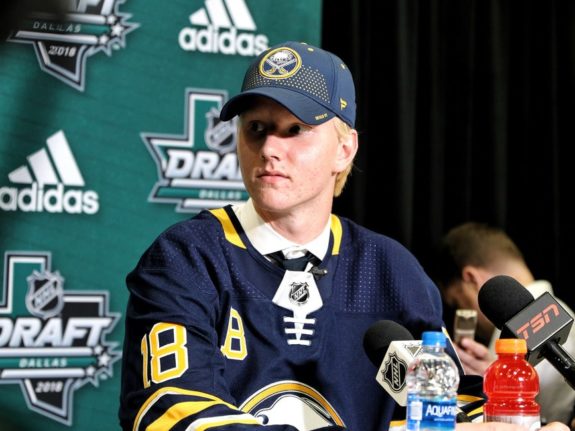 Not only is the Sabres' defense a very young group, they also have quite a bit of depth. Perhaps too much? With 10 NHL-caliber blueliners on the books, the Buffalo brass have some difficult decisions ahead of them as they assemble the opening night roster.
Top-Six Sabres' Locks
As it stands, the organization has four defensemen on the roster who are sure-fire locks to play in the top-six next season. Along with Dahlin, returning veterans Rasmus Ristolainen, Marco Scandella and Jake McCabe are all virtually guaranteed a full-time role with the big club in 2018-19.
About as overused as a defenseman can be, Ristolainen could end up playing top-pairing minutes again this season. That being said, the presence of Dahlin will allow head coach, Phil Housley the ability to reduce his ice time, if only a little. Over the past three seasons, the 23-year-old Finnish defender has logged the third-most minutes in the league behind Drew Doughty and Ryan Suter.
Another player who was will benefit from the addition of a top-flight defenseman like Dahlin is Scandella. The 28-year-old logged the second highest average ice time per game for the Sabres in 2017-18, a role he was not best-suited for. While he will still be expected to contribute in the top-four, his matchups should become more favorable. During his first season in Western New York, there were certainly some ups and downs in his game despite being arguably the best defensive defenseman on the roster. He'll look to shore things up in 2018-19.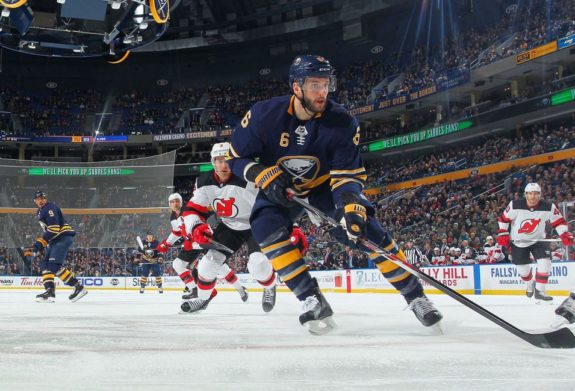 Rounding out the list of roster locks on the back-end is McCabe who battled through a shoulder injury that conceivably affected his play last year. As one of the more polarizing players that has sparked heated debate among fans, he'll need to show a marked improvement in a contract year (that is, if he hopes to see a significant raise from his current cap hit of $1.6 million). At 24 years old, he will become a restricted free agent next summer.
Young Talent or Veteran Depth?
Here's where things get a little less clear. With the sure-fire starters accounted for, the Sabres have five-to-six NHL capable players to choose from for the last three full-time spots (two starters and a healthy scratch). What's interesting about this group is the mix of both veteran and first-year players.
Right away you can reasonably eliminate Swedish rookie Lawrence Pilut from the list. That's not to say that he isn't one of the six most talented defensemen in the organization, but given the fact that this will be his first taste of North American hockey, he'd be best suited at least starting off in the AHL. The SHL's "Most Outstanding Defenseman" award winner in 2017-18 will not need to pass through waivers and some time with the Rochester Americans should serve him well as he makes the transition.
From this point on, it's anybody's guess. Starting with the veterans, Matt Hunwick (acquired in a trade this summer that brought Conor Sheary to Buffalo), seems like the ideal seventh defenseman to carry on the roster. The 33-year-old would serve as an experienced contributor from a winning organization in Pittsburgh. Though his acquisition was seen as a "cap dump", his presence will be helpful as the Sabres look to shift the locker room culture this season.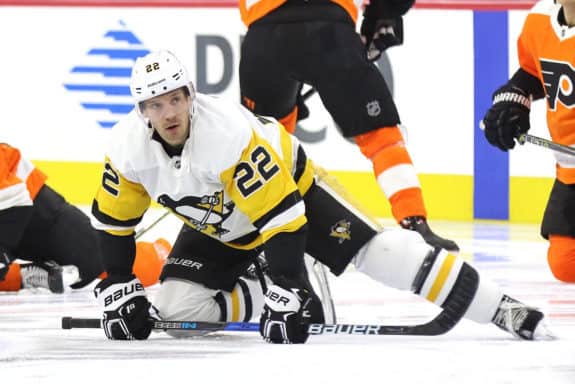 The next veteran on the list is a player who wildly under-performed last season in Nathan Beaulieu. After coming over via trade from the Montreal Canadiens last summer, the speedy offensive defenseman was a severe disappointment, often making poor decisions with the puck and proving ultimately useless in his own zone. It would not be a surprise to see Jason Botterill try and pass him through waivers and assign him to an AHL role. Then again, it is also completely possible that the team gives him another chance to show that he is capable of reaching his potential.
Despite what has been a pretty rough three-year stint in Buffalo, it's difficult to exclude Zach Bogosian from the starting lineup. Since arriving in Buffalo, the 28-year-old has missed over 100 games due to injury. Unfortunately, his cap hit of just over $5.1 million is on the books for the next two years. Unless Botterill can swing some sort of trade (an unlikely scenario), it appears that they're stuck with him for the time being. If he does not have a rebound season in 2018-19, expect Bogosian to be a buy-out candidate next summer.
Now the dilemma becomes more evident. On top of the aforementioned veteran depth pieces, the Sabres also have two young players in Brendan Guhle and Casey Nelson who are both more than ready for full-time roles with the team. In fact, an argument can be made that Guhle belongs in the conversation for a top-four role.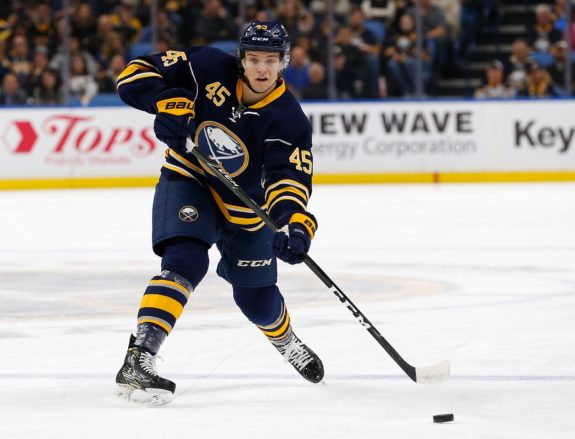 Last season, the 21-year-old dressed in 18 games for Buffalo, registering five points in that span. Widely regarded as the organization's top defensive prospect before the arrival of Dahlin, he has seemingly outgrown an AHL role. The problem is that he's the only player on this list who is not waiver eligible, so there is no risk associated with assigning him to Rochester. Botterill has a bit of a risk-reward problem on his hands, but at the end of the day, there is no question that the Sabres are a better team with Guhle on the ice.
Nelson also acquitted himself well in the NHL last year, playing nearly half the season in Buffalo. Though his ceiling is probably nowhere near Guhle's, an argument can be made that he is still one of the best six defenders on the team. Unlike Guhle, Nelson would have to pass through waivers.
Related: Sabres Logjam on Defense
Projecting the Defensive Pairings
So where do the Sabres go from here? They've got three under-performing veterans with a decent amount of cap space between them, and two youngsters who probably deserve to play with the big club regardless of depth. The situation is totally up in the air at this point and Botterill could very well make a move prior to the start of the regular season to clear a spot, but for now, we're left speculating with the players under contract.
First Pair: Scandella – Dahlin
Yes, Scandella was somewhat overmatched in first-pairing duties last season, but playing with Dahlin should actually help him in a big way. As more of a defensive defenseman, he can rely on the 18-year-old to focus on the offensive side of things while he plays more of a safety-valve role.
Some fans want to see the Ristolainen paired with Dahlin (which would force Dahlin to switch to the left side, which he is capable of as a left-shot defender), but since both players are more offensively inclined, Scandella may be the better option, at least in Dahlin's rookie season.
Second Pair: McCabe – Ristolainen
Think of this tandem less as a "second pairing" and more of another top-pair to alternate relatively evenly with Scandella and Dahlin. This duo actually fared pretty well together during the 2016-17 season, a year where McCabe showed great potential.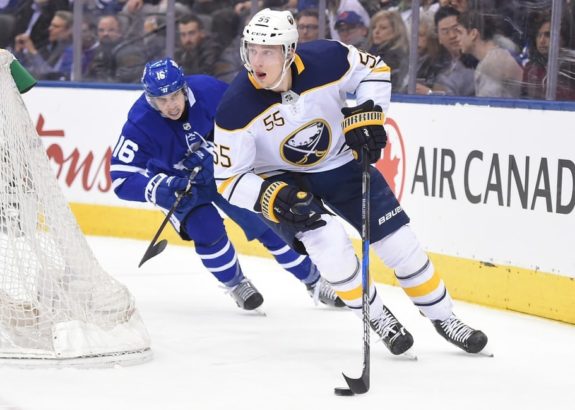 Similar to the first unit, McCabe's presence as a physical defensive blueliner will help open things up for Ristolainen who has excellent offensive upside when he isn't called upon to skate for nearly 30 minutes per game. Putting McCabe back with a higher-caliber partner on a full-time basis might also help him rebound after a rough campaign in 2017-18.
Related: Sabres Mishandling Ristolainen
Third Pair: Guhle – Bogosian
At the end of the day, no general manager in their right mind would send Guhle back to the AHL. Not only is he a prototypical defenseman for Housley's system, but he is markedly better than his veteran competition. Ideally, he'd benefit from having a reliable two-way defenseman beside him to learn from, but given the state of the roster, this pairing makes the most sense for now.
On the right side, Bogosian will try to recapture some of the magic fans were treated to during his time in Winnipeg. The key here is obviously his ability to stay healthy. When he is playing at full-strength, there have been flashes of strong play, but it remains to be seen if he can ever become the player he once was.