The Buffalo Sabres have been rebuilding phase for several years, and they've struggled over those many seasons to find success on the ice. However, this regular season there were signs that the team was making progress. Given their roster and their coaching, I'm looking for them to become a contender in the near future.
Item One: What the Sabres Have Going for Them Moving Forward
It's been clear that the Sabres have a promising young core. They have a handful of key players. Rasmus Dahlin, Owen Power, Alex Tuch, Tage Thompson, Jeff Skinner, Casey Mittelstadt, Dylan Cozens, and Devon Levi jump to mind immediately. The team also has salary-cap space and draft capital to make moves in the offseason to add to its roster.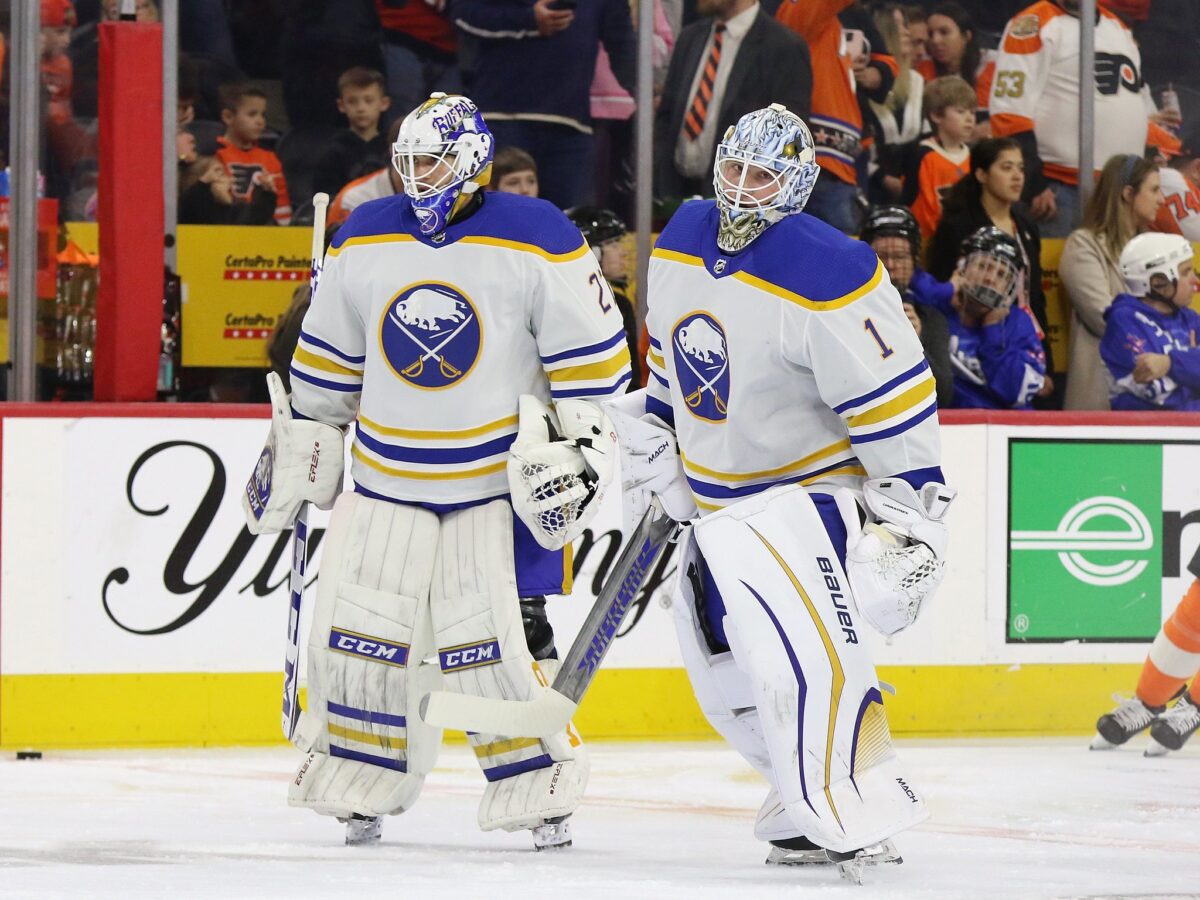 As a fan, how can you not like the Sabres' coaching staff led by Don Granato? Watching him work, he seems to have instilled a positive culture and work ethic in the team. Both these attributes provide young NHL players with the space and context to help them continue their development. 
Related: Sabres Have Future in Net With Levi & Luukkonen
They simply seem ready to improve as a group. If they do, watch out.
Item Two: A Quick Look at Sabres 2022-23 Scoring
With the regular season now complete, I want to take a quick look at the Sabres' scoring balance during the season. First, in his career season, Thompson racked up the most points for the Sabres, scoring 47 goals and adding 47 assists (for a total of 94 points). Skinner also had a career season, scoring 35 goals and adding 47 assists (for a total of 82 points).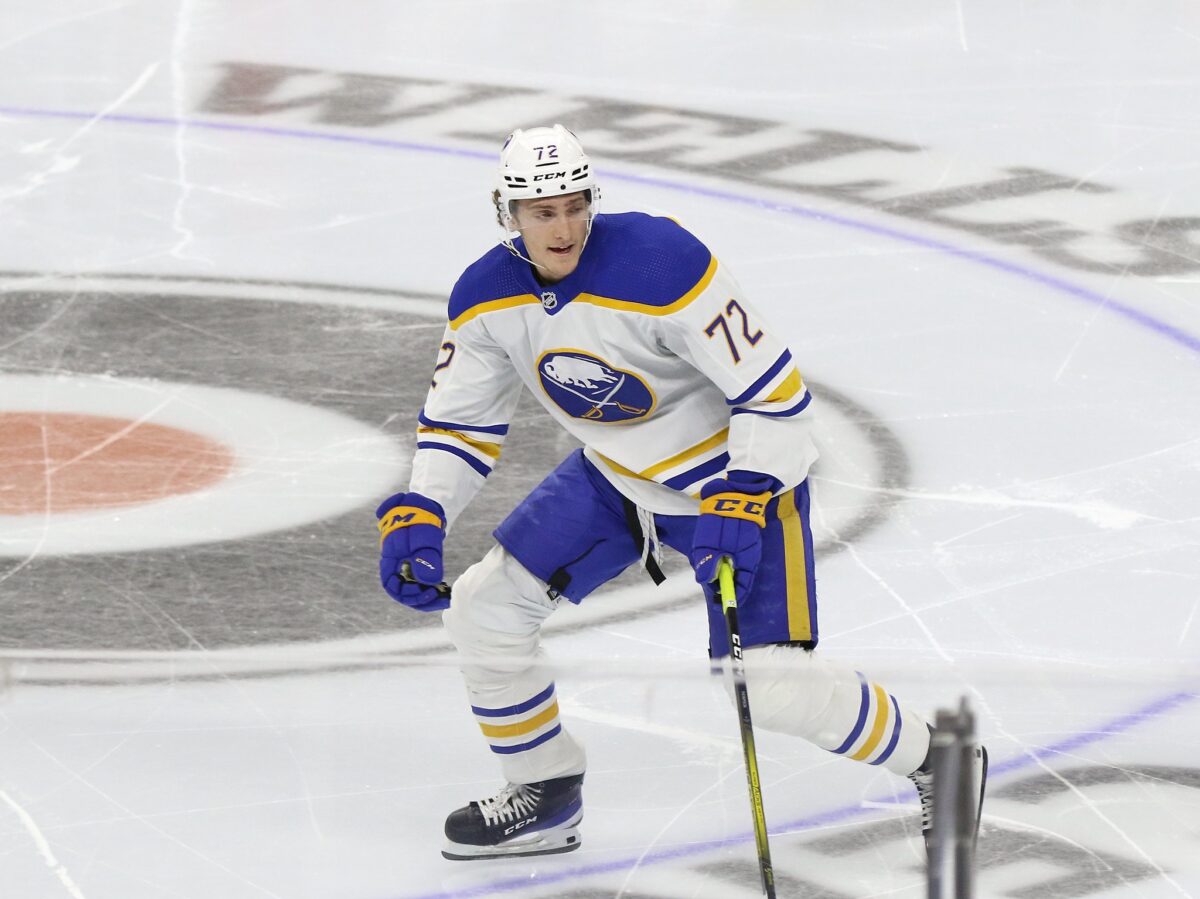 Tuch also scored well. He too had a career season with 36 goals and 43 assists (for a total of 79 points). Defenseman Dahlin (you guessed it, a career season) added 15 goals and 58 assists (for a total of 73 points); and, Cozens scored 31 goals and 37 assists (for a total of 68 points) – his career season was 30 points higher than he's ever scored before. Finally, Mittelstadt scored 15 goals and added 44 assists (for a total of 59 points) – you guessed it, a career season.
Related: Casey Mittelstadt's Value After Thriving in Sabres' Top-Line Role
When the top-six scorers on any team have career seasons, something's changing. That kind of balanced scoring bodes well for the future.
Item Three: Young Goalie Devon Levi Finishes on a High Note
It would almost be an understatement to say that Levi arrived on the scene and took the town by storm. The young goalie had a solid last game of the season, stopping 29 of 31 shots in the team's 5-2 victory over the Columbus Blue Jackets. In his brief time in Buffalo, Levi finished the season with a 5-2-0 record, a 2.94 goals-against-average, and a .905 save percentage in seven games with Buffalo. (from "Sabres goalie Devon Levi exceeds the hype with first-star performance in debut win," Matthew Fairburn, The Athletic, 31/03/2023). 
---
Latest News & Highlight
---
He seems to have both skill and swagger. I even saw a prediction that Levi would win the Calder Trophy next season. Given that highly-touted Connor Bedard would land somewhere and has shown the makings of success anywhere he's been, that's quite a call. 
Related: Sabres News & Rumors: Dahlin, Mittelstadt & Levi's Uniqueness
Although Levi only has seven NHL games to his resume, he played exceptionally well. In an article written yesterday, Sabres' writer Sion Fawkes, confidently predicted that Levi would receive twice as many first-place votes as Bedard and win the award easily. I like that kind of confidence in one's own team.
Item Four: Tage Thompson Injury Revealed to Be a Hip-Pointer
Over the last few games of the season, it was clear that Thompson was suffering from an injury. Yesterday, it was revealed that the injury was a hip pointer that he received during a game against the New Jersey Devils on March 24. Although I'm not that kind of doctor, I can tell readers that a hip-pointer injury is a contusion or a bruise to the iliac crest (the bony part of the pelvis that juts out on the side of the hip). The injury can be horribly painful and almost always limits the range of motion and movement of the injured hip joint.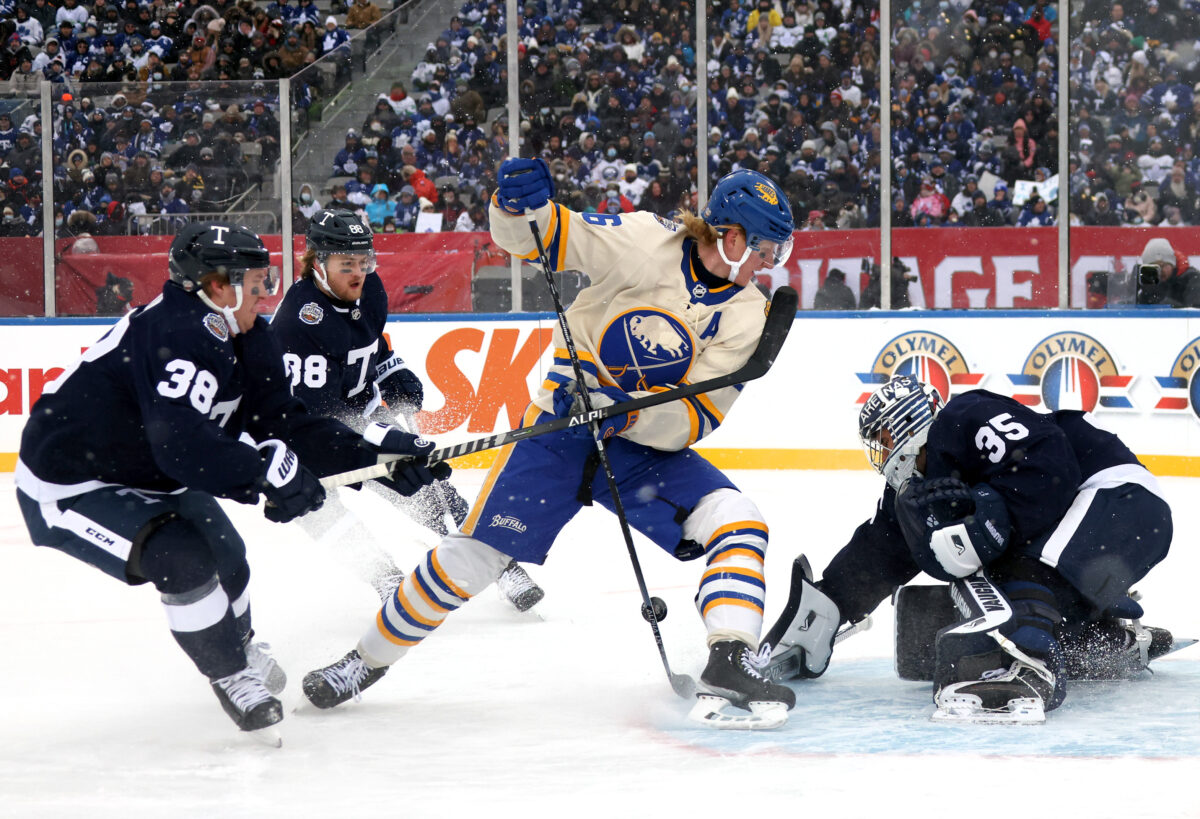 Thompson missed four of the Sabres' last 10 games of the season. Still, he gutted it out and managed to play through the injury to record three goals and two assists in the other six games he played. Of Thompson's 47 goals, 20 of them came on the power play.
Fortunately, Thompson is expected to be fully healed for the start of training camp in September. He's a talented young forward and a key player for the Sabres. Can he hit the 100-point mark next season?
Item Five: Mattias Samuelsson Has Also Been Dealing with Injuries
It was also reported that 23-year-old defenseman Mattias Samuelsson was dealing with injuries toward the end of the 2022-23 NHL season. He had a broken hand and a sprained MCL but had been playing through them until he sat out the last two games of the season.
Related: 7 Cool Things About the Buffalo Sabres French Connection
Despite the injuries, Samuelsson had a solid season with 10 points, 91 blocked shots, and 107 hits in 55 games. Samuelsson's development should also be an important factor in the team's success in the future.
What's Next for the Sabres?
​​The Sabres had a successful season, and it would seem easy to make bold predictions for the team's future. Because the team has shown it can make a playoff run, success for the upcoming season means actually making it to the playoffs.
There will likely be changes to the Sabres' roster as the team works to prioritize youth next season. How long will older players like Kyle Okposo, Zemgus Girgensons, and Vinnie Hinostroza stick around? Will Victor Olofsson be moved? Certainly, Craig Anderson will retire, which will drop the team's average age significantly.
Right now, it's tough to say for sure that the Sabres will be contenders in the Atlantic Division. That might depend on how quickly their young players develop, how successful their offseason moves might be, and how young players like Jiri Kulich and Matt Savoie might produce for the team next season. Both are 19 years old and have been playing well in the minors.