The Buffalo Sabres returned home early Monday morning having won three out of five games on the west coast. The two losses suffered during the up-and-down road trip were sandwiched between a shutout win against the Arizona Coyotes and a sweep in Southern California. The team showed a level of spirit, grit, and resolve that leads to wins. That enthusiasm, born from the combination of chemistry and skill, is one that fans are not used to witnessing.
The Sabres passed their first major test going into game 10 against the Montreal Canadiens. They started strong out of the gate, took their lumps for two tilts, and responded with wins on back-to-back days before returning to Western New York. While early still, the result is a legitimate cause for increased optimism. There is no doubt that the team grew closer having spent 10 days battling together away from home. The response going forward to such an experience is what fans will keep a close eye on as the calendar turns to November.
Captain Jack Eichel and the Young Core
Feelings and hunches can't buy a cup of coffee, but some are too strong to ignore. When it comes to the Sabres, their captain, and the team's synergy early in the season, there is a 'buzz' in the locker room that is emanating to the fan base and media. Naturally, one might suspect that would occur while winning more games than are lost, but the logic is that winning is merely a byproduct of this energy. The smiles on their faces come from (and contribute to) a healthy culture.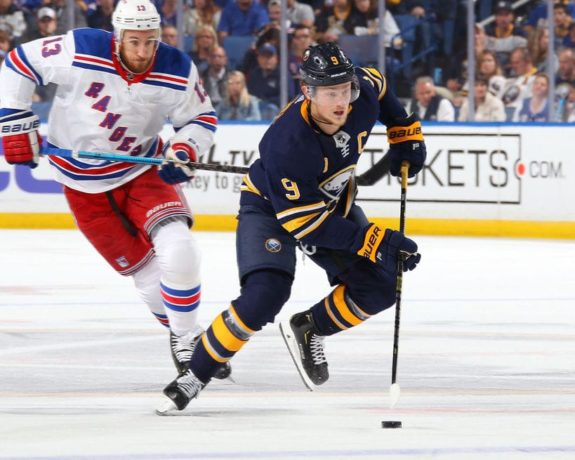 It begins with Jack Eichel.  The soon-to-be 23-year-old, named captain three weeks ago, leads the team with three goals and six assists. He has led the way in scoring, but how vocal will he be in guiding the development of those around him? How will his leading by example motivate the 10 other roster players under age 26? Finally, is he having fun? His leadership will continue to be examined under the microscope as the season progresses.
ESPN's Greg Wyshynski, co-host of the Puck Soup Podcast, commented on a recent episode about the Carolina Hurricanes and their new "storm surge" celebration. The wild gesture, created and orchestrated by their captain Justin Williams, is a playful and energetic response to a home win before retreating to the locker room. From the looks of it, the team is having fun.
"…we spend so much time pouring over numbers and going through things, and being like, 'they need a left-handed shot on their second power play unit or else it's all going to fall apart, and ohh we need to boost up the Fenwick of this team if they're going to have a chance at the old Lord Stanley's chalice,' and then it comes down to, 'Hey, this team's having fun now! And they're winning because of it!" – Greg Wyshynski, ESPN
Carolina surprised most of the league by bursting out the gate with a 4-0-1 record. And while no one in Buffalo is emulating the Hurricanes' 'Storm Surge', winning has a way of changing the tone of a team that has been pegged with a losing mindset for several seasons. The Sabres' roster has improved their skill level from last season, and it was anyone's guess how that would translate in the standings. But this assembly of veterans and a young core led by Eichel has provided their own version of surprise, trending as of now in the right direction.
Related: Jack Eichel's Time to Shine
Head Coach Phil Housley's Trial and Error
After the game on Sunday, Rasmus Ristolainen was interviewed about the team's performance, having bounced back from a 2-0 deficit to win. He mentioned that in the past, playing from behind would have caused the team to make quick adjustments. Fans have seen such adjustments in the form of line and pairing changes through 9 games. This time, they stuck to the gameplan and worked to claw their way back to tie and take the lead for good.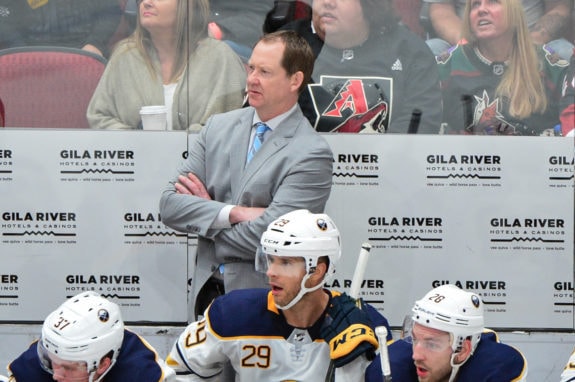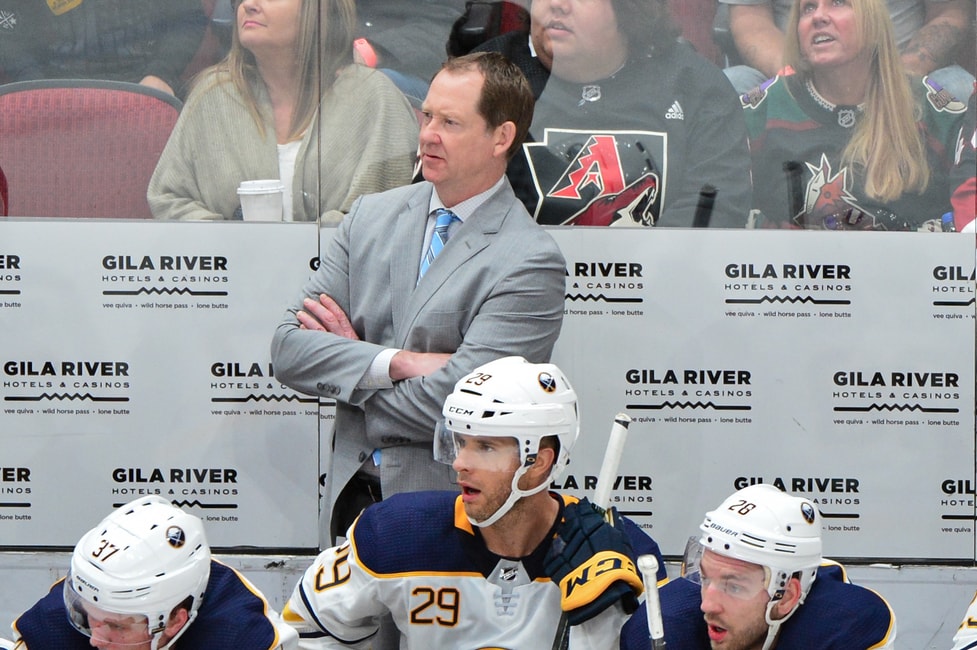 Adjustments are not uncommon, but knee-jerk modifications often do more harm than good. Head coach Phil Housley is learning about his team and the makeup of his players. Training camp and preseason served as an introduction to his system, and as the players grow comfortable with its structure and their place within it, the game action breeds wins.
Housley gained valuable experience as an assistant to Peter Laviolette with the Nashville Predators. Combine that with his passion for the Sabres organization, who took him 6th overall in 1982, and he is a perfect fit to man the blue and gold's bench. But there is no perfect formula for success and it rarely occurs overnight. He is going to make mistakes, and those errors are invaluable to learning and developing his team. Like the players that sit before him on any given game night, Housley's development is a process that involves much growth and trust. It also requires time.
Sabres Bond On and Off the Ice
Jeff Skinner, Rasmus Dahlin, Kyle Okposo, Tage Thompson and Casey Mittelstadt celebrated the 5-1 victory against the Los Angeles Kings on Saturday afternoon with a nightcap at Staples Center. The five players, all new teammates this season, posed for a pregame picture courtside that was posted online.
Off-ice bonding and chemistry are as important as what occurs inside the boards. Fans should not discount the displays such as this one that are broadcasted to the public. Celebrating a victory together at a basketball game, as opposed to packing into a hotel room for a night of gaming, is one component to building a healthy culture. It was not the sole contributor to the win against the Anaheim Ducks on Sunday, but who is to say it did not play a part?
https://www.instagram.com/p/BpPele6gOIX/?utm_source=ig_web_copy_link
A separate image posted after the win in Arizona last Saturday may have also caught fans' attention. Dahlin and Mittelstadt were roommates during the trip out west. The Edina, MN native took a photo of his new Swedish teammate sitting on the edge of the bed, peering out the window at the Vegas strip below. Whether that was the young defenseman's first time seeing the famous lights or not, the magnitude of his journey appeared to sink a little deeper in that moment.
There he was, flying to strange American cities with new teammates in a league which he was taken first-overall just four short months ago. He helps carry the weight of hope from a team and fanbase that burst into his life at the drop of four ping-pong balls. Dahlin has a goal and two assists through nine games, but behind the half-shield is a teenager undergoing an enormous transformation. His growth occurs in places fans do not often get to see.
The scoresheets and advanced statistics provide data for analysts to tell one side of a team or player's story. But in addition to the goals, assists, TOI and Corsi, a group endures and develops those intangible traits that help to determine their fate. It appears that the Sabres' intangibles, the chemistry and growth of a winning culture, are coming together nicely.
Statistics provided by hockey-reference.com
Born and raised in Maryland with roots in Western New York. I became a Sabres fan at an early age and have decided to write about the team. There will be much to discuss on this journey back to the top.