The Sharks are 5-3-0 after 8 games, their second worst 8-game start to a season since 2011-12. That's a nice problem for a franchise to have. Fast starts have been a staple of Sharks seasons in the past few years. But another staple of this franchise is questionable defensive play, namely, Brent Burns and Brenden Dillon.
Two Vastly Different Styles
Each blue liner has their own style. Some tend to bomb shots from the point and create offense. The PK Subban's of the NHL are known more for their offensive prowess. Then, there are the shutdown guys: Marc-Edouard Vlasic for Sharks fans. They focus more on keeping the opponent out of their own net. A few hybrids have shown success, Drew Doughty can dangle with the best of them and still go stride for stride with superstar snipers.
But what we're looking at here is how a defender plays with his back to his own net. In particular, we see how Burns and Dillon have struggled to actually play defense this season. But the reason for these struggles is different for both players.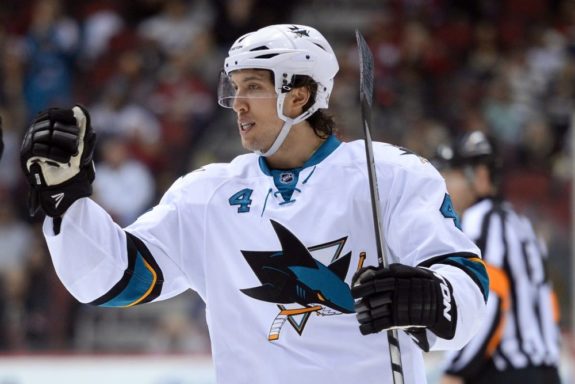 While Burns is well known for his booming slap shot and hyper aggressive style, Dillon has remained a stay-at-home defenseman. Dillon is actually on the other end of every offensive metric as Burns. While Burns leads the team in shots on goal with 35 in 8 games, Dillon is at the bottom of the table when it comes to shots for players that have played in each game this season. He only has five.
Defensive Difficulties
It is well-documented how poor Burns has been protecting his own net. This site alone has a handful of articles ready to launch the hairy skater back up to the forward lines. However, his offensive prowess and abilities quarterbacking the power play from the back bring real value to his position at defenseman. His aggressive attacking style can pay huge dividends when he successfully breaks up play and creates odd-man rushes. But, when he's burned (pun kind of intended), he leaves his goalie out to dry. While Burns is able to cover up his defensive miscues by creating plentiful scoring chances and dominating possession numbers, his mistakes tend to be of the egregious variety.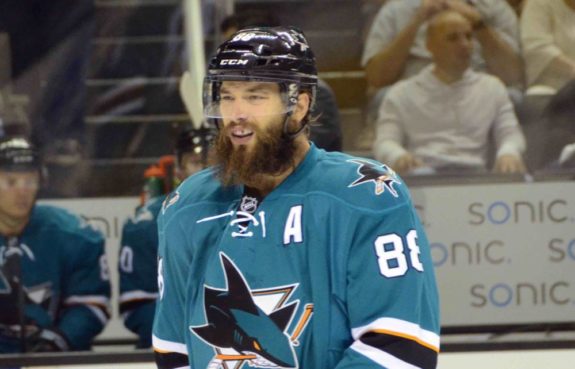 Dillon, on the other hand, does not have the offensive upside to his game. Dillon's lack of aggression allows opponents to have continued possession in the zone. His even strength goals for and corsi for percentages are both below 50% (meaning opponents carry most of the offensive play). What can salvage Dillon are the people that he is paired with. Matt Tennyson, a largely inexperienced youngster, is his blue line partner. He also seems to back up Patrick Marleau's line, a group that seems allergic to the backcheck.
What Can Be Done
In Burns' case? Nothing. His offensive numbers are the only thing keeping the Sharks defensive core from not contributing at all to the scoresheet. But you can't have your cake and eat it too. Burns must take those risks in the neutral zone. He has to try to steal the puck from a streaking forward and abandon his assignment because his game is to create havoc. Sometimes, Burns makes wonderful defensive plays and gets Twitter excited about his play. But then, silly errors cause headaches across Silicon Valley. Hopefully, Burns can have the defensive veteran Paul Martin behind him to clean up his messes. Without a solid partner, Burns will have to battle to break even on that goal differential.
Dillon must become a more solid stay-at-home defender. Use these videos as all the ways he can improve. In a not-so-strange twist, Burns' defensive struggles are on display here as well.

He correctly takes a position in the front of the net as the puck goes behind the net, but he is far too low and is not aware of the Isles' player coming in through the slot. As the pass comes from the corner, his low position makes intercepting the pass impossible and covering his man just as difficult. What follows is a trip to no-man's land. Not only is he not covering a man, he ends up screening his goaltender for any chance at a save.

In the same game, a half-hearted defensive effort as the last man back in the corner frees up his opponent to get a chance on his goalie one-on-one. Instead of looking to poke the puck free after a breakaway is denied by Stalock, Dillon must tie his man up in the corner and wait for reinforcements. Once the puck is loose again, Dillon is beaten back to the front of the net.
Both defensemen can be liabilities in the back. But they are fixable problems. Whether it is a question of pairings, positioning, or aggressiveness the defense isn't a lost cause. It's just a matter of giving this issue the proper attention. With this three day break between games, this is a perfect time for the two to focus on their defensive game.