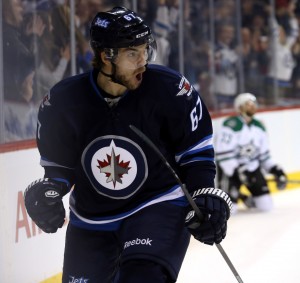 On July 1st, Winnipeg Jets winger Michael Frolik will become an unrestricted free agent. That is, unless the Jets can convince the 27-year-old Czech to re-sign with the team. But, should the Jets re-sign Frolik?
This is a question that Jets brass will contemplate the next month or so before possibly letting him walk. What should the Jets be offering if anything? Is Frolik a trade asset heading into the draft? Frolik will be a main piece of an NHL team next season, but the question remains, what team will he be on?
Winnipeg acquired Frolik on June 30th, 2013 at the NHL draft from the Chicago Blackhawks for a 3rd and 5th round pick. Frolik had two years left on his contract, making 3.3 million this past season. Frolik has been a versatile player for the Jets, spending time on each of the first three lines. He spent the majority of this season on the Jets top line along side Bryan Little and Andrew Ladd.
Over his two seasons, Frolik was consistent, scoring 42 points in each year, while also raising his goal total from 15 to 19 this season. Frolik is a durable player, playing in 163 of a possible 164 games with the Jets in his two years. He plays in all situations and can fit in with any teammate. Frolik's agent, Allan Walsh has stated that his client wants to stay in Winnipeg, but you know he sees the numbers and with them, the dollar signs.
Latest from Agent @walsha "Michael Frolik loves Winnipeg and sincerely hopes a deal can be worked out to remain a #NHLJets before July 1.

— 680 CJOB Sports (@CJOBSports) May 20, 2015
So what can the Jets do with the man from Kladno, Czech Republic, or, more directly, what should they do. Like most everything else in this league, and professional sports in general, it will all come down to the money. How much are you willing to spend on a guy who had made his reputation as a defensive specialist before coming to Winnipeg and reminding everyone that he has some offensive skill. Frolik posted his highest point totals since his first couple years in Florida, where he was playing top minutes.
Trade Him
The Jets could look at a possible trade, of course at this point you would not be trading any real value. With his contract expiring, the Jets could look at dealing exclusive negotiating rights, which would run up until July 1st, of course. The positive in a possible trade is the fact that you don't lose Frolik for nothing. Don't expect the Jets to do this anytime soon. The return on a rights trade is never very substantial and would most likely be a mid round draft pick. This would be a last resort for the Jets, a draft pick is not worth losing a main contributor of your team, however at the end of June the Jets begin to believe that they will not be able to resign Frolik, look for a possible draft day trade.
Let Him Walk
If Winnipeg holds out until the last minute trying to sign Frolik, they run the risk of losing one of their most important players for absolutely nothing. This is the least likely scenario, as the Jets will likely have a pretty good idea if there is a deal to be made or not. However, if the two sides are close in the days leading up to July 1st, it is possible a potential deal could fall apart and at the Jets could lose Frolik without compensation.
Sign Him
By all accounts, both sides are interested in staying together, but coming to an agreement involves a lot more than mutual interest. At this point everybody agrees that Frolik deserves a raise, but just how much of a raise could make or break this deal. How much is Frolik worth? His agent certainly has a number in mind, and you can assume Jets GM Kevin Cheveldayoff also has an idea of what he thinks Frolik deserves. Normally when you look at how much a player will make, the stats that are focused on are goals, assists, and points.
If we want to look at it like that we can pull up a stats page and look at who is around Frolik in the points category. On that page we find players like Milan Lucic (6 million next season), Adam Henrique (4 million next season), Jets teammate Mathieu Perreault (3 million next season), or Winnipeg native Cody Eakin (1.9 million next season). Where does Frolik fit in around here? Most likely Frolik fits in somewhere in the middle. He is not a 6 million dollar a year player at this point, but does he deserve more than a guy like Adam Henrique, probably. This is where you need to take into consideration all the extra things Frolik does. He is a great defensive player and plays more penalty kill minutes than any Jet forward.
So What Will Happen?
At this point anything could still happen. It is under a month until free agency begins, Frolik may be part of that class, or, he may still be a part of the Winnipeg Jets. There are many options, and even more moving pieces. With only 7 forwards from last season currently under contract, the Winnipeg Jets will have some decisions to make. Whether they go to some rookies to fill the role, other free agents, or go after the same players that got them into the playoffs this past season. Jets fans want to see Frolik stay in their colours, and it appears both the player and team would like that as well, it will all come down to the money.
Born and raised Winnipeg sports fan and contributor with The Hockey Writers.