Leon Draisaitl made the most of his return to junior hockey.
While his Kelowna Rockets fell just short of a Memorial Cup, losing 2-1 in overtime to the Oshawa Generals, Draisaitl has been nothing short of stellar since he joined the Rockets in January.
Many have questioned and criticized the Edmonton Oilers handling of Draisaitl, and the initial decision to keep him in the NHL. It's appears to be an "all's well that ends well" situation, as he does not seem to be stunted by his time with the Oilers. In fact it's possible it gave him a sense of what he needs to work on and a clearer goal to get back to.
He was sent back and ultimately dealt to the Rockets in order to further his development through playoff experience and added responsibility.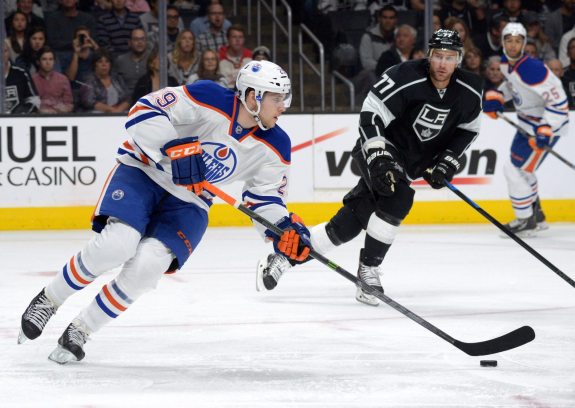 [See related: Leon Draisaitl Returning to Junior Positive for His Development]
He certainly showed why he was the 3rd overall pick in last year's draft. He was named the WHL playoff MVP after posting 28 points in 19 playoff games and then followed that up by winning Memorial Cup MVP honours as well leading the tournament with 7 points in 5 games.
Leon Draisaitl named 2015 Memorial Cup MVP. Another Oiler (Hall, Eberle, Hendricks, etc.) who finishes the season on a positive note.

— Jack Michaels (@EdmontonJack) June 1, 2015
He also gained valuable experience in terms of defensive responsibility as he took the majority of the big faceoffs, including defensive zone draws and was a force in all three zones.
While he fell short of winning a Memorial Cup, he has been immersed in a winning environment over the last five months, a feeling the Oilers want him to hold onto.
Big Trade Chip
Leon Draisaitl may be one of the biggest trade chips they have and one who's value is currently quite high. A big, skilled centre is always a hot commodity, but one who is only 19 years old and coming of back to back MVP honours for the WHL playoffs and Memorial Cup, draws considerable interest.
A couple of months ago he may have been untouchable, however with the lottery balls going the Oilers way and Connor McDavid coming to town, that may no longer be the case.
It also may be a situation where Draisaitl's value may never be higher. No one can know for sure how a prospect will develop and look in a few years' time. Take Nail Yakupov as an example. A few years into his career and there are more questions than when he started. He still has the ability to be a prolific goal scorer, however his progression has not been a smooth as hoped. Hypothetically would his value have been higher on his draft day as the first overall pick than it is today?
Draisaitl might be a player, or more likely part of a package, to bring in some much needed, high profile talent on defense or in goal.
Building an Area of Strength
Let's play devil's advocate here.
Many will see Draisaitl as the potential odd man out in Edmonton as they project to have all-star Ryan Nugent-Hopkins and inevitable first overall pick Connor McDavid has their top two centres for the foreseeable and hopefully long term future. The latter part of that argument is likely true.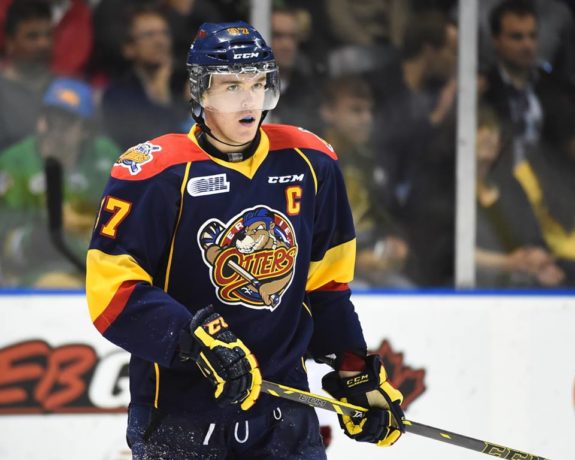 That doesn't mean the Oilers should be in a hurry to deal last year's No.3 pick. In a league where it is becoming more and more apparent that strength up the middle is a must to win, it has been equally apparent the Oilers have been woefully thin in that area the last few years.
Just look at the successful teams in this year's playoffs. Teams like Chicago, Tampa Bay or Anaheim have a combination of depth, size, skill and experience at the centre position and is a main reason why those teams have made it as far as they have.
That's not to say that the Oilers should not look to deal to improve equally important areas like defense and goaltending, however potential top six centres with the size and skill set Draisaitl has, are very hard to find.
Should the Oilers management find a deal too good to pass up, then certainly Draisaitl is not untouchable, however there is always that nagging feeling that you don't want a potential star to emerge in another city.
[See related: Oilers: Moving Leon Draisaitl Would Be a Mistake]
I could be wrong, but it looks eerily similar, at the centre ice position at least, to a young Penguins team that featured a young group of Sidney Crosby, Evgeni Malkin and Jordan Staal up the middle, and eventually won a Cup with them in 2009. I'm not saying that trio will accomplish the same or get to that level, but the pedigree and skills are definitely worth a comparison.
My Take?
At this point it would be foolhardy to suggest that anyone on the Oilers current roster should be considered untouchable after the last few years of basement-dwelling the team has done.
Craig MacTavish has publicly stated that none of his young core were going to be moved, however with Peter Chiarelli now at the helm, no one is really sure if that is still the case.
Ryan Nugent-Hopkins, Taylor Hall and Jordan Eberle do not appear to be going anywhere, and with the success new coach Todd McLellan just had with Hall and Eberle, they would seem to be even more secure in Edmonton.
Nail Yakupov and Justin Schultz are likely on a little shakier ground and could be had for the right deal. With those two however, Chiarelli would be selling low and both players still have a tremendous upside and could flourish under a new coach and system.
Looking at the prospect pipeline, the top two prospects in the system that would bring the biggest return are Draisaitl and Darnell Nurse. With the state of the Oilers defense, Nurse is not going anywhere, which leaves Draisaitl.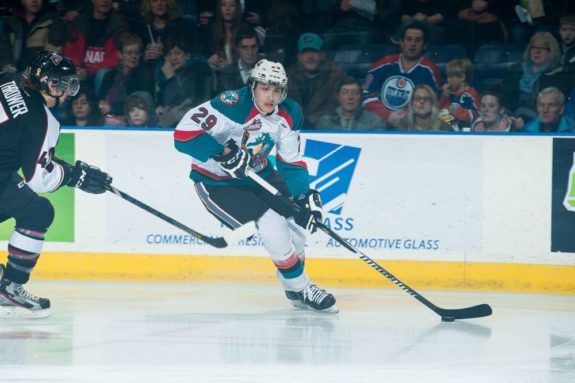 Obviously Chiarelli has to entertain all offers, and many of those will include Draisaitl. If the right deal for a top tier defenseman or goaltender presents itself, than pulling the trigger is likely the right move to make.
The NHL's Western Conference is full of big talented centres like Getzlaf, Joe Thornton, Anze Kopitar, David Backes and Mikko Koivu to name a few. They are also the type of centres that every team is searching for and locking up in long term contracts when they get the opportunity. So to move a budding one out when you already have him in your system would make me quite wary as they are so rare.
Draisaitl at 19 is already 6'2" and 210lbs with a hockey awareness, which as we saw in the WHL playoffs and Memorial Cup, far exceeds his peers at this point. He may have struggled starting the year in the NHL, but he was thrown into a situation he wasn't ready for in an environment with little support and insulation.
Some may consider the Oilers having a surplus, but Draisaitl has a total of 37 games under his belt and McDavid hasn't even been drafted by them yet. The reality is that no one knows how the situation will play out and we are dealing with projections at this point.
Connor McDavid impressed by potential teammate Leon Draisaitl http://t.co/Gmz5CjkMTB #MemorialCup pic.twitter.com/eUS2TSUXYO

— Hockey Night in Canada (@hockeynight) May 30, 2015
There is also the option of shifting Draisaitl to the wing and playing alongside a McDavid or RNH. It would provide more size on the wing and insurance up the middle.
Something to think about.
While no one should be safe in the Oilers room, and certainly defense and goaltending still need to be addressed, I wouldn't assume that Draisaitl is the most expendable one and the de facto name on the way out in Edmonton.
***
Carl covers the Edmonton Oilers for THW as well as providing additional prospect coverage. Follow him on twitter @carlTHW, connect on Facebook or contact at carl.maloney@hotmail.com for questions, comments or if you're interested in him writing for you.