While it is no secret the Edmonton Oilers organization and their fans are over the moon with essentially having Connor McDavid fall into their lap courtesy of the NHL Draft Lottery, many across the hockey world are wondering what general manager Peter Chiarelli might have up his sleeve when it comes to addressing the holes that currently hamper the present day roster.
Obviously adding a generational talent to the core of talented youngsters that already find themselves in the Alberta capital will help cure this lineup of more than a few of those shortcomings, the Oilers struggles in goal and along the blueline remain a major concern moving forward. With that being the case, the new GM will likely be a very busy man over the summer in hopes of acquiring the aforementioned missing pieces of the puzzle.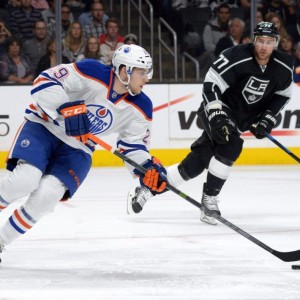 What Direction Will Peter Chiarelli Go?
While there are those who seem to believe McDavid's arrival means Chiarelli will start looking at seriously moving one of Jordan Eberle, Taylor Hall or Ryan Nugent-Hopkins, something tells me the former Boston Bruins boss could be a little gun-shy when it comes to making such move…especially after being fleeced by Jim Nill and the Dallas Stars in the mistake that was the Tyler Seguin trade.
With that being the case, most seem to think the Ottawa native will use the Pittsburgh Penguins 2015 first round pick and possibly one of Nail Yakupov or Leon Draisaitl as potential bait in hopes of improving his club in their own end of the rink. There is no question Edmonton will have to give up "something" good in order to bring a quality player on board via trade but moving the third overall pick of the 2014 draft may be "something" they might want to avoid doing.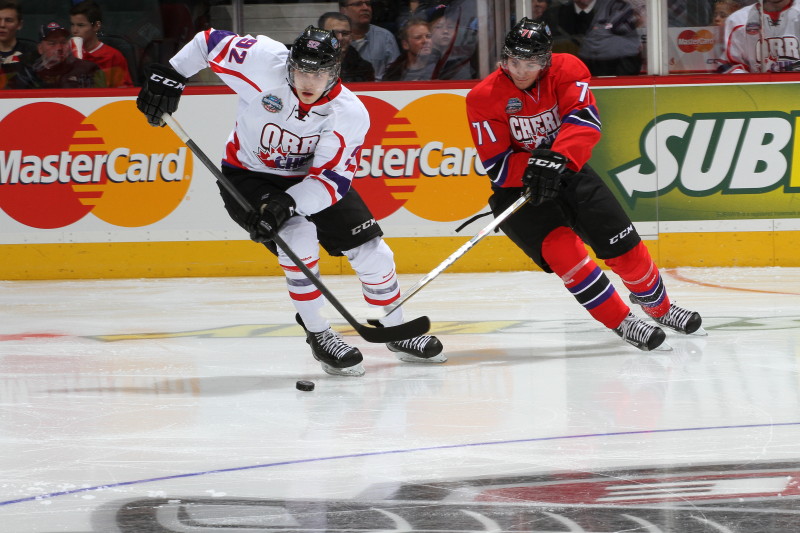 Rookie Season Was Far From Easy
At nineteen years of age and in the midst of what has frankly been a whirlwind of a season for the former Prince Albert Raiders standout, moving him at this stage of the game would be a rather risky maneuver. After starting the year with the Oilers and rightly seeing sheltered minutes under the guidance Dallas Eakins, the big German pivot found himself back in junior following his thirty-seventh appearance in Orange and Blue.
However, instead of returning to what was simply an awful situation in Prince Albert, the kid found himself headed to arguably the finest squad in the Western Hockey League and he has not missed a beat since. His two goals, nine points and minus seventeen rating in Edmonton may have been nothing to write home about but the numbers he has posted since joining the Kelowna Rockets are at the complete opposite end of the spectrum.
Draisaitl Has Delivered In Kelowna
In his thirty-two regular season appearances with Kelowna, Draisaitl scored nineteen times and chipped in with thirty-four helpers for good measure. Not too shabby at all and add to that the fact he has apparently started to show signs of improvement in his foot speed and play away from the puck and suddenly what looked to be headed towards being a "wasted season" has become anything but.
After scoring the game winner in last night's WHL Championship Finals opener against the Brandon Wheat Kings, Draisaitl and company actually find themselves just three wins shy of qualifying for the 2015 Memorial Cup.  While he has not been scoring at anywhere near the torrid pace McDavid has been on during the Erie Otters run to the OHL Finals, he does lead the Rockets in scoring and sits in a tie for fourth in playoff points with teammate Tyson Baillie. Considering this has been his only extended run at post-season play in his young career, it is rather difficult to not be encouraged by what we have seen since the Oilers sent him back in early January.
McDavid, RNH, Draisaitl…Yes Please!!!
One would think going from the NHL back to the Dub would not be easy, but Draisaitl pretty much hit the ground running, scoring twelve points in his first eight games, and has not looked back since. The maturity he displayed in dealing with the demotion is something which should not go unnoticed…and the same could be said for his potential at becoming a very good National Hockey League player for years to come. Those players do not grow on trees and god knows this franchise could use as many as they can get their hands on.
While not everyone was sold on the notion of a Nugent-Hopkins/Draisaitl duo being the long-term answer, it is pretty hard to not like the idea of a McDavid/RNH combo with the guy who wears No. 29 being used on the wing in a top six role and as insurance down the middle.  Let us not forget that up until the 2014 Entry Draft, the Oilers long-term depth chart at centre essentially included the Nuge and not much else. Isn't it funny how things can change so drastically in such a short time period of time?
In today's National Hockey League, the two things organizations tend to rarely giveaway, are centres and defencemen. Considering the Edmonton Oilers have been lacking in both areas for the better part of the past twenty-five years, walking away from what potentially could end up solving one of those problems for the foreseeable future cannot be taken lightly. To be perfectly honest, in order for Peter Chiarelli to even consider moving Leon Draisaitl one would think the return would have to be pretty darn substantial….or at least it had better be.