Leon Draisaitl's emotional roller coaster of a rookie season has taken yet another turn.
With the Edmonton Oilers confirming that Draisaitl would be returned to the CHL, it is yet another phase to the young German's professional career.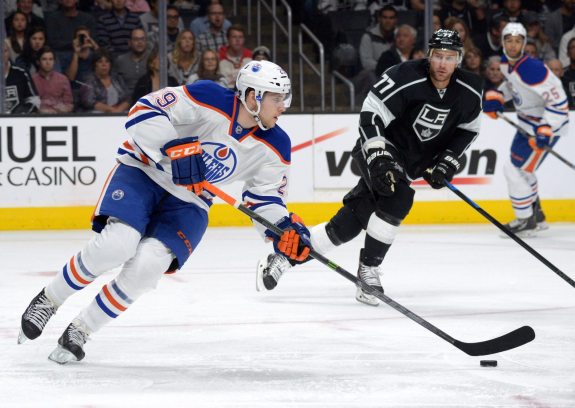 #Oilers assign centre Leon Draisaitl to the Canadian Hockey League. @Drat_29 played 37 games this season, recording 9 pts (2G, 7A).

— Edmonton Oilers (@EdmontonOilers) January 4, 2015
Opinions on how the Oilers have managed Draisaitl's development are many and certainly varied, although the vast majority tend to be on the negative side.
Here's a snapshot of his year to date.
October 9, 2014 – plays his first NHL game against the Calgary Flames
October 24, 2014 – Scores his first NHL goal against the Carolina Hurricanes, the game-winner
November 11, 2014 – Plays a season low 7:25 against the Nashville Predators
December 9, 2014 – Plays a season high 17:32 against the San Jose Sharks
December 12, 2014 – Announcement made that he will not be loaned to Germany for the World Junior Championships
December 21, 2014 – Made a healthy scratch for the first time against the Dallas Stars
January 4, 2015 – Returned to the CHL
January 6, 2015 – Rights officially traded to the Kelowna Rockets
There have certainly been a number of highs and lows within the span of 3+ months, and no doubt more to come.
The First Half
The first half of Draisaitl's season starts with the fact that he impressed in training camp and made the opening night roster.
The view of most is that a full year of junior would have been likely the most beneficial for him this season, however the majority saw the writing on the wall.
With the Oilers woeful lack of depth at centre, and Craig MacTavish's inability to acquire another legitimate NHL pivot, meant that Draisaitl would stick with the team out of necessity.
That decision has some merit for two reasons, the first being that many areas of Draisaitl's game were NHL ready. Many prospects have issues with size and being able to handle themselves physically, Draisaitl is not one of those players.
He also showed that his awareness and vision were areas of strength and translated to the NHL. Now of course there are many areas of his game that need improvement before being an NHL regular, however based on the situation one can see the thought behind it.
The second is that no one thought the Oilers would be this bad. Management no doubt thought Draisaitl could help the club, one that would hopefully be pushing for a playoff spot.
The fact that the losing atmosphere has gotten worse, not better, was not anticipated. Certainly having Draisaitl immersed in that losing culture already was not in the initial plans.
Draisaitl showed moments of excellent progression, as well as moments of being overwhelmed, something expected of a 19 year old kid.
A decision that baffles many from the first half, is why he was not allowed to play for Germany in the World Junior Championships.
[See related: Leon Draisaitl Better Served to Play in World Juniors]
If it's a case of he's helping a winning team, such as Jonathan Drouin or Bo Horvat, that's understandable.
Or based on the fact he has already played in two tournaments that his development would be better served in the NHL, ditto. However he was a healthy scratch during two of those games during the tournament and was subsequently sent back to junior before it was even over.
Oilers management of course has their reasons, however it is a mystery to many.
He played 37 games with the Oilers, registering 9 points with a -17 rating and averaging 12:41 of ice time. Not terrible numbers considering the team he is on and his role within it, however not numbers that jump out at you and not one's of a rookie who has been excelling.
The Second Half
A story not yet written, but a new chapter and a new year for Draisaitl.
He is no doubt disappointed to be sent down. Regardless of the situation, playing in the NHL is preferable to a return to riding the buses of junior hockey.
There appears to be a silver lining though, and it will be that he will return to a contending team right as the league enters its stretch drive.
Draisaitl played for, and was drafted from, the Prince Albert Raiders of the WHL. However once there was the possibility of returning to junior, his rights were traded to the WHL leading Kelowna Rockets.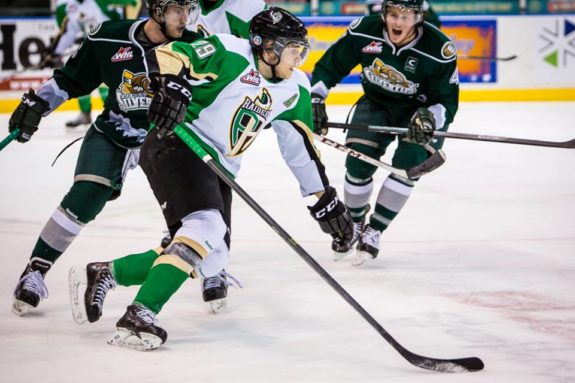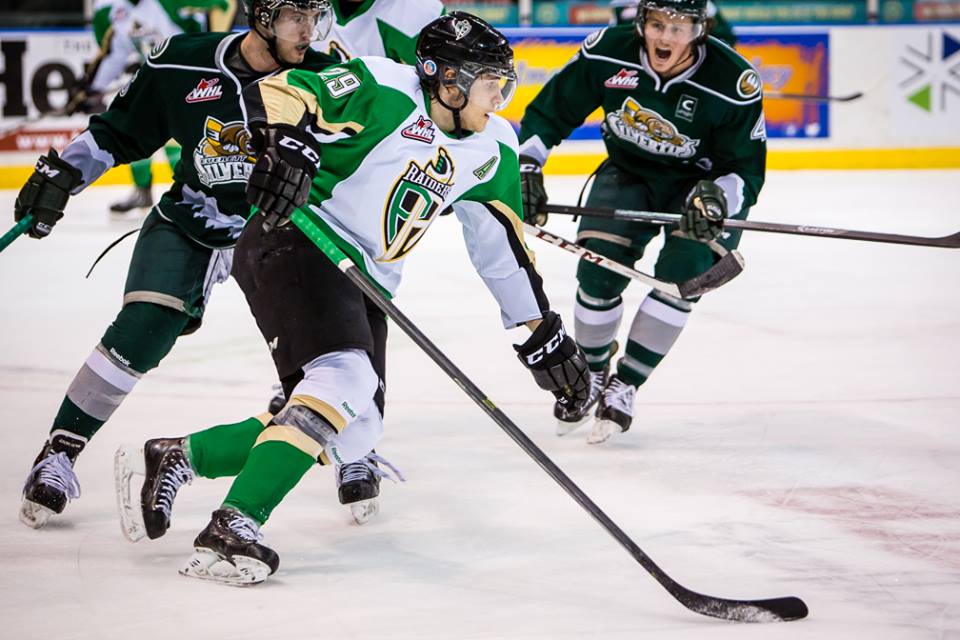 It's official: The #Rockets have acquired F Leon Draisaitl from Prince Albert after #NHL's Oilers released to #WHL Sunday. Will play Wed.

— Kelowna Rockets (@Kelowna_Rockets) January 6, 2015
Certainly a factor in the Oilers decision-making, returning to Prince Albert would have made little sense as they would be trading one losing environment for another.
Kelowna is a different story. Currently leading the WHL standings with 65 points, they have been the league's best team all year. The scary part is that they have just added two of the league's best players onto that already winning roster.
In addition to Draisaitl, the Rockets also added defenseman Josh Morrissey from the Raiders, who is arguably the league's best blueliner.
What Is Best For Draisaitl's Development
The fact is, whether the decisions made on Draisaitl in 2014 were right or wrong, they can't be changed now. The only focus going forward should be what is best for their prized teenager.
A fresh start in an environment where he will be a frontline player and someone used in all situations is something that could give Draisaitl a jolt.
Regardless of his success, or lack thereof, in the NHL, he has learned a number of things playing in the world's top league. He has had a taste of NHL life and played against some of the game's best stars.
If he can take what he has learned and apply in the WHL, he could be a completely dominant force. The Oilers are certainly hoping that is the case. If he can gain added confidence and maturity, all the way along a playoff run and ultimately a Memorial Cup appearance, than the year as a whole could be a success.
"My whole game has to develop. I want to be a complete player." @Drat_29 to Kelowna | VIDEO > http://t.co/5aE5pYPt0g pic.twitter.com/1af34dbWeN

— Edmonton Oilers (@EdmontonOilers) January 6, 2015
Keeping him for the second half of the season as it stands in the NHL would not have drastically furthered his development. One only has to look at Darnell Nurse, who was sent back to the OHL.
Canadians across the country watched as he was a physically dominant force in the WJC as Canada's top shutdown defender, and the gold medal game MVP. They also would have seen a more mature and complete player than the one that was at Oilers training camp.
While the Oilers have had the first year of Draisaitl's entry level deal eaten up as he played more than 9 games this season, they have avoided the more important number as he played less than 40 games and did not affect his free agent eligibility date.
Teenagers like Draisaitl and Nurse are the prizes of the organization and players that are expected to have a significant and long term impact for the Oilers. The team is not going anywhere this season and the playoffs are but a dream.
Putting those two players in a position to finish the season with confidence and playing for a championship (even if it's not the NHL) can only further their development, and put them in a better situation to be regular contributors next season.
The Oilers have been criticized for rushing prospects and not doing things in the best interest of the player, but that is a debate for another day.
True or not, the most recent decision for Leon Draisaitl would appear to put the needs of his development over the needs of the Oilers, and that is a positive step.
______________________________________________
Follow Carl on twitter @CarlTHW for more articles
Carl covers the Edmonton Oilers for THW as well as providing additional prospect coverage. Follow him on twitter @carlTHW, connect on Facebook or contact at carl.maloney@hotmail.com for questions, comments or if you're interested in him writing for you.